My family and I recently had the opportunity to try out an awesome chocolate subscription box with a twist and we're loving it.  
Mystery Chocolate Box
 sends you three chocolate bars each month that are uniquely wrapped showing no hints of what each bar could be.  The ingredients are a mystery and the point is to have some fun with it.  Break the bars into pieces and have everyone taste them.  Submit your guesses to one another and even online for added fun.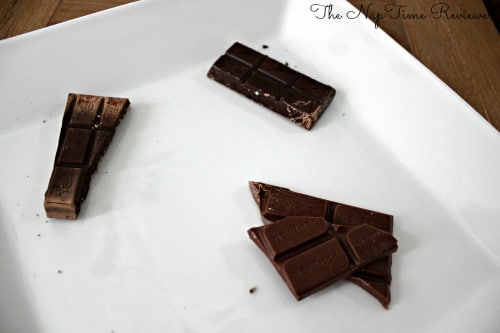 Disclosure: I received a free sample in exchange for blog coverage.  Any opinion expressed in this article is based on my experience with the product/brand.
My family's favorite bar this month was bar #3.  It had an "autumn" taste to it.  Like nutmeg or something.  It was like a pumpkin pie and a chocolate bar collided.  Delish!
The Mystery Chocolate box costs $17.95 per month but you can get $8 off your first box when you visit the Mystery Chocolate Box website. To be completely honest, I can't see paying $17.95 for three bars of chocolate.  The $8 discount helps a bit but at the end of the day it's just three bars of chocolate.  While the chocolate was extremely tasty, I have a hard time paying a lot of money for it.  After doing a little bit of research, however, I realized that most of the chocolate bars sell for around $5 per bar.  The chocolate you are getting in the Mystery Chocolate Bars is higher quality than your average grocery store candy, for sure.
To Order
I think this subscription box would make a great fit for the chocolate lover in your life.  Someone who truly appreciates chocolate.  Head over to
www.mysterychocolatebox.com
to get started.