The leaves are changing, folks, and that means it's time to prepare our kids' wardrobes for Fall.  When I think of Fall outfits I think tunics, tights, boots, scarves and hats.  My daughter, on the other hand, would wear a swimsuit year round if she could.  Right now, she's a little obsessed with dresses.  She loves to twirl in her dresses and feels like a princess in them but this can pose a problem in the colder months.  Thank goodness for leggings, right?
I've been working with FabKids for a few months to bring you the hottest kid fashion trends for back-to-school time and now for Fall.  The Fall lookbook was packed with gem/jewel tones, tunics, dresses and leggings for girls and rock star outfits for boys and girls.
Check out my daughter's favorite outfit for Fall from FabKids in the short video below:
This adorable chevron tunic is nice and thick and comes with a pair of coordinating leggings.  The zipper in the back makes it super easy for my daughter to get the tunic on and the sleeves will keep her warm in the colder months.  This was actually her outfit of choice for her Fall preschool pictures.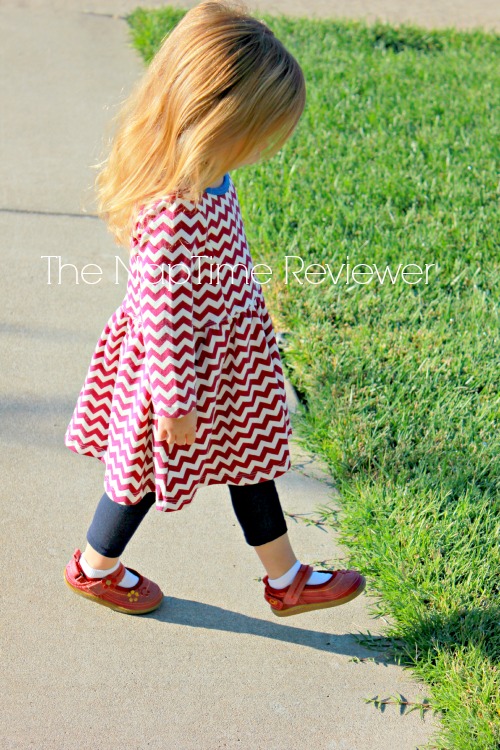 This month's special offers include a special buy 1, get 1 free outfit, dresses and shoes under $10 and outfits under $15.
To get started, create your child's style profile by clicking the GET STARTED tab at the top of the page on the FabKids website.  You start by choosing the gender of your child, add your child's size and age info, their favorite color, and select some outfits and brands from their examples that you think your child would wear to various events.  Once FabKids has your child's style profile down, they begin suggesting outfits based on the selections you made in your style profile quiz.
Money Saving Tip:  Take advantage of the new member discount and get your first outfit for just $15 + shipping.  After your first outfit, the price goes up to around $29.95 per outfit with a VIP membership (or $42 with a regular membership).  That's for the entire outfit, guys.  Hello, savings!
VIP Membership Details
So, you probably noticed that I said outfits are only $29.95 with a VIP membership.  I wanted to elaborate a little bit on this membership.  Here are some more details:
Once you make your first purchase, you will be enrolled in the FabKids free VIP membership program. As a VIP, you'll receive members-only pricing of $29.95 as well as other private perks.
VIP Member Perks
• All outifts just $29.95 and styles starting at $14.95.
• Free shipping on orders over $49.00.
• Easy Exchanges. If the everything fits, great! If not, simply exchange it.
• Customized picks curated by stylists just for you.
• It's free to look and no obligation to buy.
• Quality kids clothing & footwear, designed in San Francisco by industry experts.
• Over 1 million members can't be wrong!
How the VIP Program Works
1. Get a Personalized Fabshop on the 1st of Every Month
Receive new styles handpicked just for you by their stylists each month.
2. Visit Your Fabshop By the 5th of the Month
Log in to your Fabshop and check out your new selections by the 5th of the month. Browse and buy your favorite styles. Each FabKids outfit is only $29.95 and individual styles start at $14.95.
3. No Obligation to Buy. Just Skip The Month To Avoid A Membership Charge.
Skipping the Month
If you're not ready to make a purchase, simply Skip the Month by the 5th and you will not be charged. You can skip as many months as you'd like.
Membership Charge
If you don't make a purchase or Skip the Month by the 5th, you will be charged $29.95 for a member credit on the 6th. Each member credit can be redeemed for 1 outfit (or $29.95 worth of individual styles), so use it to shop later.
Visit www.FabKids.com to shop today!
Disclosure:  I received a free outfit from FabKids to facilitate my review.  Any opinion expressed in this article is based on my experience with the brand and is not influenced by compensation.