Kids Magazines from Redan Publishing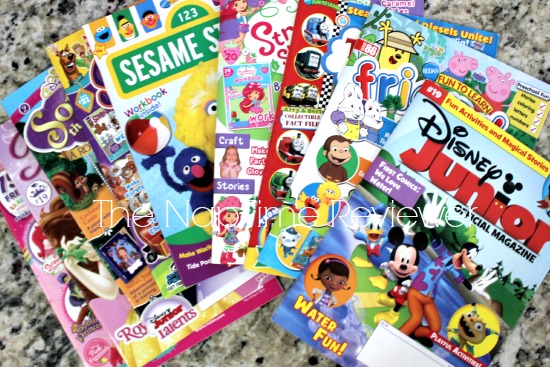 My daughter is at that age where she actually enjoys sitting down with a book or magazine by herself. She flips through the pages and pretends she is reading what is on each page which is sometimes hilarious to listen to. To encourage her love for reading, I like to give her books or magazines that are fun. I look for books that are semi kid-proof, colorful, have large words and not too many pages. When considering a magazine, I look for magazines that will spark her interest quickly. Magazines that have her favorite characters (Mickey Mouse, Sofia the First, etc); magazines that have fun activities inside; and magazines that are super colorful inside and out.
When you think of kid's magazines, there might be one that pops into your mind right away. Today I would like to introduce you to some of the fun magazines offered by Redan Publishing in case you've never seen them before. I'm sharing these magazines with you because my daughter thoroughly enjoys them and they're too great to keep to ourselves.
Redan has been a leading publisher of children's magazines in North America for the past 20 years. Their specialty is publishing educational, workbook oriented publications based on the latest popular, children's characters with licenses from The Disney Company, Sesame Workshop, Warner Bros., HIT Entertainment and AG Properties. Currently they publish the following magazines for kids:
Disney Princes
Disney Junior
Sofia the First
Sesame Street
Thomas & Friends
Scooby-Doo!
Strawberry Shortcake
Ultimate Spider-Man
Sparkle World
Fun To Learn Friends
Peppa Pig – NEW MAGAZINE COMING IN NOVEMBER!
Each issue contains stories, activities, puzzles, games, craft projects and a collectible poster. Redan Publishing makes learning fun! The child is drawn into the magazine because of their favorite character without realizing that they are learning at the same while they are completing the activities.
My daughter has been having so much fun with her various magazines from Redan. She especially loves when they have stickers in them. She is very reward-driven and enjoys giving herself a sticker when she completes an activity in the magazines.
Redan Publishing would like to offer you a special subscription offer where you can save up to 60% off of the cover price depending on the term selected.
Visit www.redan.com and use promo code SCCMB to take advantage of these special offers (below).
Special Offer
One Year (6 issues) for only $23.50
Get a 2nd yaer for only $5 additional – Two years (12 issues) for $28.50 – BEST BUY!
Plus get a bonus FREE issue with either offer by ordering online at www.redan.com