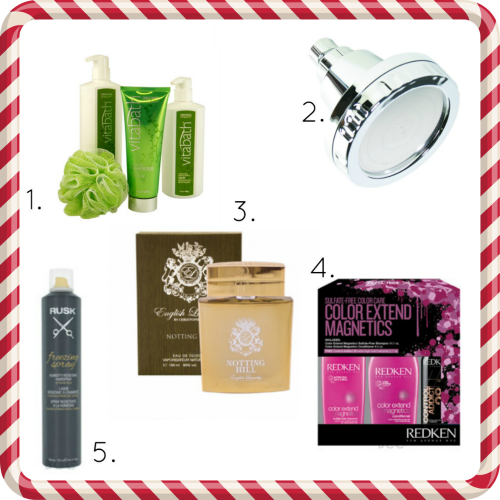 1. Vitabath (www.myvitabath.com)
Our Pick: Refresh & Renew Spring Green Holiday Set ($21.95)
Why We Like It:
This all-in-one pack contains lots of great products to spoil that special person in your life. Break the package up and use each item as individual gifts for different people or give the entire gift pack to one lucky individual. Vitabath's products have been some of favorites for 2014 and this holiday gift pack has met our expectations, once again. The scent is super festive and fresh and works for both men and women.
Discounts: Black Friday Sale Nov. 27-30: No Code Needed
Classic Collection – $75 Gallons
Fragrance Collection – 10% Off
Cyber Monday One Day Only – Dec. 1
Free Shipping Over $25, Code CYBER25
25% Off Everything sitewide
Buy More Save More, Valid December 5-10
Spend $25 or more/ Earn 10% Off Total Order
CODE: BuyMoreSaveMore10
Spend $100 or more/ Earn 15% Off Total Order
CODE: BuyMoreSaveMore15
Spend $250 or more/ Earn 20% Off Total Order
CODE: BuyMoreSaveMore20
**Online orders must be placed by December 10 to guarantee holi­day delivery. Or shop in stores for your last-minute gifts.
Our Pick: Aroma Sense Vitamin C Shower Head AS-OPUS ($69.99)
Why We Like It: This shower head is unlike anything we've seen before. You have the ability to add Vitamin C cartridges to rejuvenate your mind and body. We've heard of aromatherapy in the shower but Aroma Sense has taken it to a whole new level… and we're loving it. Natural aroma oils provide an uplifting scent which enhances relaxation and helps to alleviate stress. This shower head also uses filters that eliminate the chlorine from your unfiltered water for an even better shower experience. Each Vitamin C cartridge lasts 60-90 days depending on usage and costs $19.99. The negative ion triangle spray plate is able to generate up to 421,000 negative ions which is equivalent to a waterfall. Who wouldn't want to shower in a waterfall?
Promo Code: Use promo code naptime15 to get 15% off your entire order.
Our Picks: Notting Hill for Men ($84 – 3.4oz EDP Spray); English Rose for Her ($68 – 3.4oz EDP Spray)
Why We Like It: The Notting Hill fragrance for men will leave your man smelling so masculine, but won't overpower the room. The English Rose fragrance for women reminds us of Prada's Candy perfume. This scent consists of fresh kiwi, red lychee, golden quince, white chocolate and jasmine petals. Together, the scents smell a little like cotton candy to keep you smelling oh-so-sweet this fall/winter season. This is a great fragrance for girls and women of all ages.
Our Pick: Color Extend Magnetics Sulfate-Free Color Care Collection ($30.00)
Why We Like It: It's all about Sulfate-Free if you color your hair. Gone are the days of using harsh shampoos that strip the color out of you hair which means you'll be able to go longer between colorings and have fab hair the entire time.
Our Picks: Freezing Spray ($15.57); Multi 2-in-1 Miracle Treatment ($10.65); Thickr Thickening Mist ($11.47)
Why We Like Them:
If you're looking for a true "freeze your style" hair spray, this is the one for you. A little goes a long way with this hairspray but it sure gets the job done. The Miracle 2-in-1 Treatment spray is great for giving your hair an extra boost of nutrition.
The Thickr Thickening Mist is great for achieving that effortless "beach wave" look.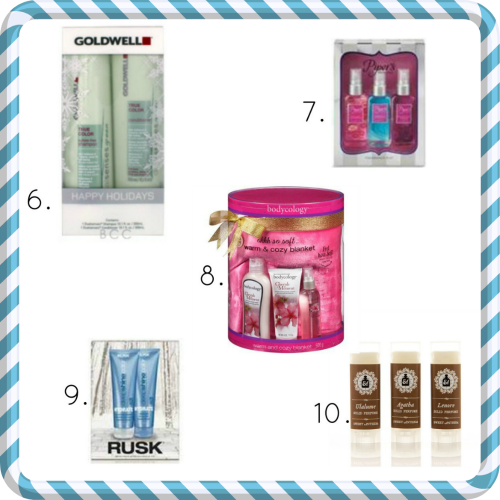 6. Goldwell (www.beautycarechoices.com)
Our Pick: Green True Color Sulfate-Free Duo ($20.00)


Why We Like It: This shampoo and conditioner duo from Goldwell is super safe for color-treated hair. We love how our hair feels silky smooth, but not weighted down after each use. We also love the fancy holiday gift packaging. Simply add a bow and your wrapping is complete.
7. Piper's Perfumery (www.walmart.com)
Our Pick: 3-Piece Holiday Gift Set ($4.88)
Why We Like It: Who wouldn't want luxe fragrances for under $5? We love body sprays because they're great for the gym bag, diaper bag or any other bag you use. Toss one of these puppies in a stocking or give the entire gift pack to a special someone this holiday season.
8. Bodycology (www.walmart.com)
Our Pick: Fragrance Gift Set with Blanket ($19.88)
Why We Like It: The bodycology gift set with a blanket includes 1 foaming body wash with shea butter, honey and aloe vera; 1 moisturizing body cream with shea, cocoa and jojoba butters, vitamin E and aloe vera; 1 fragrance mist with aloe vera and one blanket. To be honest, the blanket is our favorite part about these gift sets. Don't get us wrong, the beauty products are great, but that warm and cozy blanket is just an added bonus. Where else can you get a blanket plus three beauty products for under $20?
9. RUSK (Cosmoprof)
Our Pick: Deep Shine Hydrate Shampoo and Conditioner Set ($15.00)
Why We Like It: Rusk Deepshine Color Hydrate is an intense moisture system formulated to prolong color retention. The sulfate-free shampoo gently cleanses and helps soften dry, brittle hair, while the conditioner detangles and leaves hair soft, shiny and manageable.
10. Sweet Anthem Perfumes (www.sweetanthemperfumes.com)
Our Pick: Winter 2014 Solid Perfumes 3-Pack ($18.00)
Why We Like It: These soy wax and shea butter perfume solids are small enough to toss in your purse for a quick pick-me-up throughout the day. The simple ingredients make them ideal for those with sensitive skin, too.