Music has always been a huge part of my life. I took piano lessons from third grade through my junior year of high school but I developed a love for music at an even earlier age. My three-year old daughter seems to have that same passion for music so I try to provide her the tools to flex her creativity. We own a big piano but she also has a little kids keyboard and toy piano, a kids guitar, flute and now a violin thanks to
Rozanna's Violins
.
Disclosure: I received a Violin from Rozanna's Violins to facilitate my review. Any opinion expressed in this article is based on my experience with the brand/product and is never influenced by compensation.
The reason I chose to work with Rozanna's Violins versus a company that sells toy violins is because these violins are so well-made, colorful and aren't a waste of money. Toy violins obviously aren't real and therefore won't really help a child learn the instrument. The kids violins from Rozanna's Violins are real violins made in small sizes for kids. The pricing is obviously more than those of the toy instruments, with our Sunflower violin starting at $399, but it's because you are paying for a quality working instrument.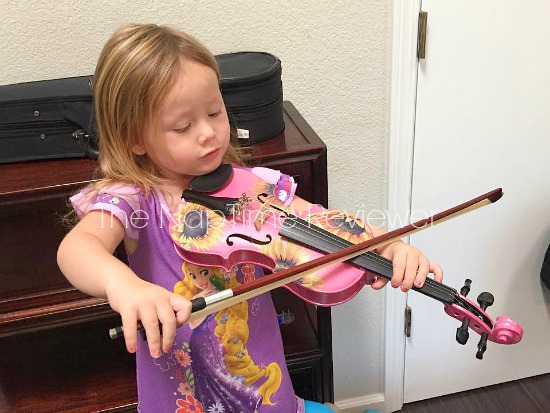 Sunflower Violin Description:
This cutting edge, high quality violin has delicate beauty, packed with a lovely sound and has an attractive pink color finish. Made from nicely flamed wood aged six years, custom transparent varnish to illuminate the beauty of this instrument.
This affordable violin outfit will inspire delight and creativity in string players young and old, and is a perfect student violin!Teachers will love the quality and everyone will love the price! 4/4, 3/4, 1/2, 1/4,1/8. LIST PRICE: $399.
In addition this violin outfit includes:
Genuine Brazilwood bow with real horsehair,
Leather and silver wrapping,
Pearl eye, real Ebony frog, plus octagonal stick for extra power.
The well-appointed shaped case is lightweight yet durable, with blanket, interior accessory pocket,exterior music pocket, leatherette handles, convenient shoulder back-pack straps.
Pretty Pink violin with glitter sparkle finish
Genuine Maple back, sides, scroll
Nicely flamed back and sides
Fine quality ebony fittings, including pegs, fingerboard, chin rest and tailpiece
Fine quality strings
Since I have no clue how to play a real violin, I'm going to have to get my daughter lessons. I'm going to wait a bit to do that to make sure she actually retains the information she learns, though. For now, she's having fun pretending that she knows how to play.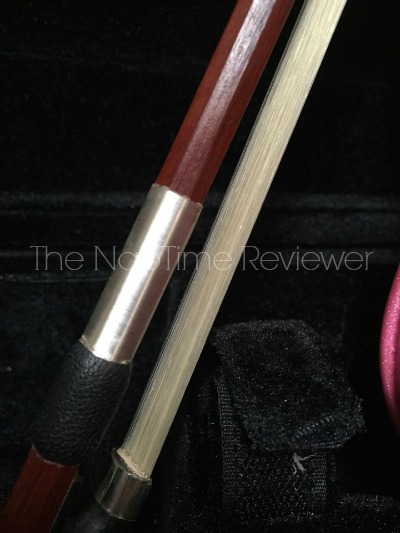 Rozanna's Violins offers so many sizes and styles of violins for boys and girls. Rozanna herself is super helpful and really helped me figure out how to use the violin. These will definitely be a hot item for the holidays and I recommend you get ahead of the game and order sooner than later. You might even be able to catch Rozanna's Violins on Zulily for an even better price.
About Rozanna
Rozanna Weinberger, Founder and Julliard trained violist, is a multi-faceted musician and entrepreneur. Rozanna's work reflects her belief that music is a powerful influence on a child's development. Rozanna produced a United Nations workshop, for 1500 youth entitled, 'Where There is Life There is Music'. She has served as music consultant for both the HEAD START Program in NY and the NY Pops Educational Outreach Program. helping to develop a curriculum for young minds. Read more at RozannasViolins.com.