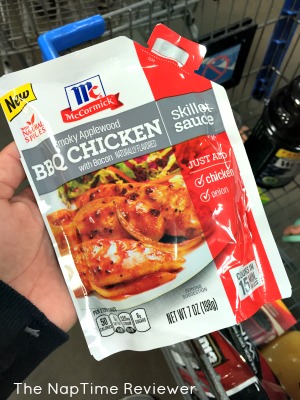 As much as I love to cook, I don't always make things from scratch (sigh). Who honestly has time to cook every dinner from scratch, anyways? Today I want to share a little secret ingredient I use that really helps give my go-to meals a boost –
McCormick's new Skillet Sauces
.
Disclosure: I'm participating in the McCormick's Skillet Sauce® blogger campaign and received compensation as part of the program. Any opinion expressed in this article is based on my experience with the product and is not influenced by compensation.
McCormick is a popular household name and we all know them for their kitchen spices. They recently launched seven new skillet sauce packets available at Walmart that are designed to boost your meals and kick them up a notch, while making it easy on the chef. Each sauce packet comes with it's own recipe to give you some inspiration.
Flavors:
Smoky Applewood BBQ Chicken with Bacon
Sweet and Smoky Sloppy Joes
Sicilian Chicken with Tomato, Basil and Garlic
Taco with Chipotle and Garlic Sauce
Sesame Chicken Stir Fry
Fire Roasted Garlic Chili
Fajita with Roasted Chili, Garlic and Lime
I went down to my local Walmart and found three of the seven McCormick Skillet Sauces down the sauce aisle and decided to try the Smoky Applewood BBQ Chicken with Bacon recipe. The recipe called for the packet of skillet sauce, vegetable oil, one onion and chicken breasts. That's it! Check out my short video of how easy this recipe was to make:
Overall, my family was very pleased with how tasty the meal turned out. This particular sauce tasted just like BBQ sauce with a little kick and the entire recipe only used one skillet. A recipe that hardly dirties any dishes? I'm all for it. I will definitely be purchasing more McCormick Skillet Sauces to try next time I'm at Walmart.