Everybody likes popcorn, especially when it's sweet and spicy!
Gaslamp Popcorn
by Rudolph Foods has a great variety of popcorn flavors, with a few terrific holiday flavors you will love!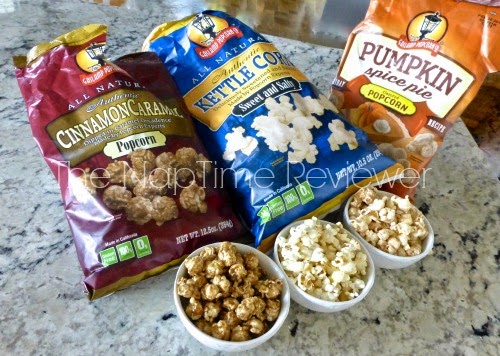 Gaslamp Popcorn is 100% natural and is locally grown and popped in San Diego, California. It's handmade in small batches with all natural pure cane sugar, canola oil and popcorn. Gaslamp Popcorn is also non-GMO and gluten free. At only about 140 calories per serving, Gaslamp Popcorn is a perfect mid-afternoon snack.

Photo credit: Rudolphfoods.com
I (happily!) sampled three tasty flavors – Gaslamp Popcorn's Cinnamon Caramel popcorn, Kettle Corn, and Pumpkin Spice Pie popcorn. Cinnamon Caramel and Kettle Corn have a nice sugary glaze around nice fluffy clouds of popcorn. Pumpkin Spice Pie is equally as fluffy, but with more of a dusting of sweet spice. All three just melt in your mouth!

From left to right, Pumpkin Spice Pie, Cinnamon Caramel, Kettle Corn.
Watching calories, and having a salt craving? Gaslamp Popcorn's Sea Salt and Olive Oil variety has only 37 delicious calories per cup!
Gaslamp Popcorn can be found at your local Ralph's or WinCo Foods grocery stores, or by
ordering online
. Also, check out some of the other tempting treats from Rudolph Foods – everything from pork rinds to popcorn!
Disclosure: I received a sample from Gaslamp Popcorn Co. to facilitate my review. Regardless of compensation, I only feature products that I feel are beneficial to my readers. My opinion is never influenced by compensation.