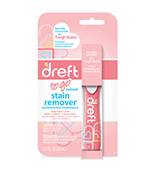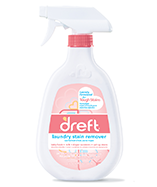 I'm all about reusing and recycling especially with baby clothes. Babies grow out of their clothes so quickly and usually only get a couple of wears out of each outfit. Unfortunately, Charlotte was a summer baby while Kendall was a Fall baby so most of the newborn and 3-month outfits that Charlotte had won't work for Kendall. Since Kendall was born almost two pounds bigger than Charlotte we are now able to use a lot of Charlotte's old 6-month clothes.
When I was going through Charlotte's hand-me-downs I noticed a lot of the old spittup stains had resurfaced. They looked so gross. They turned yellow and I honestly thought I would end up having to throw a lot of the clothes away. With a few spritzes of my Deft stain remover and a quick wash, the stains disappeared. I couldn't believe it.
I was on such a role removing stains that I moved on to my 3-year old's "pink bunny" lovie and the dining chairs. This stuff works great, smells great and is safe for the whole family.
For on-the-go stain treatment I've been using the new Dreft Stain Remover Pen. What a life saver! Or a garment saver, rather. The Dreft Portable Pretreater Pen safely treats stains and odors caused by formula, spit-up, baby food, diaper leaks and more. The stain remover is safe for all colorfast fabrics, works in all temperatures, and does not harm the flame resistance of children's sleepwear.
Pediatricians and moms have trusted Dreft for years to safely launder newborn and baby clothes without fear of allergic reactions or harsh ingredients that can irritate baby's skin. To view the entire collection of baby-safe Dreft products, visit www.dreft.com!