Peep and the Big Wide World
Peep and the Big Wide World
, an Emmy Award-winning preschool science and math series for 3-5 year olds produced by Boston's WGBH, launched an all-new bilingual website and curriculum that has kids excited.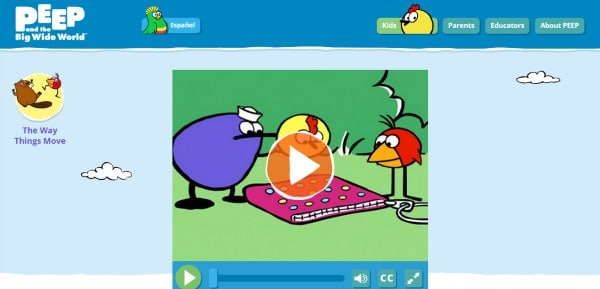 With the newly expanded PEEP website, families can log on to play games or watch videos, and also find related PEEP content like books, live-action videos, and activities. And Spanish- and English-speaking families will find a dual-language website that is unique in children's media. Resources will be available in both English and Spanish, and designed so that visitors to the site can switch between languages whenever they desire.
The PEEP website is very easy to navigate and is full of bright colors and great activities. My daughter is not a huge fan of the PEEP show, but she really like this website and often refers to it as the "angry birds" website.
Visit peepandthebigwideworld.com today!