FabKids February Outfit
You all know how obsessed my daughter is with FabKids, right? She can spot the FabKids packaging from a mile away. Each outfit comes in a bright pink bag that you can't miss. Our postal worker places it perfectly behind one of the pillars on our front porch which is in perfect alignment with our front porch windows. Charlotte knows where to look and keeps an eye out for it all month.

Our February
FabKids outfit
is called the Purple Heart Flutter Outfit and comes with the babydoll heart graphic tee and metallic jeggings. She's about 30 pounds and is 3.5 years old. We ordered a size Small (4-6) graphic tee and a size XS (3) pair of jeggings. The waist of the pants is a little baggy so I'm thinking we should've gone with a size XXS for the pants. The top fits perfect, though.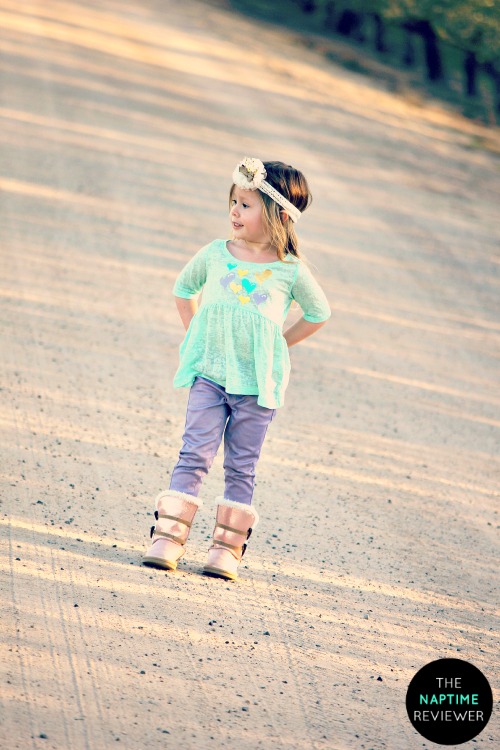 We typically order a dress and leggings set from FabKids but in an effort to get my daughter to wear a variety of styles, we went with the jeggings set. She typically refuses to wear anything other than leggings so I was completely shocked when she didn't put up a fight when I put the jeggings on her.
If you aren't familiar with FabKids, they work a little differently than other online shops. You start by creating a style profile for your child by taking a quiz about your child's style preferences. Once FabKids has your child's style profile down, they begin suggesting outfits based on the selections you made in your style profile quiz.
Money Saving Tip: Take advantage of the new member discount and get your first outfit for just $15 + shipping. After your first outfit, the price goes up to around $29.95 per outfit with a VIP membership (or $42 with a regular membership). That's for the entire outfit, guys. Hello, savings!
VIP Membership Details
So, you probably noticed that I said outfits are only $29.95 with a VIP membership. I wanted to elaborate a little bit on this membership. Here are some more details:
Once you make your first purchase, you will be enrolled in the FabKids free VIP membership program. As a VIP, you'll receive members-only pricing of $29.95 as well as other private perks.
VIP Member Perks
• All outifts just $29.95 and styles starting at $14.95.
• Free shipping on orders over $49.00.
• Easy Exchanges. If the everything fits, great! If not, simply exchange it.
• Customized picks curated by stylists just for you.
• It's free to look and no obligation to buy.
• Quality kids clothing & footwear, designed in San Francisco by industry experts.
• Over 1 million members can't be wrong!
How the VIP Program Works
1. Get a Personalized Fabshop on the 1st of Every Month
Receive new styles handpicked just for you by their stylists each month.
2. Visit Your Fabshop By the 5th of the Month
Log in to your Fabshop and check out your new selections by the 5th of the month. Browse and buy your favorite styles. Each FabKids outfit is only $29.95 and individual styles start at $14.95.
3. No Obligation to Buy. Just Skip The Month To Avoid A Membership Charge.
Skipping the Month
If you're not ready to make a purchase, simply Skip the Month by the 5th and you will not be charged. You can skip as many months as you'd like.
Membership Charge
If you don't make a purchase or Skip the Month by the 5th, you will be charged $29.95 for a member credit on the 6th. Each member credit can be redeemed for 1 outfit (or $29.95 worth of individual styles), so use it to shop later.
Visit www.FabKids.com to shop today!
Disclosure: As a FabKids blogger, I receive free outfits to facilitate my reviews. Regardless of compensation, my opinion is 100% my own and is never influenced by compensation.