Once again, I was able to sample the fantastic Caramel Apple Kit from
Chocoley.com
. As I've said in the past, this is one of my favorite reviews to do! This time I decided to make them for a college graduation party, and let me just say that they were a huge hit!
Just look at this yummy 5 pound brick of buttery caramel!
I used a variety of smaller Fuji and Granny Smith apples this time around. I melted the caramel on the stove in a medium sized saucepan. The first time I did caramel apples I only made a few at a time so I melted the caramel in the microwave, but since I was making over a dozen apples the saucepan was easier and kept the caramel at a good temperature. Either way works well.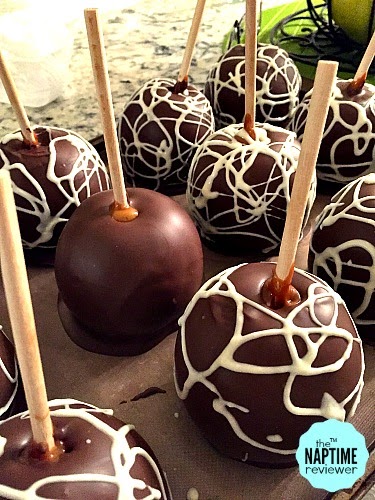 After inserting the sticks and dipping the apples in caramel, I refrigerated them for about 15 minutes while I melted the Bada Bing Bada Boom milk chocolate in my makeshift double boiler (a stainless steel bowl over a large saucepan of water). When I was done dipping the apples in the chocolate, I let my bottle of white coating melt in the saucepan of hot water. I let the chocolate dry for 10 minutes before drizzling with the white coating, and then refrigerated the apples for another 15 minutes.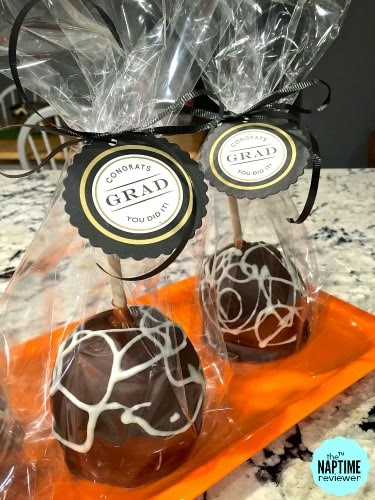 I found these cute Grad tags at my local dollar store and tied them on after wrapping the apples in the cellophane bags that were included in the kit from Chocoley.com.
Cute tags from the dollar store!
The great thing about this kit is that everything you need is included to make 35 fabulous caramel apples, ; of course, you supply the apples! These are all quality ingredients that go on smooth and creamy, and you don't have to have any candy making skills to produce quality apples. The price of the kit I sampled is $55.96. I've purchased caramel apples at a candy shop in our local mall and they run between $4.00 and $6.00 apiece, so I think the $55.96 price is a great deal!
Hint: Serve caramel apples at room temperature – the caramel will be softer and the chocolate will stay adhered.
If you'd like to try your hand at making any other type of candy,
Chocoley.com
is a great place to start. They have everything you need to make molded or filled chocolates, as well as truffles, cake pops, and supplies for those yummy chocolate fountains!
**********
I received one or more of the products mentioned above for free in exchange for my honest review from Chocoley.com. Regardless, I only recommend products or services I use personally and believe will be good for my readers.