We call them Tender Hugs for a reason. Look at the many ways this toy gives a hug. So if you share our vision of building an even better world, come join us on this adventure! We have a hug for you too.
Tender Hugs are adorable four inch tall teddy bears that pack a whole lot of love. Not only do you get super soft, plush bear, but $1 of your purchase goes to the charity of your choice.
How does it work?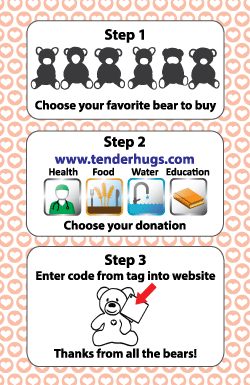 There are 8 different cute, cuddly bears to choose from. Click on the "Toys" link to see photos of each bear.
After selecting your favorite bear for purchase, come to our website to record your donation. Click on the "Donations" link. Remember to save the tag from your toy to use the printed code to record your selection.
Simply choose your donation, enter your code, and that is it!
The Company
"Blue Lightning Toys is a company focused on developing and sharing positive toys with kids of all ages. We seek to be gender inclusive where any child can relate to our toys and enjoy their play experience.
We operate in a responsible manner, selecting partners that conform to the ICTI Care, which is a certification program by the International Council of Toy Industries that promotes ethical manufacturing. Our products are tested by independent labs to ensure we provide you with safe toys."
The Idea
"We are toy designers that believe the world can be an even better place than it is already. For our first brand to hit the market, we created cute and cuddly stuffed bears that literally make a positive impact in the world. Through the purchase of a bear, you can do 4 huge things!"
1. Give a toy to a child (and even to those inner children in us adults)
2. Make a donation to a really important cause.
3. Teach your child the importance of giving to others.
4. Have a say in how you want to impact the world.
Each Tender Hugs bear is $7.99 and is available for purchase from Amazon.com. I can totally see these little bears sitting at the counter of a hospital gift shop or Hallmark store. And I just love the idea of purchasing a product that benefits charity.
Visit www.TenderHugs.com to shop today!