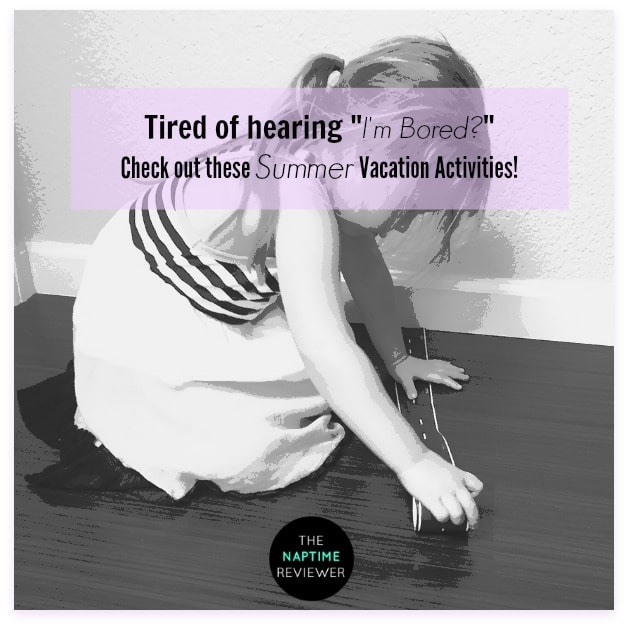 Are you tired of hearing the kids say "I'm bored," already? It's only the first week of summer vacation and I've heard it a thousand times from my preschooler. Today, I've compiled a list of fun activities that are (mostly) cheap and don't require much hands-on attention from mom and dad.
1.
Order's up! Fabric Pretend Sushi Set from HABA $16.99
— Your little sushi chef will love serving this authentic-looking sushi platter, complete with wasabi, chopsticks, leaf grass garnish, four rice rolls, a bowl and a shrimp sushi.
My daughter has so much fun with this sushi set from HABA. The chopsticks are actually different than the ones shown on the website but I really like them. They are grippy so she can easily grab the sushi rolls with them.
2.
The road to nowhere! Classic Road Series Black PlayTape $7.99
— Printed to look like a road, this classic PlayTape provides hours of cheap entertainment for kids of all ages. It's removable and works well with cars like HotWheels and Matchbox.
3.
Weeride Co-Pilot $89.99
— The
Weeride Co-Pilot
is great for the whole family. Your child can pedal to help you along or just coast and enjoy the scenery. Either way the Co-Pilot is great fun for both of you. It is sturdily constructed – just like a regular 20″ bicycle. It includes adjustable handlebars, seat, pedals, and chain guard and is made of heavy-duty steel. This bike attached easily to other bikes with a seat post and it easily folds up for storage when not in use.
This is such a fun bike for kids. It took my husband about ten minutes to attach it to his bicycle and about the same to detach it. My daughter is just a tiny bit too short to actually pedal the bike but she enjoys cruising with her daddy and enjoying the scenery. Check out this cute video of the first time they rode together:
Weeride actually has a few different options for kids of varying ages and sizes. I actually have my eyes on their new Stagecoach Trailer for the baby.
4.
Curious George Adventures in Learning Books $12.99
— Keep the learning going all summer long with these awesome books from Houghton Mifflin Harcourt. These full color workbooks come in a variety of age ranges and skill levels and are very affordably priced.
Keep an eye out all summer long for more fun summer vacation activities from The NapTime Reviewer.