I've been desperately searching for a flavorful drink to replace diet sodas containing aspartame. Cascade Ice has some great new flavors (McIntosh Apple, Lemonade, Strawberry Lemonade, Raspberry Lemonade & Orange Mango) this summer that are aspartame free, while still boasting zero calories!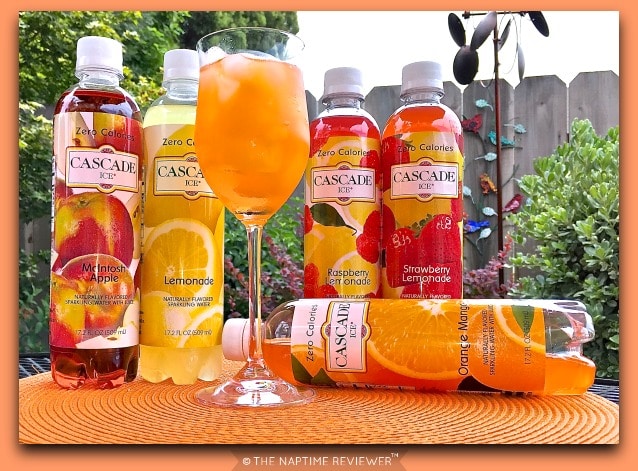 My favorite flavor so far is the Strawberry Lemonade, but the McIntosh Apple is a close second! I love that Cascade Ice is lightly carbonated, and not overly sweet.
Here's a few serving suggestions: Freeze some strawberries, raspberries or lemon slices in ice cube trays with a little water. These look so pretty floating in your glass, and add some great summer flavor! Or, muddle (smash) a small piece of chilled watermelon in the bottom of a tall glass, add ice and Cascade Ice Lemonade. It's so good!
Here's a great recipe for All-American Sangria from Cascade Ice!
Cascade Ice All-American Sangria
Fill a pitcher with 1.5 bottles of Cascade Ice McIntosh Apple. Next add as many sliced strawberries, apples and bluebetties as you wish; feel free to cut fruit into fun shapes. Add 12.5 ounces of your favorite white wine, like sweet Moscato. Stir ingredients to mix and chill for 2 hours to allow fruit to soak in the liquids. Pour and enjoy!
Look at this cool "Ocean Cooler" made with blue cotton candy, Cascade Ice Coconut, and blue Powerade! The kids will love it (especially with the Swedish fish candy garnish)!
These recipes, and more, can be found on the Cascade Ice Blog page. Visit Cascade Ice for a list of retailers near you.
Have fun this summer, be safe, and stay hydrated!
*******
I received one or more samples of the products mentioned above from Cascade Ice. Regardless, I only recommend products or services I use personally and believe will be good for my readers.