Update Your Old Shoes With These Easy DIY Makeovers
Fashion is fun and rewarding but staying on top of trends and feeling like your wardrobe is up-to-date can sometimes feel like a never-ending process. If you have been yearning to update your style, but don't want to invest in a brand new wardrobe – fear not – there is an easy solution. Take a look at your shoe collection, find some old or unworn shoes that you were thinking of tossing, and try one of the following tricks:
Use a Bow
Tie a standard bow using grosgrain ribbon in a color that complements your shoe color,
Hairbow Center has a lot of options
. You'll want to make sure the cut edge doesn't fray, so you can either roll the edges twice and sew them, or use a product that seals in the edge. Then use a small dab of glue to affix the bow to your shoe. This is a great way to update simple sandals or pumps.
Add Chains or Other Metal Accents
To give your footwear a slightly edgy look, find some chains and attach them to the back with studs. Any metal pieces – charms, necklaces, etc. – will take a boring black pair of boots or heels and turn them into something spectacular. If you need the pair to be sturdy, it's best to choose heavier chains rather than something light and delicate. Other than that, let your imagination run wild with ways to combine old jewelry to create a new, one-of-a-kind masterpiece.
Color-Blocked Toes
Adding a section of bright or contrasting color at the toes of your footwear is a great way to reinvigorate them, and also an excellent method of ridding yourself of old cans of paint at the same time. Transform a set of run-of-the-mill pumps or flats into awesome-looking accessories that everyone will be asking you about.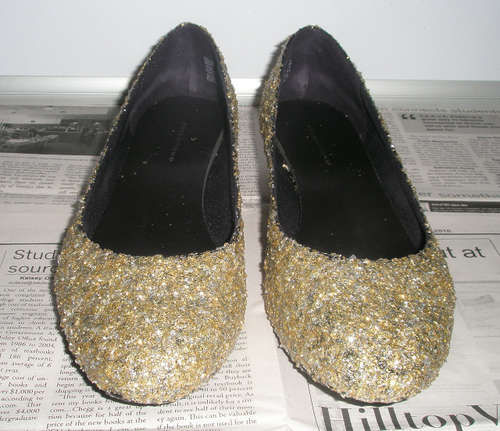 Just Add Glitter
All that glitters is gold, right? Find the oldest pair of flats or heels clinging to life in your closet and resuscitate them by
covering them in glitter
. Whether you choose
red, gold, black, silver
, or another favorite, you'll be feeling the magic in your new sparkly shoes.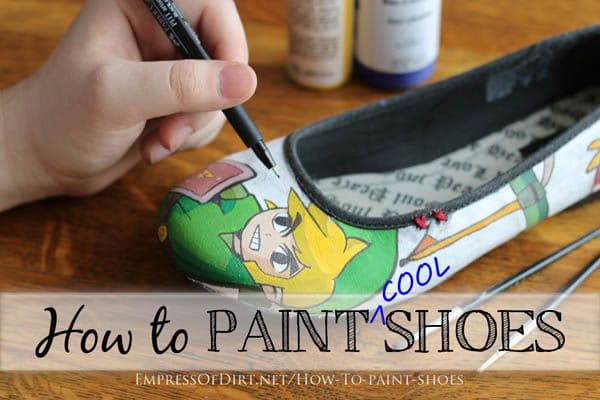 Add Some Art
Whether it's a tribal motif or a favorite cartoon character,
using paint to create a design on your footwear
is a guaranteed way to express your unique style and showcase your artistic skills at the same time. Don't worry if you're not a master painter, you can trace your design in a light pencil that you can perfect before coloring in.
Use Studs (Fake or Real)
Studs on boots or sneakers are a simple method of adding some toughness and shine. You can use real studs or employ a gold or silver fabric paint that imitates the look of studs without the hassle.
Whatever you choose for your footwear, you're sure to turn some heads and generate some compliments. The best part is – you can say they're completely your own creation.