I received complimentary passes to facilitate my review of California's Great America. Any information shared is based on my own personal experience.
California's Great America
, in Santa Clara, is the perfect Northern California "day-cation" destination for the whole family, no matter your age!
My family was lucky enough to visit Great America on a weekday, a few days after most of the school aged kids had returned to classes. It was so nice to have a short drive (about 90 minutes from home), no wait for rides, no crowds, and beautiful weather!
We were anxious to check out the 3 new rides in Planet Snoopy – Joe Cool's Gr8Sk8, Peanuts 500, and Snoopy's Space Buggies. These are all perfect for our preschooler!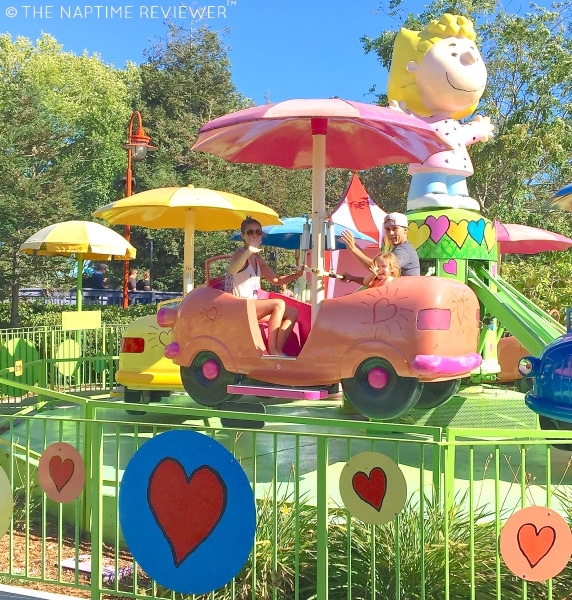 Planet Snoopy has lots to offer small children as far as rides and a play area, as well as an indoor area for moms and babies (perfect for nursing mothers!) In this area parents are able to experience the fun along with their children as many of the rides are appropriate for all ages.
As for the adult and teen thrill rides, Flight Deck was definitely the favorite, with the Demon, Drop Tower and Vortex following close behind. These are definitely action filled rides for older and taller teens and adults. Having no lines to wait in was definitely a plus, and we rode each one several times.
All employees at California's Great America are courteous and friendly, and the park grounds were very neat and clean. One employee even gave our 9 month old a stuffed animal to keep her happy while her sister rode on a ride!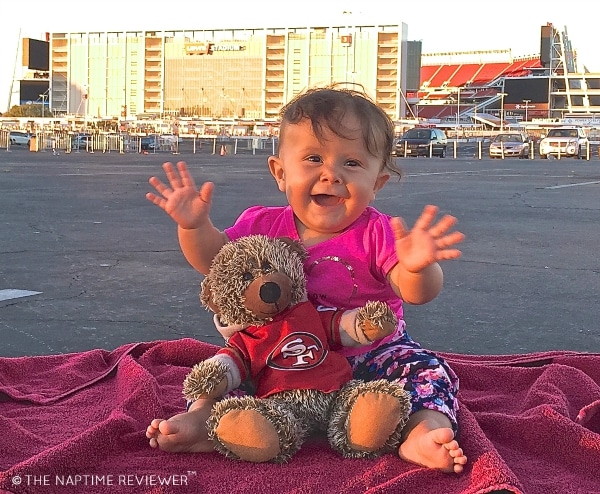 The county fair type games, like ring toss and the water squirter race, are always super fun and great for all ages. We won a cute stuffed "My Little Pony" animal! I love that there are no "barkers" to hound you to come play games…
Of course, you can't visit a theme park without having some of the yummy snacks like churros, cotton candy, ice cream and Icee's! Our favorite was the funnel cakes at Sally's Sweet Treats, served with strawberries and vanilla ice cream! For main meals you can pick from a variety of foods, like Subway, Pizza Orleans, Panda Express, Snoopy's Snack Shack with their great Philly Cheesesteaks, and must-have fried chicken at Maggie Brown's!
Although we didn't have time to try it out this visit, the Boomerang Bay Water Park looks awesome and would be so refreshing on a hot day. Kookaburra Cay is a cool giant splash pad type water adventure, and all the water slides look amazing! In Boomerang Bay parents can rent cabanas to get some escape from the sun, as well as lockers to keep belongings safe. For season ticket holders, swim lessons are offered at Boomerang Bay, as well as Junior Lifeguard lessons.
After lots of walking towards the end of our day, we sat and enjoyed some of the live entertainment offered at California's Great America. The singers and dancers are top quality, and well choreographed! This gave us the opportunity for a little rest time before enjoying a few more rides and heading home.
Right now California's Great America is offering some awesomely scary Halloween events, including Halloween Haunt, and some pretty cool mazes and shows. Younger children will enjoy Pumpkin Fest, which runs from October 3rd through November 1st. We visited the park during last years' Halloween season and the kids loved trick or treating with their favorite Peanuts characters!
If you are thinking of visiting California's Great America this fall, check out their
online ticket ordering
and save up to $20 per ticket!
Note: We were able to bring bottled water into the park, but if you drink soda you might want to buy the refillable bottles at the snack bars; they come with unlimited refills all day. We did see a few families with small ice chests also, so not sure if they are allowed (check with guest services first), and lots of people tailgating in the parking lot for lunch.