Whether you are shopping for yourself, your baby, or a shower gift, here's a great selection of baby and momma products that we love!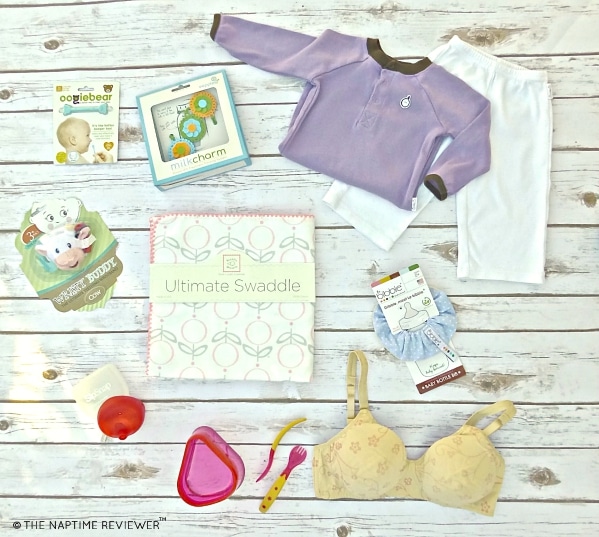 Oogiebear
: The cutest booger tool and ear cleaner ever! Made of soft silicone rubber, one end is a loop, and the other is a scoop. This is perfect for when boogies are thick or dry, or when an aspirator may just push them further up the nose. It's also great for ear wax as cotton swabs can just push wax further into the ear canal. Oogiebear's cute design is safe, so that it cannot be inserted too far into the nose or ear canal.
Milkcharm
: These charms are an adorable and practical way to keep track of bottles for freshness. Whether it's a bottle of pumped breast milk or formula, you can use a Milkcharm to note when it was pumped or made, with a double sided dial that marks the day and the time. Perfect to let you know if a milk or formula bottle has been sitting out too long! Milkcharms can also be used on baby food – no more guessing how long baby food has been sitting in the fridge.
SipSnap
: Don't leave home without this amazing stretchy lid that will fit any size cup or glass. They come with sippy cup type drinking spouts, or a straw insert version. I absolutely love that you can take these to a restaurant instead of bringing an entire sippy cup, and not worry about embarrassing puddles under your table. SipSnaps are dishwasher safe, chew resistant, and made of food grade silicone. SipSnaps are compact and easy to carry in your purse or diaper bag. They're perfect for travel, taking the place of bulky plastic cups.
Wristy Buddy
: Teething babies love to chew on anything and everything! Wristy Buddy attaches easily to babys' wrist and gives them something to chew on that won't fall onto the ground and get dirty. If your baby is an early teether, Wristy Buddy is easy for them to bite with their limited hand coordination. Wristy Buddy comes in super cute stuffed animal designs, with a soft, non-toxic, rubbery teether attached. For babies 3 months and up.
Baby Dipper
: I love the design of this bowl! With its' triangular shape (with rounded corners) and slanted bottom, all the food falls down to the point of the triangle, making it easy to use the rounded spoon to get every last bite. The bowl also has a great non-slip bottom, making one handed feeding easier and eliminating spills from being knocked off the high chair. This is not your average baby bowl. It has very thick and weighty sides to lessen the chance of spilling.
New For Baby
: Give baby the softness of 100% cotton clothing from New For Baby. Sleep gowns are soft with elasticized bottom for easy diaper changes, and necks have snap closures. Sizes up to 3 months include fold over hand cuffs to prevent face scratching. Yoga pants are equally as soft with elastic waistband, and colors to match just about any outfit. New For Baby carries clothing for babies 0-12 months in yummy bright colors, with some fantastic gift sets that include gowns, bodysuits and yoga pants for boys and girls.
Le bibble
: Let's face it, babies drool and dribble while drinking bottles. Le bibble catches it all with it's unique design that surrounds the top of the bottle, and works with all bottle sizes. The cute designs keep babies focused, as well as helps them hold onto the bottle. Do you have twins? Buy 2 different designs to eliminate mixing up bottles! Perfect shower gift for the baby who already has everything!
Ultimate Swaddle
: Don't know how to swaddle? No worries! The Ultimate Swaddle by SwaddleDesigns has an instructional label showing how to swaddle your baby sewn onto the edge of the blanket! This is a must-have for new parents! These blankets are made of super soft, lightweight cotton and come in really fun prints. I love the large size of these swaddle blankets – 42″ x 42″. Check out SwaddleDesign's beautiful line of baby apparel, bedding, and bath time products.
Now for mommy!
Solace Nursing Bra from Nizo Wear
: It's very hard to find a nursing bra that is comfortable and fits well. The Solace Nursing Bra is made of ultra soft material and comes with molded pads that are removable (to hide nipples, breast pads or leaks!). The full coverage cups have no seams to show through clothing, with no underwires. A great feature of this bra is that the cups contain "healing" pockets, where you can insert a warm or cool pack when you are experiencing discomfort. The Solace bra is made from 95% cotton for soft comfort and features adjustable back closures. The cups also drop open completely for good skin to skin contact during breastfeeding.
*******
Disclosure: I received one or more of the products mentioned above in exchange for review from the above product companies. Regardless, I only recommend products or services I use personally and believe will be good for my readers.