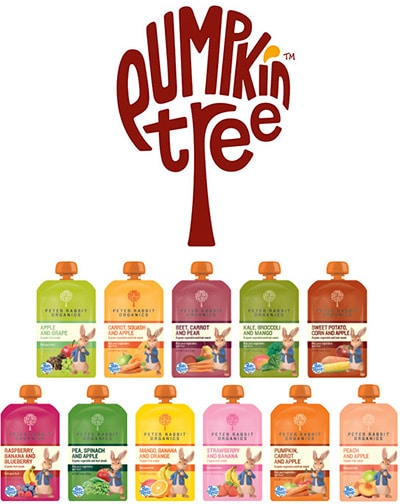 Why We Love Squeeze Pouches
Squeeze pouches are the best thing since jarred baby food. Being a family that travels frequently, we rely on brands like Peter Rabbit Organics and their awesome organic squeeze pouches since packing glass jars or plastic baby food containers isn't practical.
Both of my girls loves squeeze pouch food and it's an easy way to ensure they're getting their fruits and veggie servings in each day. My oldest loves applesauce squeezies and my little one loves anything with a smooth texture.
Not All Squeeze Pouches Are Alike
Being the bargain shopper that I am, I typically just buy whichever brand is on sale at the grocery store. I don't make an effort to buy organic unless they are on sale or I have a coupon. However, after sampling the Peter Rabbit Organics squeeze pouches, I now know that not all squeeze pouches are alike.
Peter Rabbit Organics is a small, privately-owned company that is passionate about providing healthy snacks for kids that don't contain added salts, sugars or artificial ingredients. They take pride in their products and the fact that they don't cut corners when providing our kids with healthy, great tasting snacks is share-worthy.
The Flavors
We received three delicious snack pouches from Peter Rabbit Organics to try. We tried Peach/Apple, Pear/Pea and Sweet Potato/Corn/Apple. My oldest daughter sucked each pouch down like they were juice boxes. She usually doesn't finish a whole pouch in one sitting but she had no problem finishing the Peter Rabbit pouches.
I personally tasted each pouch and I was very impressed with the flavors. They put my homemade squeeze pouches to shame, that's for sure. They were all actually very fresh tasting and had smooth textures. My favorite was the Sweet Potato, Corn and Apple. It reminded me of butternut squash soup.
The Ingredients
All of the Peter Rabbit Organic snacks are made form 100% organic fruit and vegetables. Each pouch contains less than 100 calories, 35% Vitamin C, less than 20g of sugar and less than 1g of fat. Another huge plus is that their pouches are BPA free.
Where to Buy Peter Rabbit Organics
You can get your own Peter Rabbit Organics at your local Starbucks, REI, Whole Foods, Walmart, Albertsons, Amazon, Target and other stores.
You can visit the PR Organics website to use their
store locator
.
New Name
Peter Rabbit Organics has decided to change names to Pumpkin Tree Organics. They will continue to make their delicious Peter Rabbit Organics recipes but will be transitioning to their new name. Visit www.peterrabbitorganics.com to learn more about their name change!
Disclosure: I received the above mentioned products to facilitate my review. My opinion is honest and my own.