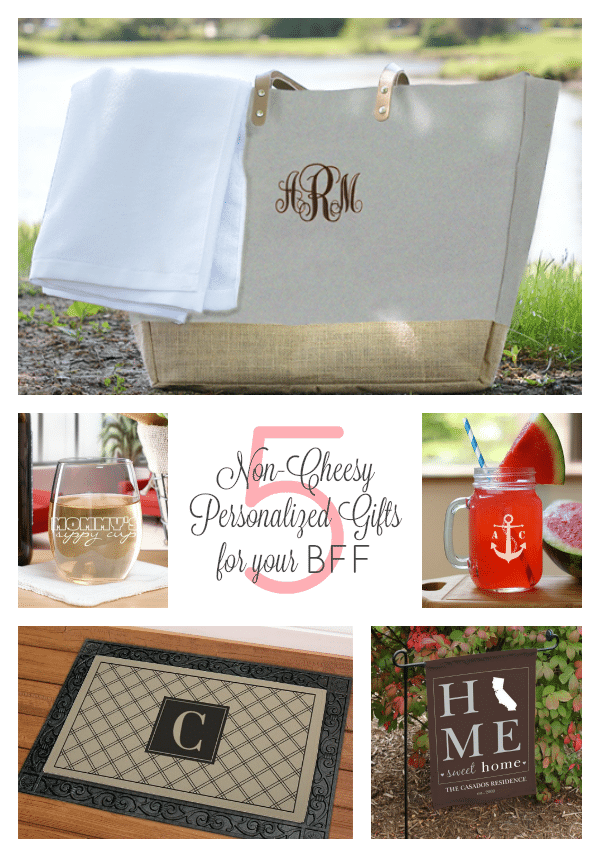 When I think of personalized gifts, I think products that are absolutely pointless and cheesy that I'll never use again. I also think wedding since most bridesmaid/groomsmen gifts are personalized in some way. A personalized gift was not something I would even consider for a friend, husband, child, grandparent, or even myself…

… until I found these 10 super cute products from Gifts For You Now.
With a little coaching from some Pinterest trendsetters that I follow, I talked myself out of putting cheesy and personalized gifts in the same category and started seeing them as useful, gift-worthy and even something I'd want someone to buy for me.
I've spent entirely too much time on the Gifts For You Now website looking at all of the gifting possibilities for upcoming birthdays and other occasions, but I've limited myself to choosing just five of my favorite products to share with you.
Below, you'll find five of my favorite affordable and useful household products and accessories (plus a little something extra on the bottom).
Personalized "Sippy Cup" Stemless Wine Glass – $12.98
Personalized Home Sweet Home Welcome Garden Flag – $14.98
Monogram Doormat with Frame – $59.96
Engraved Anchor Mason Jar – $14.98
Monogram Gray Burlap Tote Bag – $34.98
About Gifts For You Now
Gifts For You is a provider of personalized gifts for all occasions. Their mission is to provide Personalized Gift solutions for everyone and every occasion. The primary focus at Gifts For You is creating highly personalized gifts with many options; making your gifts even more customized and unique. Over the years, Gifts For You has expanded it's offering to include thousands of gift ideas for any gift occasion imaginable. Their most popular gifts are their personalized t-shirts and sweatshirts.
You also might like:
I've always wanted to do custom t-shirts for a family cruise. I've seen people wearing some that say things like "I'm on a boat" or "We Are Family" and I've always thought it would be fun to do this with my husbands family since it's so big.
What's your favorite product on GiftsForYouNow.com? Leave me a comment with the product link and I'll check it out!

This post was made possible by Gifts For You Now. We do our very best to share products that we would personally use and appreciate you taking the time to learn more about our sponsors and their products.