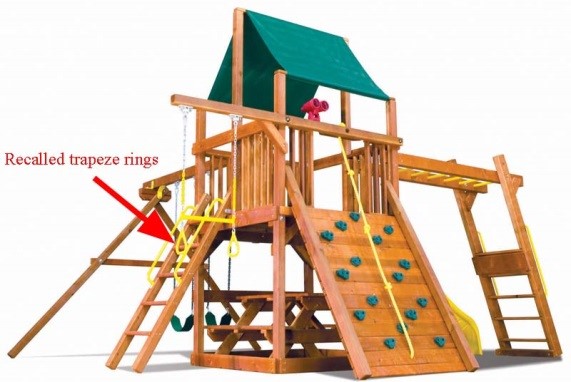 Recall Date: April 7, 2016
Recall Number: 16-137
Rainbow Play Systems Reannounces Recall of Plastic Yellow Trapeze Rings Due to Low Response Rate; Manufactured by Nylacarb
Recall Summary
Name of Product: Plastic Trapeze rings
Hazard: The rings can unexpectedly crack or break during use, posing a fall hazard to children.
Remedy: Refund
Consumers should immediately stop children from using the recalled rings, contact Rainbow for ring removal instructions, then remove the rings from the playset and receive a $10 gift card.
Consumer Contact: Rainbow Play Systems toll-free at
888-201-1570
from 8 a.m. to 5 p.m. CT Monday through Friday or online at
www.rainbowplay.com
and click on the Recall tab located on the top menu bar for more information.
Recall Details
Units: About 121,000 pairs of rings in the United States (in addition about 6,500 were sold in Canada and about 5,500 in Mexico)
Description:
This recall involves only the yellow plastic trapeze rings. They are triangular in shape with rounded sides and have a loop at the top. They measure about 8½ inches high by 6½ inches wide. The yellow rings come as a pair and were connected to a trapeze bar.
They were sold either as a separate component or as an attachment on the following Rainbow®-branded residential wooden playsets: All-American, Backyard Circus, Carnival, Fiesta, King Kong, Monster, Sunray, Sunshine and Rainbow.
All of these playsets have an aluminum plate located on the front of the wooden swing beam with the following name stamped on it, "Playgrounds America," "Rainbow Play Systems Inc.," or "Sunray Premium Playgrounds."
Incidents/Injuries:
Rainbow has received more than 100 reports of the rings cracking or breaking, including 15 with reports of injuries consisting of bumps, bruises, lacerations, concussion and one broken finger.
Sold at:
Rainbow dealers nationwide from January 2007 through December 2011 and at several mass merchandisers including Sam's Club, Toys R Us and Walmart from January 2009 through December 2009. The playsets retailed for between $900 and $10,000.
Manufacturer: Rings: Nylacarb Corporation, of Vero Beach, Fla
Distributor:
Rings: Child Works, of Carollton, Ga.
Manufactured in: United States