Getting your kids to read is no easy task. Luckily there are a few things you can do to turn your unruly brood into a little pack of bookworms! Here are some summer kids reading tips…
Lead By Example
First of all, you probably already know that the best way to teach your kids anything is to lead by example. If you want them to resolve arguments in a constructive way, you know you can't scream at your husband in front of them. If you want them to learn to cross the road carefully, they can't see you running across when the lights are still red. And if you want them to read more, they have to see you taking pleasure from books. Whether that's rereading your old battered Harry Potters for the fiftieth time or tackling the new hardback reviewed in the New York Times, you need to let your kids see you reading.
Read To Them
Reading to your kids before they go to sleep is one of the best ways to help them associate books with love, happiness, warmth and comfort – which in turn will help them retreat to books in the future if they need some life advice or simply to take some time out from the pressures of the world. Dim the lights, turn the nightlight on, snuggle up with your kids in their PJs, and make storytime the best time in the day.
Take Them To Libraries
Libraries are an absolute godsend for parents who want their kids to be good readers. There are storytimes, librarians can make incredible recommendations, and let's face it, libraries are much happier than bookstores about grubby-fingered kids flipping through books before putting them back on the shelf. Going to the library regularly will help to foster a culture of reading in your family's life.
Pick The Right Books
Picking the right books is absolutely crucial. Remember that although classic books are often classics for a reason, your kids are much more likely to want to read the same books that their friends are reading instead if Anne of Green Gables or Huckleberry Finn -instead look online for lists of the best magical realism books for YA readers, for the most popular books around at the moment, for the books that your kids' favorite vloggers are writing… No matter what books your kids are reading, whether it's the Wimpy Kid series or Goosebumps, the point is that they're reading and enjoying it. That's all that matters – they can get to the classics in time.
Don't Make It Into A Chore
Finally, don't turn reading into a chore or make your kids read a certain amount of pages a day or punish them if they don't read. The best way to get them to do it is to be encouraging – to listen to them read, to help them when they stumble over difficult words, and to praise them when they do well. Don't make reading yet another thing that they have to do at school or something that takes up their free time in the evening. It's much better to encourage it than to enforce it so that you manage to build a healthy atmosphere around reading. That bodes much better for the future.
Books for Young Kids
I like to put together book round-ups about every quarter to help introduce you all to new books by some of the best authors.  Here is a great list of books to help get your kids reading, or help them continue to love reading during the upcoming summer vacation.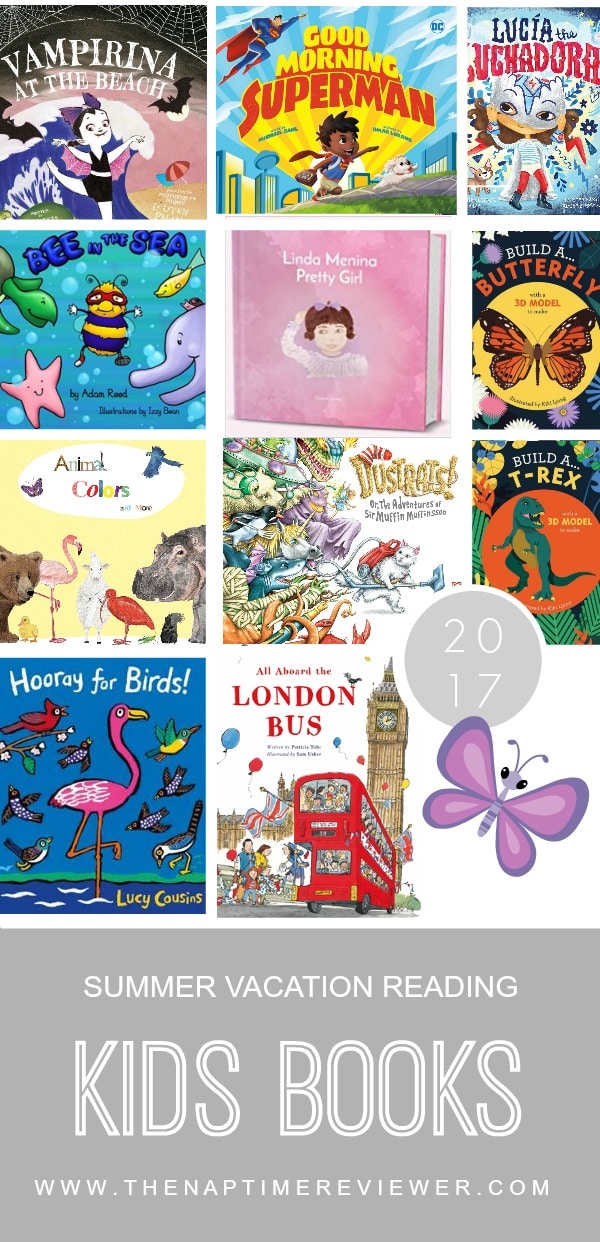 All Aboard the London Bus by Patricia Toht, Illustrated by Sam Usher
Come! Board the London Bus
and see the London sights with us.
At any time, hop off, explore!
Then climb back on, and ride some more…
As a family of four spend a day exploring London, fun, child-friendly poems introduce readers to our wonderful capital city, and all its secrets. Well-known landmarks like Buckingham Palace, Big Ben and the London Eye, plus inescapable features like rain and taking tea, all get Patty Toht's witty treatment. Non-fiction facts provide more information about the subjects, while rising star Sam Usher brings them to life with his signature style and humour. This gorgeous celebration of London will be loved by both tourists and those who call the city home.
Hooray for Birds! by Lucy Cousins
Birds of all feathers flock together in a fun, rhyme-filled offering by the creator of Maisy. From the rooster's "cock-a-doodle-doo" at dawn to the owl's nighttime "tuwit, tuwoo," the cheeps and tweets of many bright and beautiful avian friends will have children eager to join in as honorary fledglings. This day in the life of birds will hold the attention of even the smallest bird-watchers, whether at storytime or just before settling into their cozy nests to sleep.
In an exuberant display of color, Lucy Cousins invites little ones to imagine themselves as brilliant birds.
Build a… T-Rex with a 3D Model to Make, Illustrated by Kiki Ljung
Welcome to your dinosaur dig! Build a T-rex and uncover the inner workings of the world's most ferocious dinosaur. Learn about their body, their prey, and their extinction. Encourages imaginative play with a step-by-step 3D model to build, and simple facts to learn, ideal for young naturalists.
Build a… Butterfly with a 3D Model to Make, Illustrated by Kikki Ljung
Welcome to the butterfly house! Build a butterfly and uncover the inner workings of the world's most beautiful insect. Learn about their life cycle, how they find food, where they live, and how far they travel. Encourages imaginative play with a step-by-step 3D model to build, and simple facts to learn, ideal for young naturalists.
Animal Colors and More by Katie Viggers
Animal Colors and More is the third book in Katie's Animal series. Here a herd of friendly creatures teach children the different colors and patterns found in the animal world. Charming, vivid illustrations bring nature to life with both realism and whimsy. Keep an eye out for a few cheeky animals that are trying to trick you, see if you can work out who they are!
Lucia the Luchadora by Cynthia Leonor Garza, Illustrated by Alyssa Bermudez
Lucía zips through the playground in her cape just like the boys, but when they tell her "girls can't be superheroes," suddenly she doesn't feel so mighty. That's when her beloved abuela reveals a dazzling secret: Lucía comes from a family of luchadoras, the bold and valiant women of the Mexican lucha libre tradition. Cloaked in a flashy new disguise, Lucía returns as a recess sensation! But when she's confronted with a case of injustice, Lucía must decide if she can stay true to the ways of the luchadora and fight for what is right, even if it means breaking the sacred rule of never revealing the identity behind her mask. A story about courage and cultural legacy, Lucía the Luchadora is full of pluck, daring, and heart.
Good Morning, Superman by Michael Dahl, Illustrated by Omar Lozano
Look, up in the sky! It's a bird. It's a plane. It's the . . . SUN! When morning comes, a young boy must prepare for his day, faster than a speeding bullet. Follow along as he leaps tall buildings (jumps out of bed) in a single bound, dons his heroic uniform (his clothes), and faces his greatest weakness (Kryptonite-colored toothpaste). Then it's up, up, and away to daycare! The perfect companion to the bestselling author Michael Dahl's BEDTIME FOR BATMAN, this official DC Comics picture book will have Superman fans young and old delighting in their morning routines. Includes a morning routine checklist.
Pretty Girl (Linda Menina) – A Bilingual Children's Book by Angela Simoes, Illustrations by Helia Borges
This delightful and engaging children's story, wonderfully illustrated with original watercolors, is a bilingual book with text both in Portuguese and English. It's a simple story told from the perspective of the baby, talking about how happy it makes her when her mommy tells her how pretty, strong and smart she is. Intended for ages 0-3, it's a perfect book to begin teaching children Portuguese. It's also perfect for non-Portuguese-speaking parents to learn Portuguese right along with their child!
"I'm third-generation Portuguese-American, so I'm not fluent in Portuguese," says Angela Costa Simoes, the author. "We want our daughter to learn Portuguese, but reading her a book all in Portuguese was very difficult for me. Having a bilingual book not only allows me to participate in my daughter learning Portuguese, but I get to learn something as well! I hope other parents will enjoy the same experience." The book, in English and Portuguese, is appropriate for children ages 0 to 3, both as a read-to, and as an early primer for both English and Portuguese. Pretty Girl – Linda Menina is the ideal gift for your children, grandchildren and other young members of your family.
Bee in the Sea by Adam Reed, Illustrated by Izzy Bean
Bees aren't supposed to swim, and fish aren't supposed to fly… that is, until one day long ago, a little bee decided to try. This is a fun, funny and adventurous story about a young bee who one day finds himself in the middle of the sea. Surrounded by curious sea creatures and fantastical ocean life he undertakes a magical journey making many friends along the way. The fish gather around and teach him how to swim while he teaches them how to jump up and fly out of the sea. This book has an important message that children everywhere will respond to, teaching them that if bees can swim and fish can fly, children too can do anything they try.
Dustrats! Or, The Adventures of Sir Muffin Muffinsson by Adria Regordosa
Sir Muffin Muffinsson is a valiant, watchful cat charged with the care and keeping of baby Emma while she sleeps. It's a busy job, and this week Sir Muffin forgot to do the tidying up! Seven days worth of dust springs to life in the form of "Dustrats," mischievous little imps who run amok through the house. While Sir Muffin chases the critters from room to room with his trusty vacuum, Emma's vivid dreams begin to morph the world around him: An ocean in the bathroom, a magic kingdom in the attic, things are getting out of control! Will Sir Muffin make it back to the nursery before Emma's dreams become a little too wild? An enchanting story full of imagination and adventure, Dustrats makes for a bedtime favorite.
Vampirina at the Beach by Anne Marie Page, Illustrated by LeUyen Pham
When the summer moon is full, a beach trip is an epic way to spend the night.  With her signature poise, Vampirina and her clan gear up for a festive time at the beach. Keeping her ballet lessons in mind, Vampirina demi-pliés on a surfboard, leaps for a volleyball, and finishes each competition with style, even if she doesn't always come out on top.  (Coming to Disney Junior)