Tips on Water Safety from Cathy Paraggio, Founder of NoNetz Swimwear 
Start teaching children to swim at the first introduction to water. Even bath time is a good time to get them comfortable around water. Get kids involved early on in classes or training so they develop the skills to enjoy swimming.
If you are visiting a community pool don't rely on the lifeguard alone for monitoring your child. Make sure that you keep visual contact with your child at all times. A child that is in distress may not make splashes or noises so don't rely on those as signals of distress. Make sure that you know where the safety equipment is at the pool along with rescue rings and life hooks.
If you have a pool at your home you need to take extra care. Make sure that the pool is fenced and if the house is part of the fence make sure that any doors or windows leading to the pool are locked and alarmed so if there is a breach you know it! Never prop open a gate or leave a security device disarmed. It doesn't take long for a child to enter the pool area and get themselves into trouble. Gates should have spring latches that make sure they close when entered. Your private pool area should be equipped with a phone and also safety and rescue equipment.
NEVER use flotation devices as form of monitoring. Water wings, belts, vests might be great to help your child enjoy the water but these are not substitutes for parent monitoring.
It is good to know in many situations but especially important around water. Learn and teach those in your family basic CPR skills. Even though paramedics in many cities are very efficient, it can still take them time to arrive on scene. Someone deprived of oxygen for that period of time can suffer severe brain damage or death. Make sure that you know what to do until help arrives.
Always swim with a buddy- Each and every time you're in the water- whether you're swimming in a backyard pool or in a lake. Even skilled swimmers can become tired or get muscle cramps, which might make it difficult to get out of the water. When people swim together, they can help each other or go for help in case of an emergency.
Summer pool parties and BBQ's are a favorite pastime and a lot of fun. Make sure that you designate an adult monitor to watch the pool. Have adults take turns so that everyone is safe and has a great time. Don't try to "keep an eye on them" while you are doing a thousand other things. Just take shifts and everyone can have a good "safe" time.
When the pool is not in use make it as uninviting as possible. Make sure pool toys are put away, pool covers are on place and they whole area looks, really, as boring as possible. A sparkling pool with balls and rafts is an attraction to any child. An unattended pool can be deadly.
About Cathy Paraggio, Founder of NoNetz
We love the poolside and beach vacations, but for years we've seen our sons, husbands, and friends get uncomfortable rashes from conventional mesh/net bathing suit briefs.  After interviewing hundreds of families, we found 9 out of 10 males get the inner thigh rash. That was our catalyst to develop the most comfortable 
anti-chafe swimwear
 ever. Our unique design has an anti-chafe, anti-bacterial, water resistant liner which keeps guys comfortable and prevents the inner thigh rash that ruins most vacations. Our success with swimwear has prompted us to broaden our vision.  We are out to solve clothing problems for guys while maintaining the highest level of comfort. We just introduced the softest t-shirts around for men.  No matter what cycle you wash it on, it just gets softer and better looking without pilling.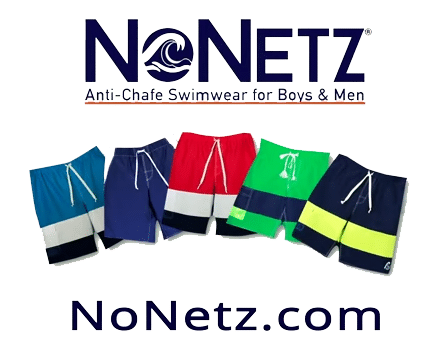 Giveaway
We've teamed up with NoNetz to offer you the chance to win 1 of 2 pairs of mens or boys swimwear.  Use the Rafflecopter form below to enter.   Good luck!  Giveaway ends 5/25/17.
a Rafflecopter giveaway