I will never understand why we aren't taught more about surviving in the real world in school.  Sure, we are taught things like math, history, geography, etc., but schools in my area don't really focus on real life situations.  Kids should be learning more about saving money, investing, preparing for a family, taking care of your family…
I recently took an amazing online financial course from Bodnar Financial that really has down-to-earth approach to finances for young families.  The course is given by Certified Financial Planner and father of two, John Bodnar, who makes the entire learning process easy to follow.  He is dedicated to helping people achieve life goals with a sense of financial security in the least boring way possible.  And believe me, this course is anything but boring.
With my course came a downloadable workbook that coordinated with the course. This workbook includes a household balance sheet, a life goals worksheet, credit score sheet, a credit card worksheet, a household budget template, a wants vs. needs worksheet and an action checklist.  You can print each of them out, fill them out and use them throughout the course.  I recommend that you print them out in color, because for me, black and white papers aren't as fun to fill out and I never take a second look at them.  When I have colorful papers to fill out, I'm excited to look them over, fill them out and even display them.
The Bodnar course teaches you to view money through three lenses: Freedom, Opportunity and Love.  Instead of asking yourself how much you need, ask yourself what you need money for.  It teaches you the importance of compound interest (earning interest on your interest), which I previously never took the time to think about.
This course is full of funny GIFs, real talk, large font and easy-to-follow graphics.  It has managed to get me excited to work on our family's finances, which is pretty much a miracle.  The bank that I am currently using offers financial advice and mini courses online, but they are so boring!  I click into them and have never even read through an entire topic.
I love how the Bodnar approach is to help you make a budget that is realistic to your life goals.  Life goals would be things like buy a house, vacation X amount of times per year, save for your child's college education, buy a camping trailer, etc.  I had a bit of trouble filling out my household budget worksheet because I typically never pay attention to how much I'm spending on basic everyday items like diapers, groceries, toiletries, etc.  This course really got me to stop and think about how much I'm spending on things I actually need versus how much I'm spending on things that are unnecessary – like dining out.
Something we have never discussed in our household is our "estate plan."  This financial course touches on this topic and gives great advice.  It also touches on managing your risks and adjusting insurances, which is so important.
I feel like I have learned so much from the Bodnar Financial course.  It took me about two hours to get through the entire course, but I made myself a few notes to go back and review some of the topics.  Currently on my to-do list are: open a high-yield savings accounts, look into accident insurance since my husband is a cyclist and there is always risk of injury, automate all of my monthly payments, and create a better budget.
I highly recommend that new parents, or those planning for a family, take this course.  It's so important to have your finances in order before adding more to the monthly budget.  And we all know that kids add quite a bit each month ( in the cutest way possible, of course).  Those diapers add up and I want you to be prepared.
Take the Bodnar Financial Course for Young Families by visiting www.courses.bodnar.net.  Happy planning!
Giveaway
We're giving you the chance to enter to win your very own promo code to take the Financial Planning for New Parents Course ($99 Value).  Enter to win using the Rafflecopter form below.  We will choose one winner after 7/3/17.  Good luck!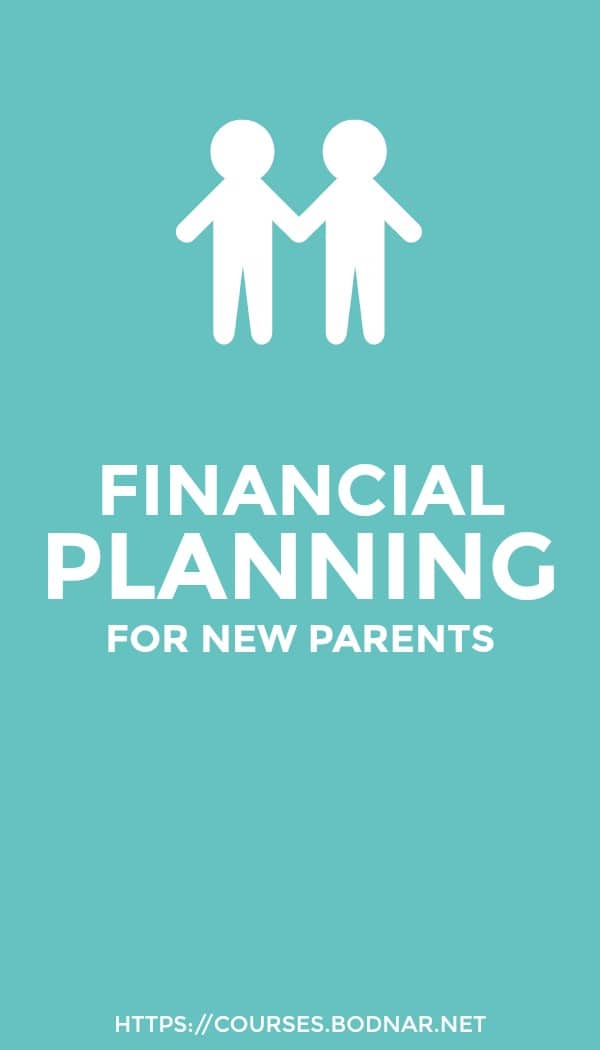 You also might like: 3 Tips to Improve Your Credit Score