Taking the family to the beach almost always results in a fun-filled day. Whether you like to lie on the beach and relax or swim and battle ocean waves, the beach offers a variety of activities. Furthermore, many beaches are located near restaurants that sell local cuisine so you can indulge in some wonderful exploration of the place.
However, with so many wonderful beaches around the world, how do you know which one your family should vacation at? We put together a list of what we believe to be the top 10 amazing beaches. Your family is bound to create incredible memories while spending the day at one of these beaches
Waipio Valley Beach
Waipio Valley Beach is in Big Island, Hawaii. If you have an adventurous family who looks forward to encountering a little bit of challenge, then this beach is perfect. To reach this beach you have to hike down a narrow and steep road. On average, it takes 30 minutes to walk down the beach and 45 minutes to walk up from it.
You can also take a shuttle or a tour down to the beach. Even though it's difficult to reach this beach, it's worth it. The beach is surround by cliff walls and has black volcanic sand. There are also waterfalls south of the beach. While this isn't a good beach to take young children, it's worth visiting to admire the beautiful sights.
Lake Mckenzie
Located in Australia, this beach is perfect for families that love the beach but hate saltwater and harsh waves. Lake Mckenzie is not your typical beach, as it is a perch lake filled only with rainwater. There are no streams that flow to or from it and its water does not flow into the ocean.
Therefore, this beach is a suitable place to bring younger kids. There are no harsh waves to topple them over and there is hardly any lake life that would freak them out. Furthermore, it is surrounded by a rainforest and is one of the cleanest beaches in the world.
El Nido
The Philippines is home to the beautiful El Nido beaches. There are about 50 beaches total and all of them contain white sand. While El Nido isn't one of the most visited beaches in the world, it should be on your list of beaches to visit.
It is surrounded by limestone formations and the water is a shockingly clear blue. Furthermore, it's a great beach to go to at night. The sunsets are gorgeous; so, it might be worth sticking around to look at the stars through a telescope. If you don't own a telescope, find the best telescope for the money.
Dreamland Beach
If anyone in your family loves to surf, then Dreamland Beach in Bali is a great beach to visit. It's been a popular surfing beach since the 1970s. Dreamland Beach is known for having amazing shore breaks.
Even though it's popularity increases each year, the beach doesn't have a touristy vibe to it. There are small shops and shack cafes located near the beach. Visitors can order fresh juice, tasty wraps, and flavorful smoothies.
Seven Mile Beach
While this beach in the Cayman Islands is actually between 5 and 6 miles, it has a little bit of everything. It's easily accessible from any hotel near it and it is close to Cemetery Reef. This beach is a great option for both lazy and active families.
There are ocean-side restaurants that serve excellent food. Visitors can also rent jet skis or go snorkeling in the reef. Furthermore, the locals are often at this beach. So, you can experience the local culture and meet new people who can recommended other, close-by places to visit.
Horseshoe Bay
One of the most popular beaches in Bermuda, Horseshoe Bay, is a great family beach. There are lifeguards on duty from May to September, which often comforts parents with younger children. Furthermore, parents can take their kids to Port Royal Cave where the water is shallower.
The beach is known for its pink sands and rock formations, which are home to many hidden caves. Visitors can rent snorkel equipment, boogie boards, and wakeboards. There are also beach restaurants that serve tasty food.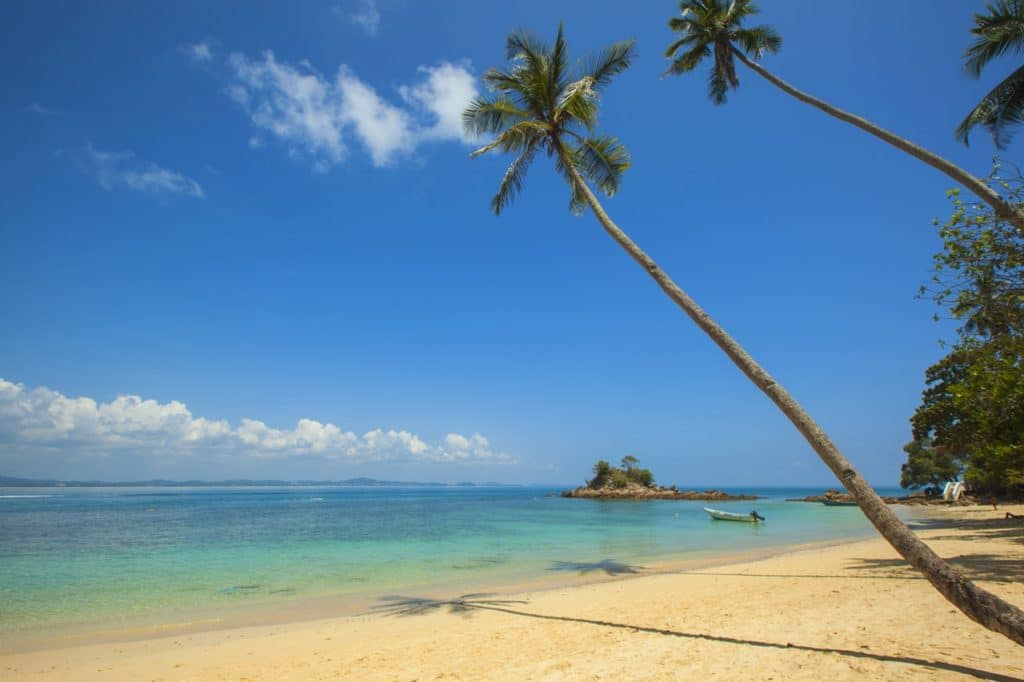 Sunset Beach
Located in Oahu, Hawaii, Sunset Beach offers different things during various times of the year. During the winter, it's a great beach for surfing. The beach is known for its big waves and being home of the Vans Triple Crown.
However, in the summer the beach is much calmer. Many people come to snorkel and see the life underneath the waves during this time. Furthermore, Sunset Beach is the perfect place to view breathtaking sunsets.
Palm Beach
Palm Beach in Aruba is a good destination for active families. There are many things to do, see, and eat at this beach. Visitors can parasail and snorkel throughout the day. Pelican Pier Bar is a popular place to eat lunch barefooted. However, even lazy families will enjoy lounging on Palm Beach.
Furthermore, this beach has a lively nightlife. There are many restaurants and nightclubs to check out. If you're feeling lucky you can visit one of the nearby casinos.
Matira Beach
Located in Tahiti, Matira Beach is very calming. The mile-long beach is surrounded by palms and tropical vegetation. The white sand is soft and leads into a shallow lagoon. Therefore, it's a great place to relax and have a good time.
Furthermore, it is the only beach in Bora Bora with public access. Families on a budget won't have to pay astronomical prices to stay at a fancy resort.
Lindquist Beach
Lindquist Beach is a pleasant beach to keep coming back to. Located in St. Thomas, this beach is part of Smith Bay Park. The water is calm and shallow, making it a suitable place to swim with young children or to just relax.
During the week the beach is calmer, but locals throw parties on the weekend, making the beach busier and more active. On both sides of the beach there are places to enjoy a picnic lunch filled with local cuisine. Overall, it's a great family location.