Yoo-hoo!  Yes, you — busy mom who is tired of faking having "it" together.  Mom who wants to be "Pinterest Mom" but is really just all about convenience and surviving most days.  Welcome to the club!
This is a sponsored conversation written by me on behalf of Red Baron® pizza. The opinions and text are all mine.
The Convenience Mom Club
You know I love to keep it as real as possible on this blog, right?  Well, last week I was totally a "hot mess mom."  I looked completely put together and even managed to shower and do my hair and makeup every single day.  I showed up on time to the kids' dance practice, birthday parties, and baby showers, play dates and managed to grocery shop, get some housework done and spend time with the family.  But inside, I was an emotional wreck.
Saturday: I forgot (which is totally unlike me) to buy the birthday party presents and the baby shower gifts, so I was scrambling the day of the parties to put some gifts together.
Wednesday: Kendall (2) had an absolute meltdown at dance practice which left me in tears in the car on the way home because this was one instance where I literally could not force my child to get out there and be a "big girl."
Every day: Charlotte (6) is a big first grader now and has somehow discovered that having an attitude is a cool thing.
When my husband is gone at work, I rely heavily on my mom to be my wing woman while I grocery shop, and just in life, really, but she was enjoying an 11-day French Polynesian cruise with my dad and a group of their friends.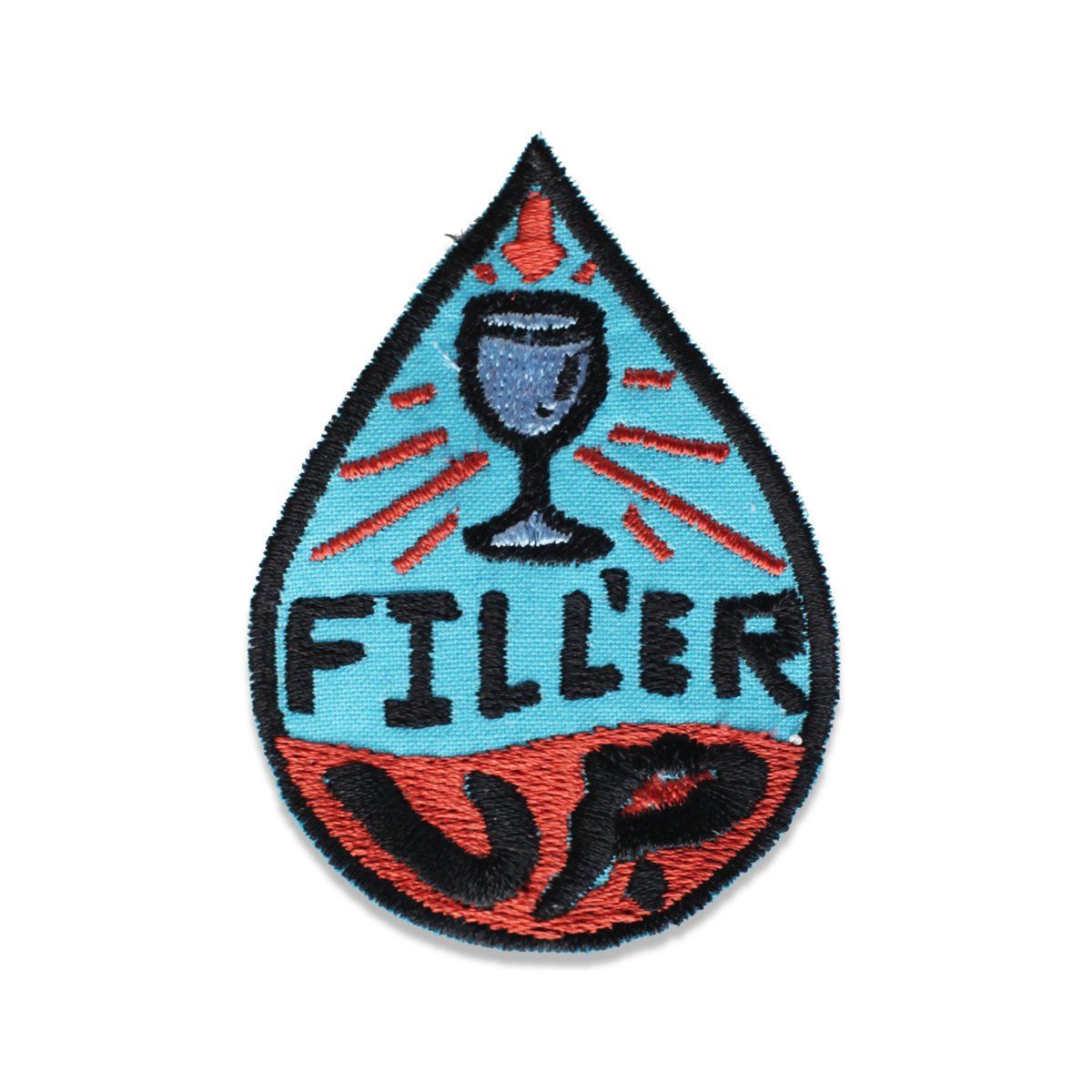 So, melt down kid, attitude kid, working husband, no wing woman – this was something that not even a trip to Target could fix.  I needed a break.  I needed to not put the pressure on myself to cook the best dinner. I needed to just chill in my yoga pants, watch some reality TV while allowing the kids to destroy their rooms.  Instead of storming into their rooms demanding they clean them, I took a break!  I needed Red Baron® pizza.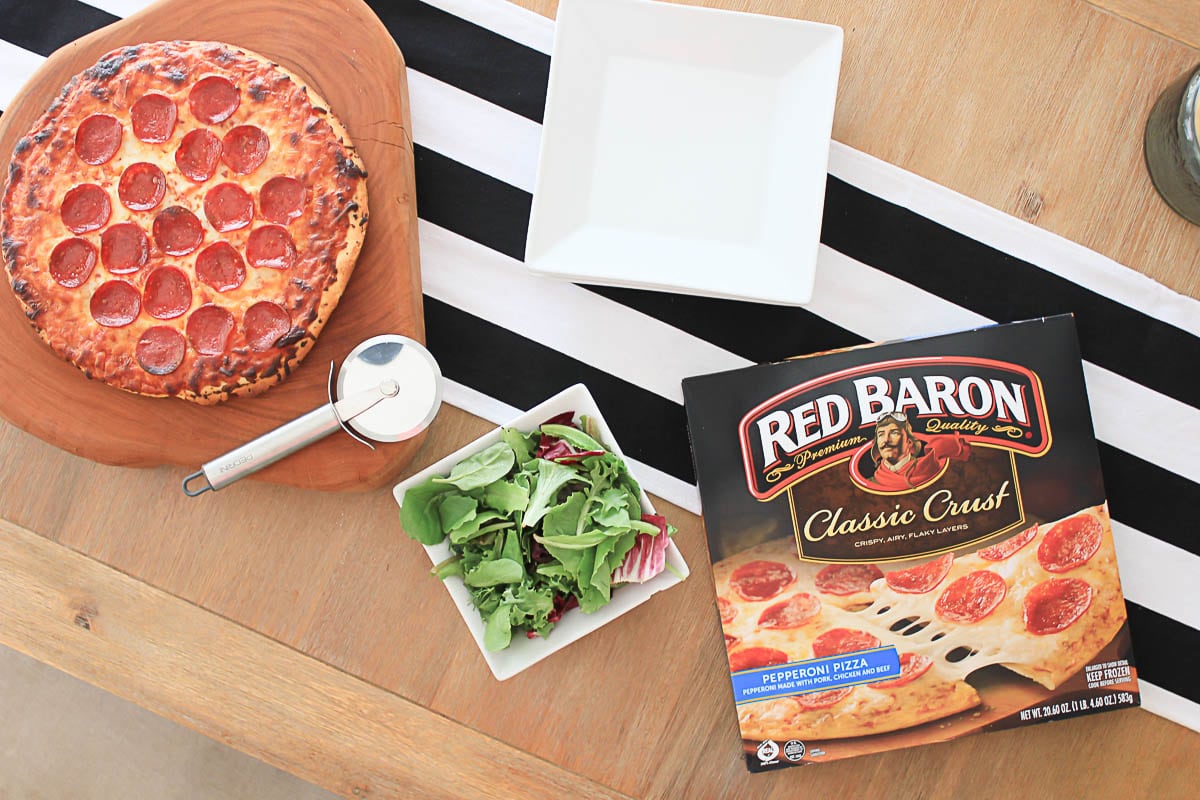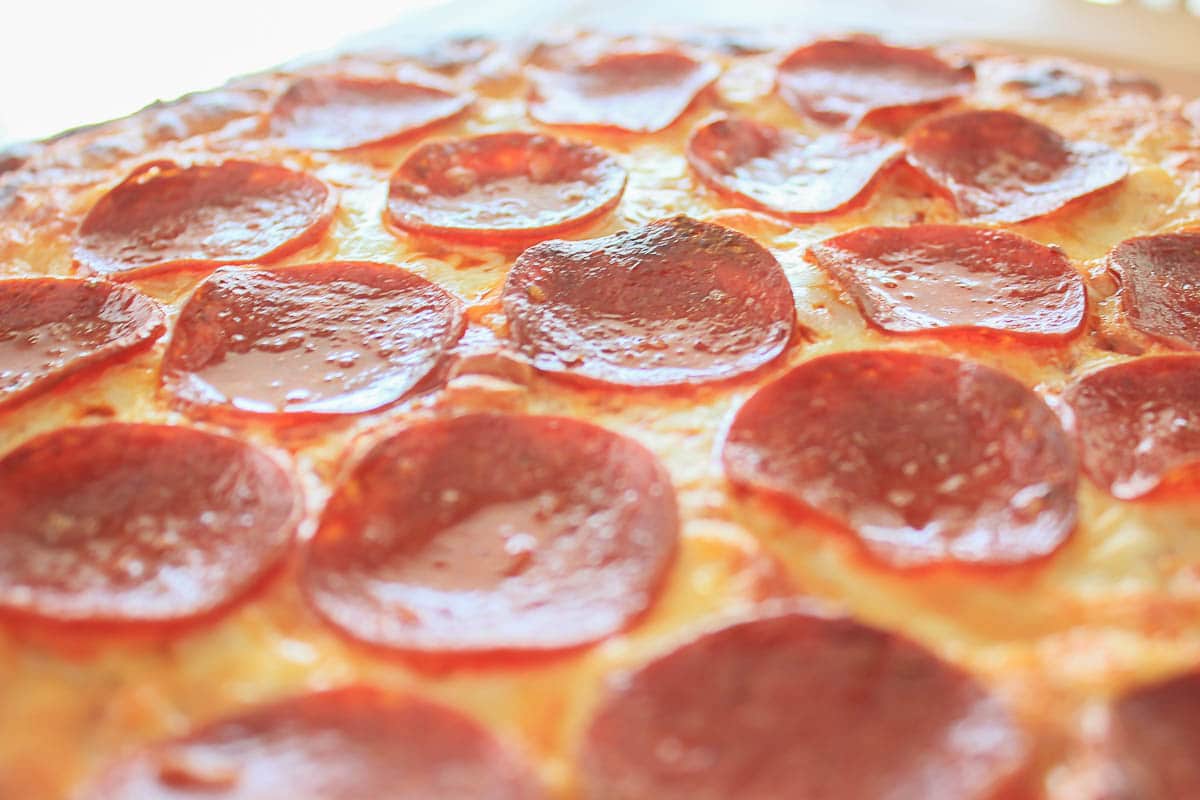 Conquering Mealtime Chaos
Between pouring the right drinks for the kids, cleaning up the spills from those drinks (because you moms know it happens every meal), and finally sitting down to eat a semi-warm meal, mealtimes aren't always that enjoyable.  Don't get me wrong, on occasion, the kids actually eat their food, manage to keep their drinks in the cups and we don't have any dinnertime meltdowns – and those nights are usually pizza nights! 
We are 100% a pizza family.  We probably eat it more than we should, but hey,  we're human.  And pizza is a food everyone will eat.  Since I'm already at Target on a weekly basis anyways, it's convenient for me to just grab a couple of Red Baron® pizzas for those nights that you don't want to cook or just don't have any ingredients in your pantry.  Pizza is definitely well-rounded (pun intended).  At least I serve a salad on the side and a healthy drink, right?  Mom for the win!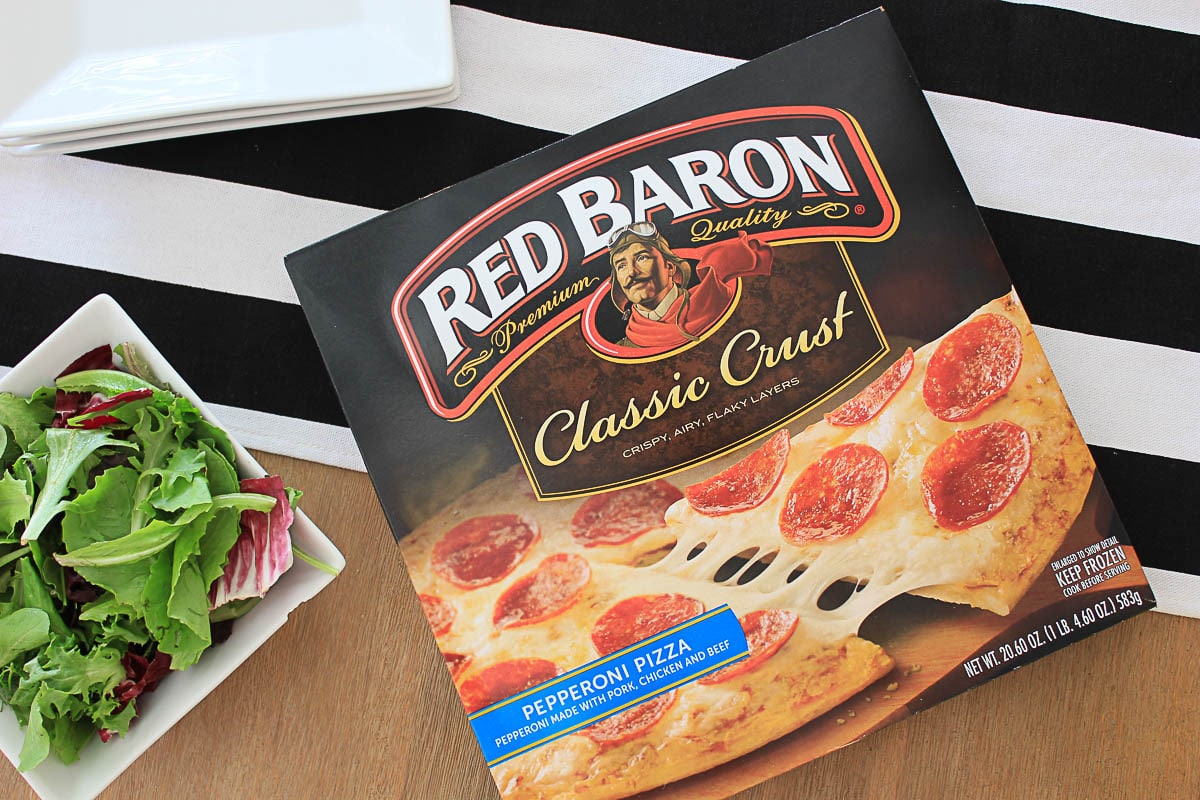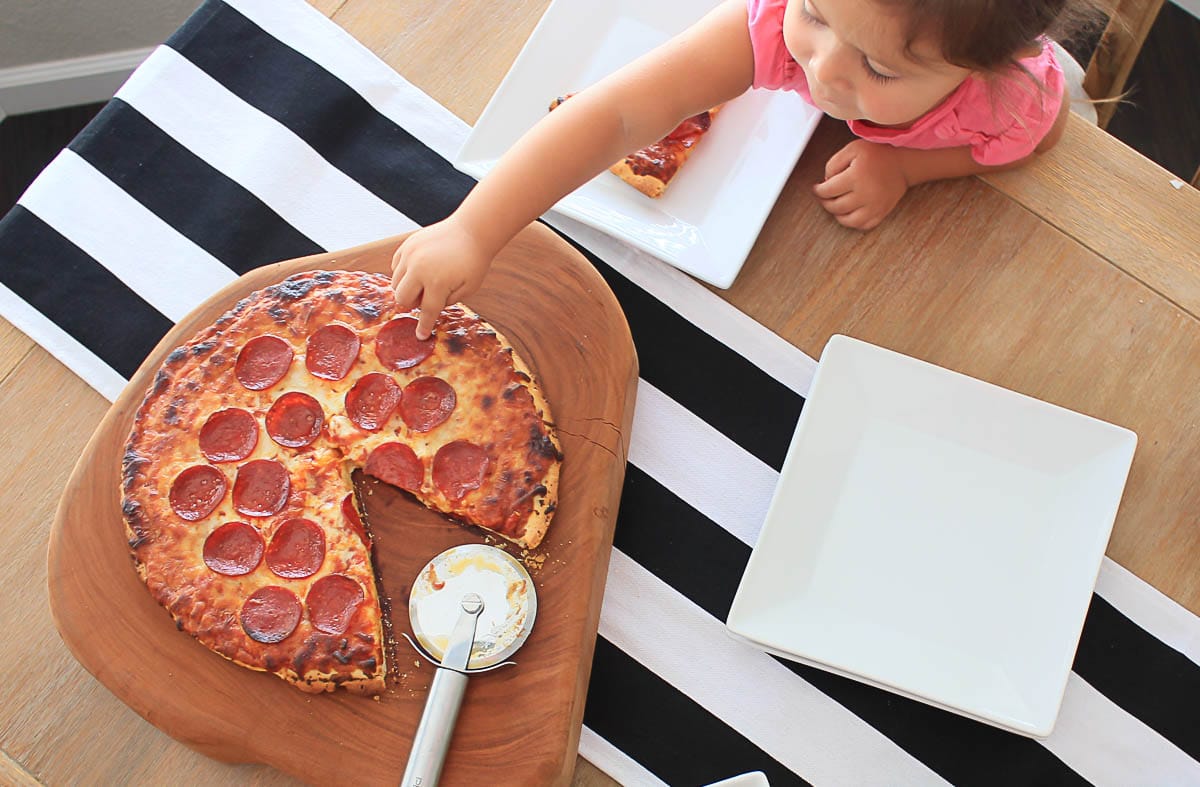 Never Fly Solo – Earn Your #WingMama Patches

I feel like Red Baron® gets us, moms.  Have you seen their latest funny commercial introducing The Baroness?  The mom totally nailed dinnertime by getting her family to actually eat their food, which was Red Baron® pizza.  Sounds like a simple task, but if your kids are like mine, you know it's no easy feat.  The Baroness is the ultimate #WingMama.  Pizza enthusiast.  Slayer of tantrums. She has a signature look, including a bomber jacket adorned with different patches she has earned throughout the years as a mom.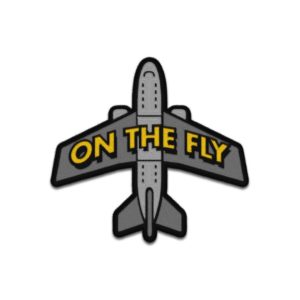 Red Baron® has so many options for mealtime with picky kids.  Oops, you bought the Red Baron® Classic Crust Pepperoni Pizza and your kid thinks the pepperoni is too spicy?  Yank those pepperonis off and you've got cheese pizza!  Mom to the rescue.  On The Fly Patch earned!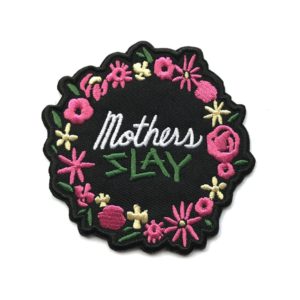 As much as we fake having it all together on social media, we all know that next to that perfectly clean couch you photographed, is a pile of toys, blankets, fruit snack wrappers and who knows what else.  You aren't flying solo.  We all get it!  Mothers Slay Patch earned!
Forgot to make your kids' lunches for school?  Leftover Red Baron® pizza to the rescue!  Pizza for Peace Patch earned!
Let's hear your motherhood stories!  Share them on social media tagging @redbaron and using the hashtag #WingMama.
Also check out: The Baroness Instant Scratch & Win Game:
Visit www.RedBaronBaroness.com 
Enter your info for game entry.
Scratch away the Red Baron® pizza tiles and reveal your Baroness patches!
If you find 3 clean plate club patches, you win!
Play each day for your chance to win daily prizes! Each day, 2 lucky winners will win a $10 eGiftcard and 3 lucky winners will win a $25 eGiftcard. The Baroness Instant Scratch and Win Game will only be available for a limited time. Be sure to play today!