You know what I love?  Unexpected surprises!  You know what I love even more?  Gifting unexpected surprises!
This shop has been compensated by Collective Bias, Inc. and its advertiser. All opinions are mine alone, as well as the box of sunshine ideas shown below. #TimeWithAveeno #CollectiveBias
I am loving this trend of creating a box of sunshine or a "Treat Yo'Self" basket for a friend or loved one who is really feeling down or having a bad day.  The idea is to fill a gift basket or box with some treat yourself products and then anonymously drop the package off at the recipient's doorstep.  Some people prefer to fill their boxes with all yellow products, hence the name "box of sunshine."  I personally don't feel like all yellow is a must, so I like to keep my box neutral with pops of yellow.
I went down to my local Walmart store and searched around for the perfect box of sunshine goodies.  Naturally, when I think of treat yourself products, I think of bath products, so I went down the body wash and shaving aisles to find the perfect matching AVEENO® products.  Since my box of sunshine wasn't going to be too large, I went with the AVEENO® Skin Relief Body Wash and the AVEENO® POSITIVELY SMOOTH® Shave Gel.  Both products have a tan bottle with a light blue cap, which was perfect for the neutral themed box of sunshine I was going for.
Box of Sunshine Ideas
AVEENO® Skin Relief Body Wash
Unless you know your gift recipient really well, it's wise to stick with a body cleanser that is mild, doesn't contain any strong fragrances, is hypoallergenic, dye-free, soap-free, and is dermatologist recommended.  The gift baskets.  The change of seasons can leave our skin feeling dry and itchy at times, and this creamy body wash effectively cleanses the skin as it soothes. (Use as directed on packaging)
Shopping Tip: This product has a new look, so be sure you are looking for the products in this photo.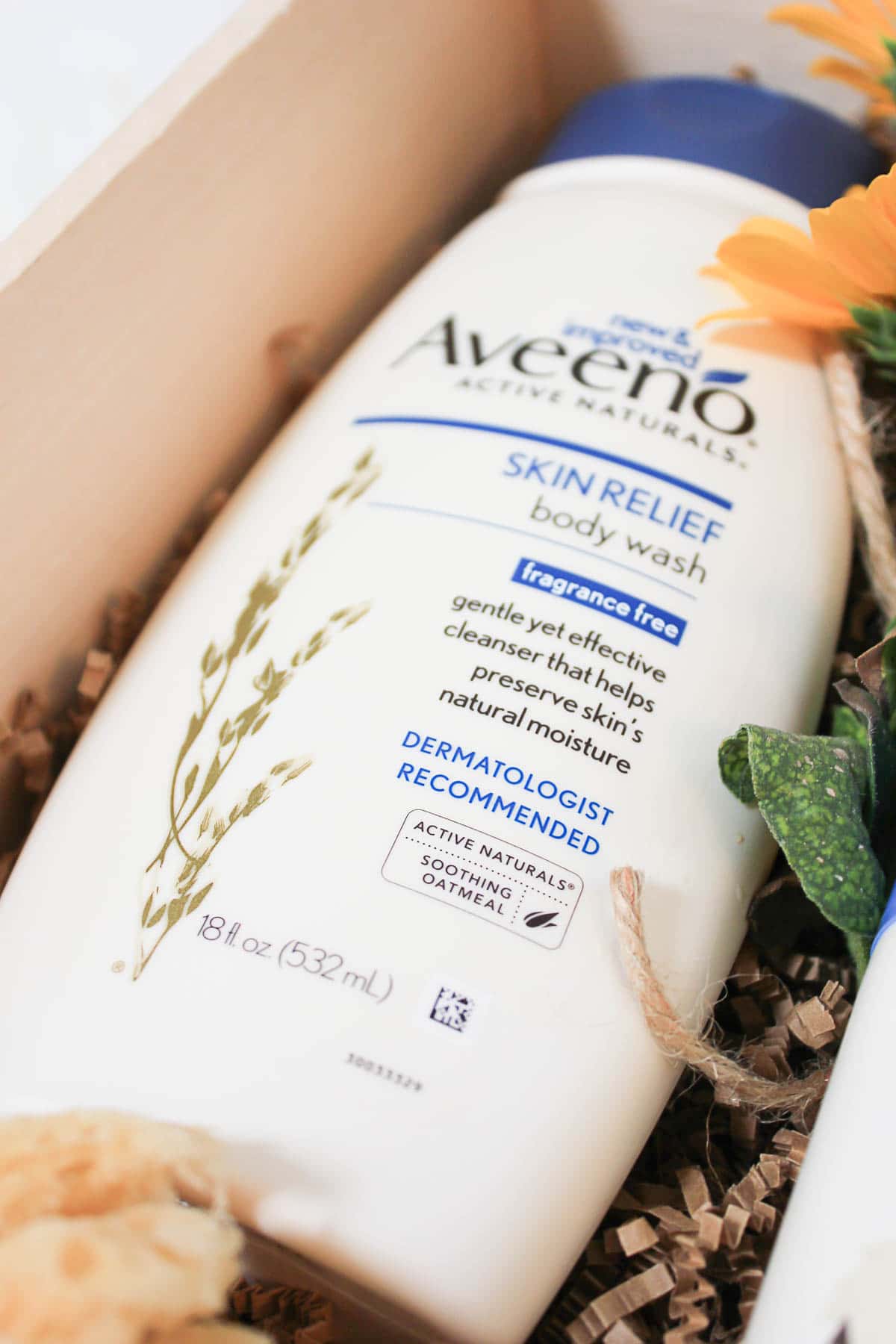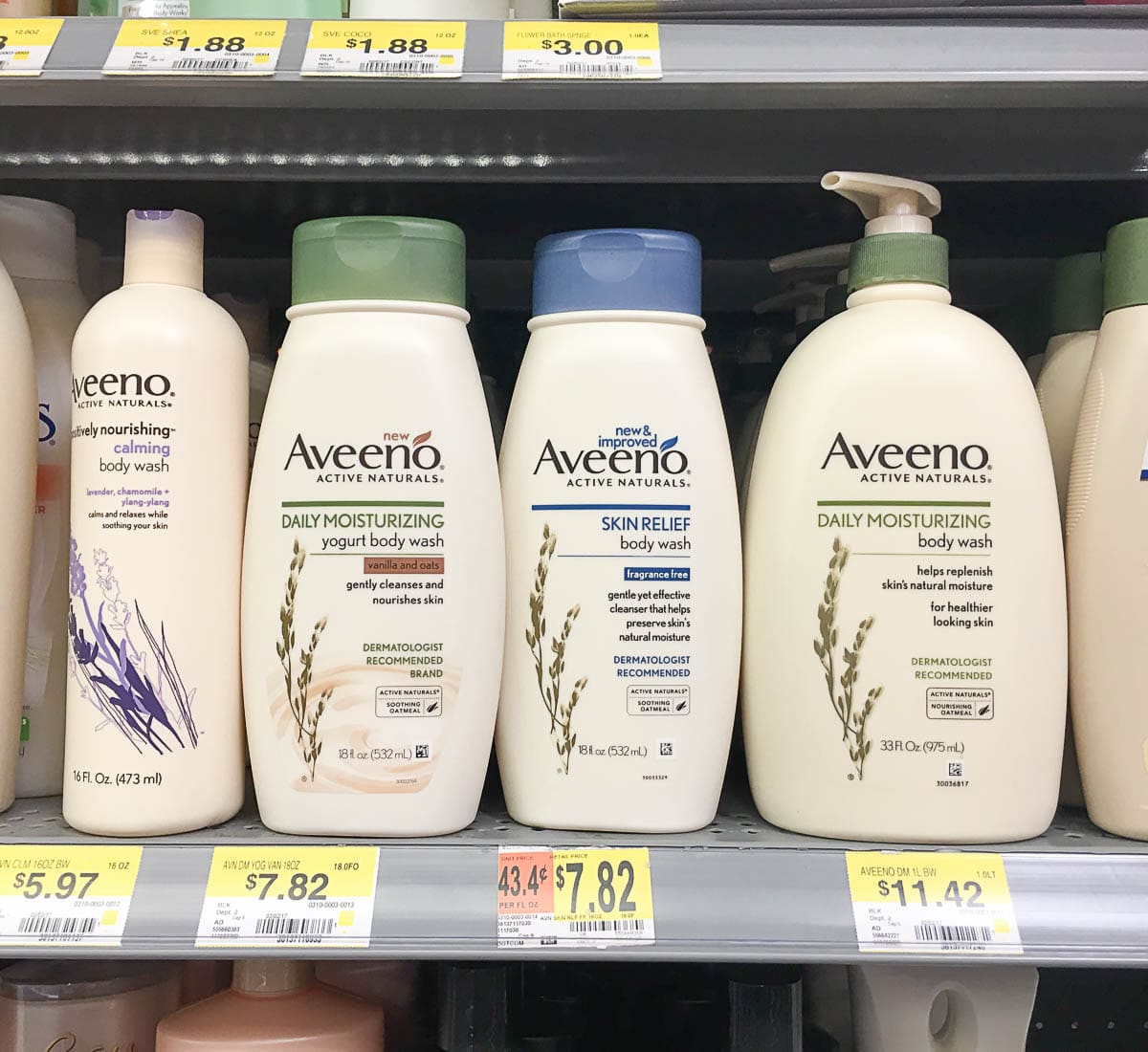 AVEENO® POSITIVELY SMOOTH® Shave Gel
Shaving is one of those inconveniences of life, but what if you could find a product that meant you had to shave less often?  A product that even helps prevent nicks, cuts and razor bumps.  A product that contains numerous natural ingredients to help soothe your sensitive skin. This is why I think the AVEENO® POSITIVELY SMOOTH® Shave Gel is a perfect box of sunshine add-in.  Plus, AVEENO® is the #1 recommended OTC shave gel brand by Dermatologists in the USA, so it's a perfect fit. (Use as directed on packaging).
Shopping Tip: Find this product in the shaving aisle at Walmart (not the body wash aisle).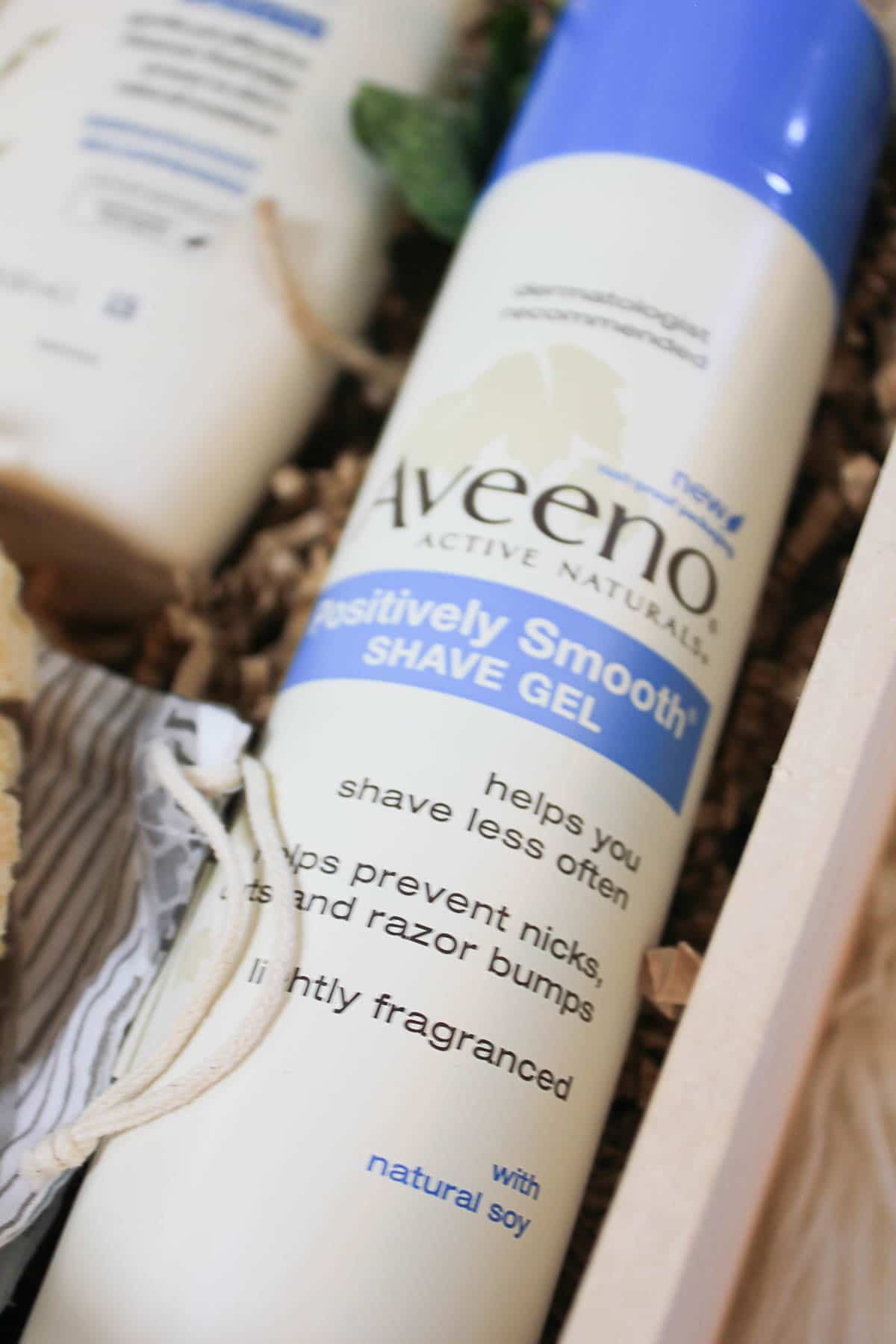 Click here to download a coupon and save $2.00 on AVEENO® products!
Mildly Scented or Unscented Candle
Who doesn't love to burn a candle while enjoying a nice soothing bath?  Sticking with my neutral and unscented theme, I placed an unscented candle in a mason jar in the box to offer a little bit of calming ambiance during the recipient's at-home spa day.
Oatmeal + Muslin Pouch
I love to add a little jar of dry oatmeal to my box of sunshine along with a muslin pouch or empty sachet.  You simply pour the oatmeal into the sachet and place it in your bathtub as it fills up.  This way you get the benefits of an oatmeal bath without the mess.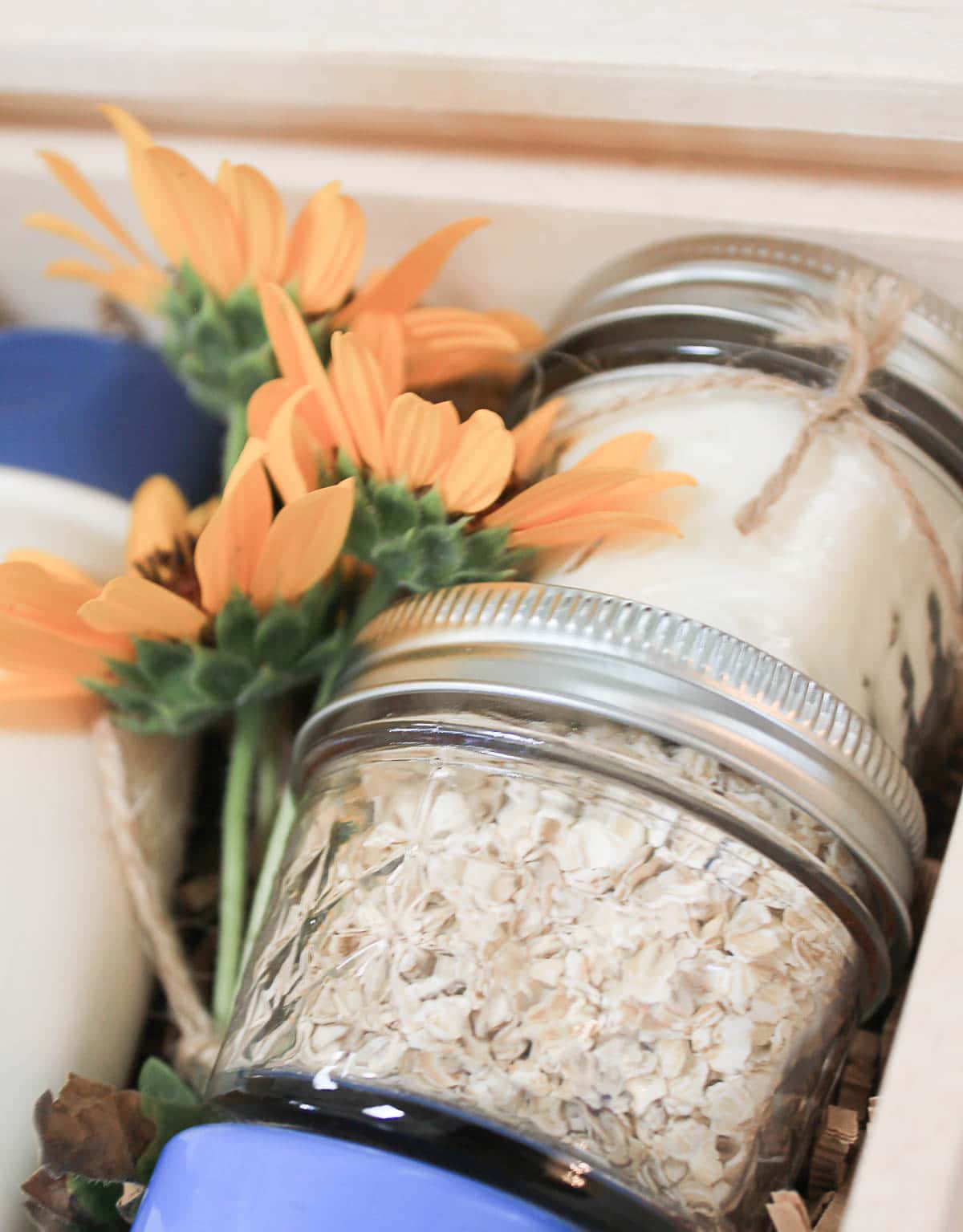 Tip: If you can't find a little sachet or muslin pouch, try using a cute sock.
Natural Sea Sponge
I love the look and feel of a natural sea sponge, plus, it's great for filling space in a gift basket.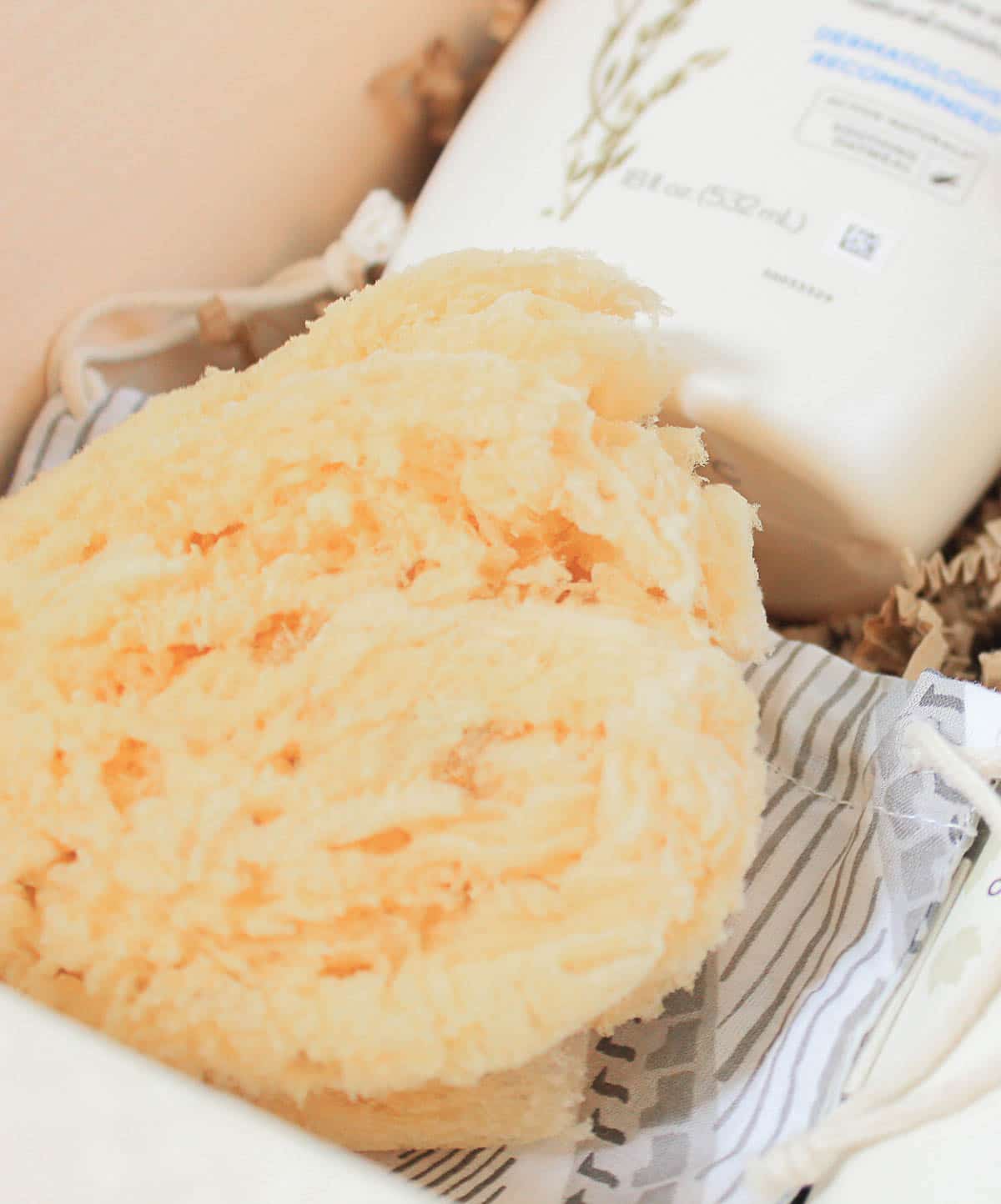 Free Box of Sunshine Printable
I created this fun free printable that you can include in your box of sunshine.  Simply right-click the image and "save image as."  From there you can resize the image and print on your desired paper type.