A 40th birthday can feel like a major turning point in your life. Whether you're looking forward to the day or dread coming to the end of your 3rd decade, have you given any thought as to how to mark the occasion?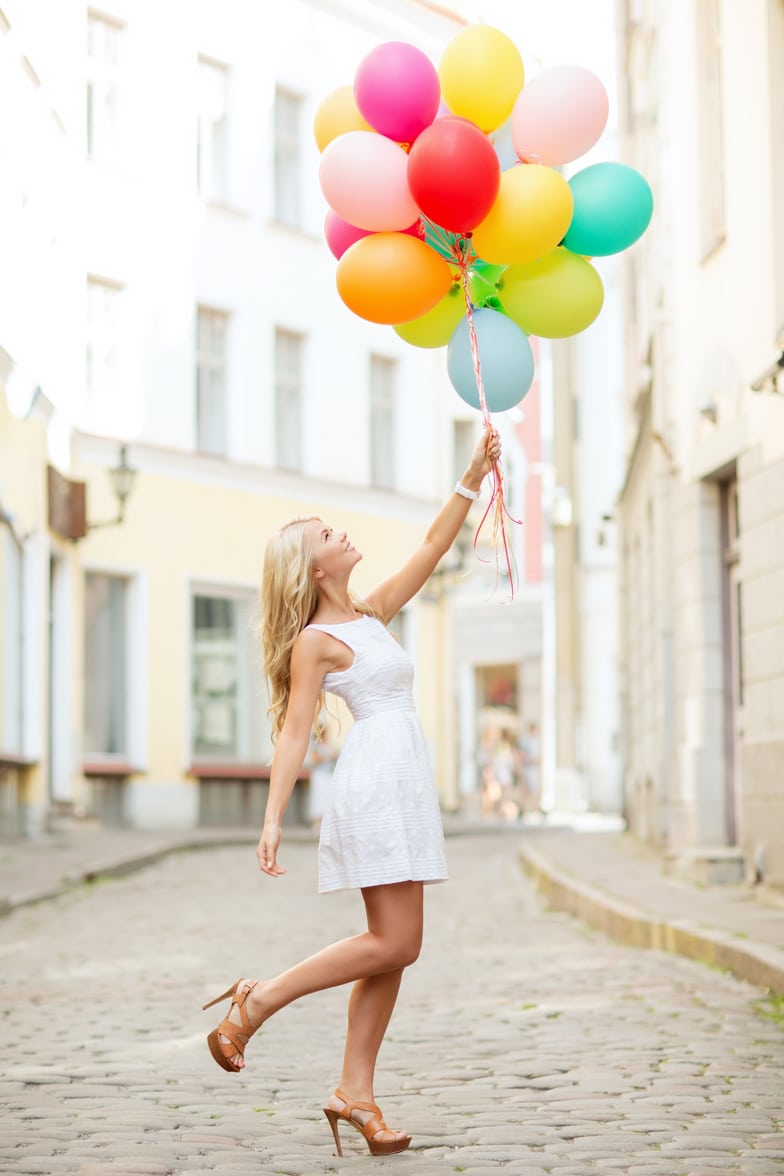 Of course, there are many wonderful ways you can celebrate this important milestone birthday. From sophisticated cocktail parties to lavish birthday dinners, spa weekends with the girls or city breaks with your significant other, a unique and memorable event in your honor may be just what you need. For a special 40th celebration, why not hire a luxury, Bombay style marquee and boogie the night away with all your friends?
However, if you feel under any undue pressure to make a big hoo-ha of the fact that you're turning 40, stop right there. For the vast majority of us, a 40th birthday goes so much deeper than a big birthday bash. It can be an opportune time to reflect on life's journey thus far, a time to contemplate what we want to do with the second half of our life, and ultimately a time for self-discovery and inner peace.
With that in mind, here are 5 ideas and suggestions for celebrating your 40th in a meaningful way, putting yourself center stage and giving yourself what you really need to feel good inside.
Give yourself the gift of health and fitness
The human body is an amazing thing that we tend to take for granted in our youth. Add to that the frenetic pace of life with never enough time to put our physical and mental wellbeing first. But age and lifestyle choices do take their toll and if you don't listen to your body in your 40s, you may well regret it in your 50s and beyond.
Tune into your 40-year-old body and ask yourself honestly: what does your body need right now? Do you have a sore neck or flabby muscles, do you carry too much weight or feel tired all the time? Whatever it is, now is the time to make a change. Give yourself the gift of health and fitness.
The trick is to find fun and healthy ways to move your body on a daily basis. Whether you like high energy gym sessions or exercise classes, exhilarating morning swims or relaxing evening walks, daily yoga practice or simply cycling to work, make it sustainable so that it becomes part of your routine over the long-term.
Feed your soul with a creative hobby
Sometimes it's easy to forget that there's more to life than the daily grind. Do you live to work or work to live? Have you forgotten how to relax and just enjoy yourself? Perhaps you had a hobby once upon a time that you secretly wish you hadn't given up? For your 40th birthday, give yourself permission to really enjoy life and pursue an activity that feeds your soul.
If you've always wanted to play the piano or the guitar, look around for a teacher and take lessons. Join a choir or a band and share your interest with like minded souls. If dancing is your passion, take up adult ballet, learn to jive or hit the clubs with a bunch of friends. Ringfence some 'me time' dedicated to creative writing, or painting, or knitting or photography – it doesn't really matter what it is as long as it floats your boat.
Learn to love yourself for who you are
With age comes wisdom, but does it really? Who has the time to ponder life? Isn't it a bit self-indulgent to worry about 'finding yourself'? As you conclude what's broadly considered the first half of your life, you may indeed be wondering if your life is going according to plan, if there ever was a plan. And if there wasn't, perhaps there should be?
By the time you turn 40, you will have had enough life experiences to form a pretty good understanding of your strengths and weaknesses. Now comes the inner confidence bit. Don't beat yourself up for saying or doing the 'wrong' things or failing to live up to society's expectations. It's time to stop worrying about what other people think and to live life on your own terms.
As a birthday present to yourself, make a conscious effort to free yourself from the limitations of the past and focus on building a positive future for yourself. Self-acceptance may take some time to achieve, and in some cases counseling or professional guidance can be a valuable part of the process, but it's one of the best 40th birthday gifts you can give yourself.
Declutter your home and make it beautiful
The well known 19th century designer William Morris famously advised that there should be 'nothing in your house that you do not know to be useful, or believe to be beautiful.' Take a long, hard look at your home – how do you feel about what you see? Is your home a peaceful sanctuary or a stress pit? Do you see beautiful things that make you happy or are you forever fighting clutter?
Mark your milestone birthday with a reorganization of your home so that it becomes a place of positive energy that supports rather than drains you. Start with decluttering followed by deep cleaning. Redecorate where necessary, perhaps with a change of color scheme. Reorganize your rooms so that your favorite items are displayed where they can be appreciated, or even treat yourself to some new furniture or furnishings.
At the end of the process, your will feel liberated by having jettisoned old belongings that no longer serve you and enjoy a space that you love to come home to as well as a clearer mental state.
Treat yourself to one really special birthday gift
Finally, mark the occasion with one luxurious gift to yourself for no other reason than 'because you're worth it'. After all, you wouldn't hesitate to treat a loved one to a special present, so why not yourself? As it's your birthday, you're allowed to indulge yourself with a beautiful item or experience designed to make your life more pleasurable.
Give some thought to the kind of gift that would make your really happy. It could be a piece of inspirational art for your bedroom wall or some precious jewelry, the latest iPhone, a designer handbag or a new bicycle. Maybe you've always wanted to get a tattoo or go on a yoga retreat by yourself?
While we all know that 'stuff' doesn't make us happy, it's the enjoyment we derive from art, creativity, beauty and life's joyful experiences that lifts the spirit. And as you turn 40, appreciating your good fortune and living life to the full is what it's really all about.