Drifting cars is huge fun but most racing circuits require you to have a driving license as a pre-requisite for taking a car onto the track. There's also the small matter of track insurance. That said, every country has its own rules and there are always exceptions. Remember 13-year old Conor Shanahan and his 16-year old brother Jack taking the drifting world by storm last year?
Of course, it makes sense that everyone should know how to drive safely within the law, before you start breaking the rules. There's also the small matter of track insurance. But what if you're just too young? Are there places you can go? Alternative vehicles that will provide all the fun of the drift but without the red tape? The answer is a resounding YES. We've come up with 4 cool ways that kids can get their slip sliding kicks without fear of missing out.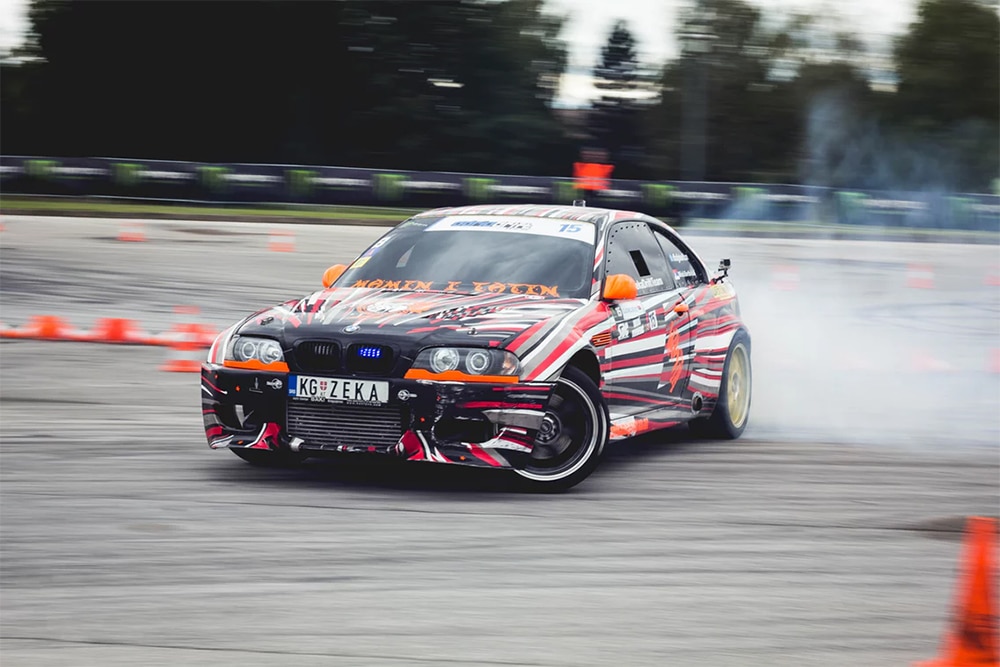 Drifting School
Where do you go if you want to learn how to drift? Drifting School, of course. Similar to this drifting experience days for adults, your petrolhead teenagers will have a fantastic time learning to go sideways, having first been shown how to master the basic control skills of the specially safety adapted cars. In no time, they'll be busting some serious motoring moves on the track, looking 'cool AF'.
Rather than being taught to fling their cars around the bend at breakneck speed, drift school will teach you to perfect those smooth maneuvers as you gracefully slide round the corner at low speed. With lots of hands-on time behind the wheel, the session will end with a Game of Thrift to test all those new found skills and a final presentation ceremony to receive well-earned medals. You never know, it may just have sparked a lifelong passion for the sport…
Drift Trikes
Take away the cars and the racetrack, and what have you got left? Is it possible to drift car-free? Can you get the same sense of elation and freedom any other way? Indeed you can. Enter the drift trike, probably the most fun you can have on three wheels.
These cool BMX featured trikes have a pneumatic front wheel and 2 cart-style rear wheels. With moto style construction, a wide rear axle and V style brakes, the vehicle is built for tough, edge-of-you-seat downhill drifting action for riders up to 14 stone (90kg). The low level adjustable seat offers a great ride position for freewheeling down straights or zooming around bends and curves, either on tarmac or dirt tracks.
Perfect for kids and teenagers, and adults too, you can even get motorised drift trikes, though I'm not sure you really need to. If you don't believe me, take a look:
Crazy Cart Shift
Designed particularly with younger drivers in mind, the Crazy Cart Shift is great for introducing car mad kids (up to 8.5 stone / 54kg) to driving, spinning and drifting in a safe electric vehicle with simplified throttle and steering controls. As children's ride-on toys go, this one is fun, fresh and truly awesome.
Like its big brother, the original Crazy Cart – which was awarded Outdoor Toy of the Year in 2014 – anyone can have a go. Just use the 350+ degree steering wheel and accelerator to get the feel of a real drift car. Hours of fun driving forward, reverse, sideways, diagonally and everything in between!
Delivering speeds up to 8mph from a 80W hub motor, it takes practice and persistence to master all the moves but I shouldn't think anyone will be complaining.
Children's Waltzer
OK, so calling this a 'drifting' vehicle is perhaps a bit far fetched but we all have to start somewhere, don't we? A battery operated ride-on toy, this super cute Children's Waltzer is powered by a 12V motor, features an easy-to-use joystick and 360 degree spinning, music and lights. With a soft 'bumper' surround, a seat belt and parental remote control as an extra safety feature, it's a little bumper car for toddlers and school kids!
If you have a boy or girl who loves nothing better than racing around the home in a ride-on vehicle, this could be the perfect starter car to get them interested in motoring. Start them early, I say!