Every now and then I love to share the children's books that my girls are reading.  It's been a while since I last did a book round-up, so here's a rather large list of books we're loving right now.  Some of these books are great for younger toddlers, while others are great for Kindergartners and 1st graders.

(A Musical Exploration Activity Book)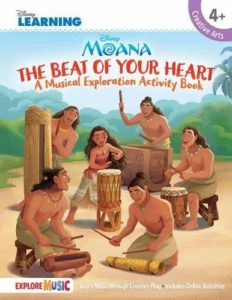 Feel the beat inside you when you play along with the Drums of Motunui! This beautifully illustrated book with online music, video, and drumming allows children to discover beat, rhythm, and the sounds of Motunui's drums through activities and creative play with characters and artwork they'll recognize from the Disney movie Moana. Includes online activities such as: video read-along, audio sing-along, and activities to explore sounds and sound makers. Singing and making music provide important benefits to children as they grown and learn. EXPLORE MUSIC books encourage children to be free to explore, play, and develop musical ability at their own pace which can establish a life-long love of music.
(A Musical Exploration Activity Book)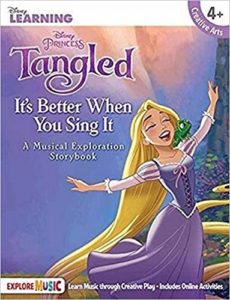 Explore Music! Learn music through creative play, including online activities. In this innovative musical exploration storybook, Rapunzel shows us that everything is better when you sing! This playful story uses music and creative play to help children experience the joy of singing and discover their own unique voice. The book includes special online activities, including a video read-along, an audio sing-along, and activities to explore sounds and singing. Ages 4+.
(A Musical Exploration Activity Book)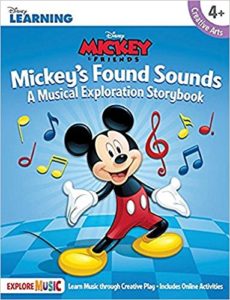 Explore Music! Learn music through creative play, including online activities. This inventive story uses music, crafts and creative play to help children experience the fun of making music out of "found sounds." The Main Street Parade has been rained out, but Mickey and his friends make their own parade as they discover items around the house that can be used to make musical instruments. The book includes special unique online activities including a video read-along, an audio sing-along, and activities to explore sounds and sound makers. Ages 4+.
by Mike Vago, Illustrated by Matt Rockefeller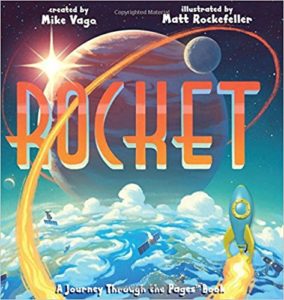 Take a journey through the pages on your own rocket ship!
In Rocket, the story of a spacecraft moving through the far reaches of space, the reader gets to pilot a three-dimensional plastic rocket that never leaves the book, moving on an internal track from front to back, up and over the pages.
You'll soar, sail, swoop, and explore, visiting some of the most intriguing sights in our solar system, then the Milky Way, and into far-off galaxies. With lively rhyming language and a feast of stars, planets, comets, moons, and other celestial bodies, it's an interactive journey of imagination and science.
by Bob Staake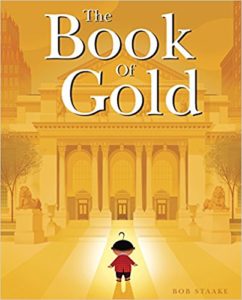 Young Isaac Gutenberg isn't a curious boy . . . that is, until he meets an old shopkeeper who tells him about The Book of Gold. This special book, hidden somewhere in the world, holds all the answers to every question and turns to solid gold when opened.
Isaac is determined to find the book—it will make him rich! He opens many books in his search, but quickly closes them when they don't turn to gold. That changes one day when he opens a book, looks at the page, and a question pops into his mind. From then on, he reads every word.
Time passes and Isaac ages, but he still scours dusty attics and flea markets, crisscrossing the world, searching for The Book of Gold. This sweeping picture book asks important questions: Is searching for knowledge better than having it? How important is curiosity? And what makes a life meaningful?
by Chris Van Dusen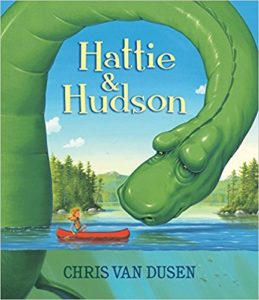 Hattie McFadden is a born explorer. Every morning she grabs her life jacket and paddles out in her canoe to discover something new on the lake, singing a little song on her way. When her singing draws up from the depths a huge mysterious beast, everyone in town is terrified — except Hattie, who looks into the creature's friendly, curious eyes and knows that this is no monster. So Hattie sneaks out at night to see the giant — whom she names Hudson — and the two become friends. But how can she make the frightened, hostile townspeople see that Hudson isn't scary or dangerous at all? Chris Van Dusen brings his colorful, perspective-bending artwork to this satisfying new story about acceptance, friendship, and sticking up for those who are different.
by Krista Keating-Joseph, Illustrated by Phyllis Holmes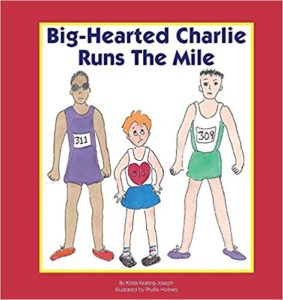 Big-Hearted Charlie Runs The Mile is based on a true story about a little boy who joins a track team and works hard to overcome his small size as he runs against boys who are much bigger. At first, he never wins a race. But Charlie doesn't give up, and his hard work pays off. He becomes a champion on the track and later a true hero in real life as a U.S. Navy SEAL.
by Penny Parker Klostermann, Illustrated by Ben Mantle
In the magical land of fairy tales, William doesn't quite fit in. He'd rather poach pears than pursue princesses, and he values gnocchi over knighthood. . . .
When he stumbles on a delivery of food destined for Fairy-Tale Headquarters (a pumpkin, apples, and a few measly beans), he decides to spice things up and whips the paltry ingredients into delectable dishes. But as you might have guessed, Snow White's wicked stepmother doesn't exactly want her magic apple baked and drizzled with caramel.
The team that brought you There Was an Old Dragon Who Swallowed a Knight delivers a hilariously fractured, whipped, and souffléed fairy tale that is chock-full of delicious details and jokes to satisfy every appetite.
by Kim Karns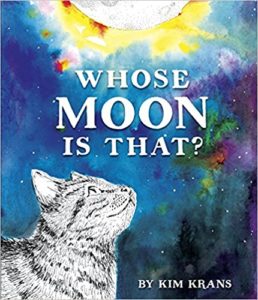 When a curious cat asks the question, "Whose moon is that?", a panoply of animals try to stake their claim. The wolf, the owl, and the starry sky all have their reasons, but the moon ultimately answers for herself — her light is meant to be shared by everyone.
Kim Krans's stunning ink-and-watercolor illustrations beautifully illuminate this simple exploration of our relationship to the world around us and our place in it.
by Margery Cuyler, Illustrated by Will Terry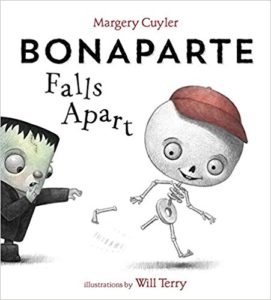 Bonaparte is having a tough time. It's hard for this young skeleton to just hang loose when he can't keep hold of himself.
When he plays catch, his throwing arm literally takes a flyer. Eating lunch can be a real jaw-dropping occasion. How can he start school when he has so many screws loose?
Luckily, Bonaparte hit the bone-anza when it came to his friends. Franky Stein, Black Widow, and Mummicula all have some boneheaded ideas to help pull him together. But will it be enough to boost his confidence and get him ready for the first day of school?
by Adam Reed, Illustrated by Izzy Bean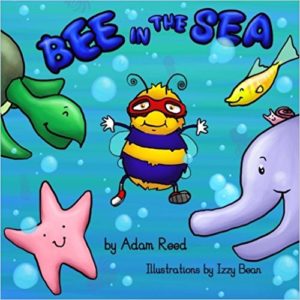 Bees aren't supposed to swim, and fish aren't supposed to fly… that is, until one day long ago, a little bee decided to try. This is a fun, funny and adventurous story about a young bee who one day finds himself in the middle of the sea. Surrounded by curious sea creatures and fantastical ocean life he undertakes a magical journey making many friends along the way. The fish gather around and teach him how to swim while he teaches them how to jump up and fly out of the sea. This book has an important message that children everywhere will respond to, teaching them that if bees can swim and fish can fly, children too can do anything they try.
by Kathy Strahs
Kids have been running lemonade stands for decades, whether to raise money for a new bike, for a charitable cause, or simply to conquer boredom. Inspired by dozens of kid experts from all over the country, the author has poured her expertise as a food writer, entrepreneur, and mother into the ultimate guide to setting up your own lemonade stand. Step-by-step illustrations and full-color photographs of each recipe and craft make each page easy and fun to dive into. Find delicious drinks, such as Classic Lemonade and Cold-Brew Iced Tea, sweet treats such as Polka Dot Blondies and Chocolate-Dipped Marshmallows, grab-and-go snacks such as Owen's Cheddar Chompers and Sunflower Crunch Balls, and creative crafts such as Hayley's Flower Pencils and Friendship Bracelets. Tips for setting up a successful stand, packaging ideas, cooking technique tutorials, and real-life stand stories from kids themselves are sure to inspire readers to give life a squeeze.
by Dana Wall & Amber Wall, Illustrated by Phillip Orozco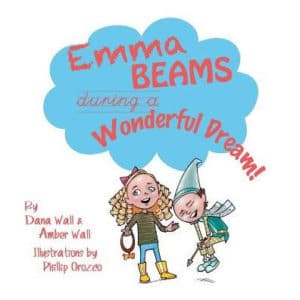 Emma Beams During a Wonderful Dream! is about Emma and Wizard Jake going on another adventure. This time, Emma has a dream about the dog she's always wanted, a Dalmatian. She's actually getting one. Always on the hook for easy grammar, Emma must learn about superlatives and comparatives. She is so lucky to have Wizard Jake, who is so knowledgeable, around.
by Dana Wall & Amber Wall, Illustrated by Phillip Orozco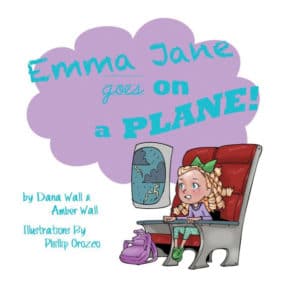 Emma Jane Goes on a Plane is about Emma and a plane, which is the last place she ever wants to be! Emma is terrified of the lightning and thunder, especially since she's going to Colorado, where the weather is often unpredictable. Although Wizard Jake lacks sympathy for Emma's fear, he is always there to teach easy grammar. Metaphors and similes are making Emma burst, but Wizard Jake takes her mind off the plane ride and puts it to good use while she learns an important lesson in grammar.
by Dana Wall & Amber Wall, Illustrated by Phillip Orozco
Emma has a dilemma, and she doesn't have a clue what she's going to do about it! She gets her first F ever on an easy grammar test about nouns and pronouns. Wizard Jake appears out of nowhere when he hears her crying and is willing to help her. He is a genius at grammar and tries patiently to teach her the ins and outs of both nouns and pronouns. Will she learn in time for her make-up test? Or will she end up with a permanent F on her record? Only this glorious tale about two people from different worlds can answer that question.
by Dana Wall & Amber Wall, Illustrated by Phillip Orozco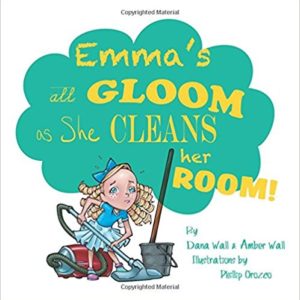 Emma's All Gloom as She Cleans Her Room! is about Emma doing what she hates the most—cleaning her room. Not only does she have to have it so clean her mom can see the floor, but she has to learn about conjunctions for a test tomorrow. Wizard Jake isn't afraid of a little hard work. He shows her how to have fun cleaning her room and learning conjunctions all at once. Can she get it all done before she gets in trouble with her mom? Or will her true friend Wizard Jake whip her into shape?
by Stephan Lomp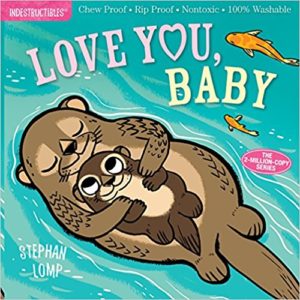 Hug, kiss, nuzzle, snuggle, bounce, rock: There are so many ways to show your love to baby! Share the love on each spread with simple text prompts and adorable illustrations of baby animals and their families, from cats to bears to bunnies.
With over two million copies in print, Indestructibles are the books built for the way babies read. They are 100 percent baby-proof, chew-proof, rip-proof, and drool-proof. Printed on a unique nontoxic, paperlike material that holds up to anything babies can throw at it—gumming, spilling, dragging across the floor—Indestructibles are the little books that could. They're indestructible. And if they get dirty, just throw them in the dishwasher.
by Tom Brenner, Illustrated by Jaime Kim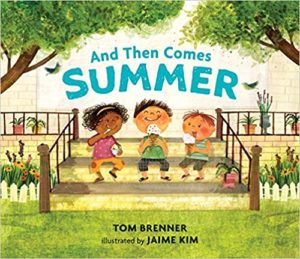 When the days stretch out like a slow yawn, and the cheerful faces of Johnny-jump-ups jump up . . . then it's time to get ready for summer! From flip-flops and hide-and-seek to fireworks and ice-cream trucks, from lemonade stands and late bedtimes to swimming in the lake and toasting marshmallows, there's something for everyone in this bright and buoyant celebration of the sunny season. Tom Brenner's lovely, lyrical ode to summers spent outdoors will strike a chord with anyone who's ever counted down the days until school gets out, and Jaime Kim's jubilant, nostalgia-soaked illustrations leave little doubt that summer is indeed a time unlike any other.
by Sam Zuppardi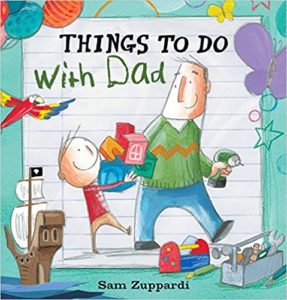 A morning of fun with Dad takes a turn for the boring when a long to-do list interferes. At first content to let Dad cross things off his list, the boy in the story soon realizes that the whole day will be spent on chores — unless he can come up with a solution. In his singularly expressive, kid-friendly style, author-illustrator Sam Zuppardi crafts a colorful celebration of the fun that can be had with just a little imagination — and a trusty green crayon.
by Justin Krasner & Emma Yarlett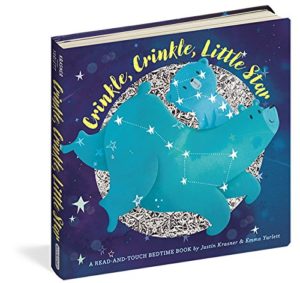 Take an interactive journey through the night sky in an innovative, tactile board book, a special book that engages three senses—seeing, touching, and hearing.
With its gorgeous, full-spread illustrations of constellations and beloved bedtime lullaby reimagined, Crinkle, Crinkle, Little Star is the perfect book to rock babies to sleep. Here's Taurus the bull, strong and fast. Cetus the whale, waving a mighty tail. Orion, with bow and arrow in hand. Babies can trace the imaginary lines that turn random stars into ancient constellations—and, in a special treat, create a crinkling sound by tracing the channel of shimmery material underneath the last illustration in the book.
That same mysterious, compelling crinkling sound persists when baby and parents hold the book and rub the crinkly material on the back cover.
by Corey Richardson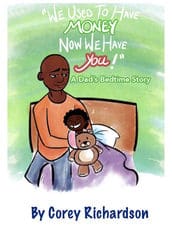 The highs and lows of modern day fatherhood. We Used to Have Money, Now We Have You is a bedtime story from a dad's perspective using wit and pragmatism to remind children that a parent's love is infinite, but patience and finances are not.