Can you believe October is already here? This year is just flying by, isn't it? Since October is here we thought it would be fun to give you fun Halloween party favor ideas so you can switch up those boring goodie bags. Whether your child is having a Halloween-themed birthday party or you are hosting the annual harvest party for the play group, these party favors will leave kids thinking that you threw the best party ever.
Glow-In-The-Dark Halloween Bottle from Polar Bottle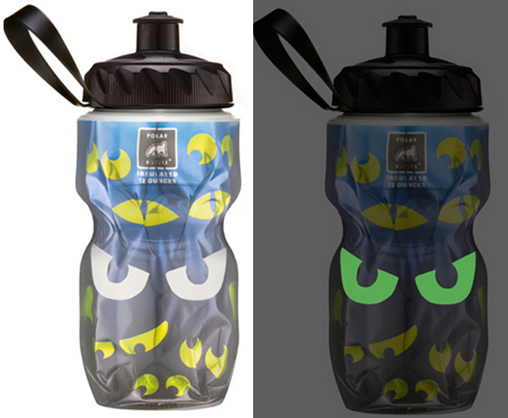 One of the challenges during trick-or-treating is keeping kids visible and safe.
Polar Bottle
has come up with a brilliant solution to helping kids stay visible
and
hydrated during the Halloween festivities with their fun glow-in-the-dark 12 ounce bottle. Like all Polar Bottle water bottles, the glow-in-the-dark Jack 0'Lantern bottle is BPA and phthalate free, dishwasher and freezer safe and 100% Made in the USA. It's petite size and carry loop makes it idea for kids to carry around all evening.
Character Oral Care Products from Firefly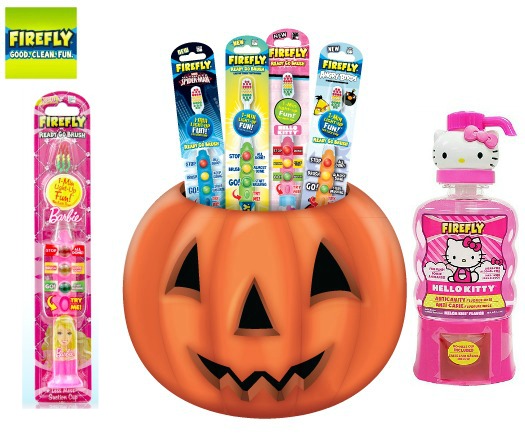 With all the treats collected on the big night, most parents find it tricky to manage kids' sugar consumption, a major culprit in the childhood cavity epidemic that is consuming the country.
No one wants to be the one who puts a damper on all the fun, and now they don't have to. The keys are moderation, and good oral care! After trick-or-treating, let kids pick a few pieces of their favorite candy to enjoy, store the rest away, and then get them brushing immediately with the new
FireFly Ready Go Light-Up Timer toothbrush
. It is a bright and sparkly cap to the night that extends the fun without adding to the sugar rush. It also makes a great party favor that other parents will applaud.
The FireFly Ready Go Brush has a colorful traffic light theme, and it "times" brushing so that kids do the job thoroughly — flashing bright green for "go," "yellow" for halfway there, and "red" for finished. On Halloween, make it extra fun by letting little ghouls and goblins brush in the dark. . It also has a suction cup holder so it can be stored upright on the counter for less clutter and better hygiene. Whats even better? This ADA-approved toothbrush comes in a choice of characters, so your little one can even match their toothbrushes to some of their favorite Halloween costumes – the Ready Go Brush comes in favorite characters like Barbie, Spider Man, Angry Birds, Hello Kitty, Star Wars or original FireFly. (available at Target.)
My three-year old daughter is obsessed with her Hello Kitty mouthwash and toothbrush right now. These products make oral hygiene fun and make our mornings and evenings much easier because we don't have to battle with her to brush her teeth.
Fall and Halloween Treats from See's Candies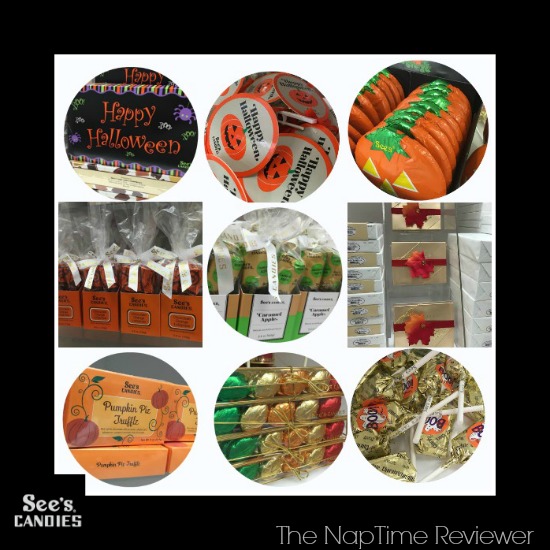 See's Candies has all the sweet Halloween candy and treats you need to make it a night to remember. From Milk Chocolate Ghosts and frighteningly delicious gift boxes to special seasonal flavors like their Pumpkin Pie Truffles and Pumpkin Spice Lollypops and even newbies like the delicious Caramel Apple Lollypops. Adults and kids alike will "fall" in love with these
Halloween
and Fall treats
and they'll appreciate the extra effort.
My personal favorites this year are the new Caramel Apple Lollypop and the Pumpkin Pie Truffles. Next time you're at your local See's Candies, ask to sample these. The Pumpkin Pie Truffles are so smooth and fall-like that you'll find yourself eating more than one at a time.
NEW Tropical Heat Hot Tamales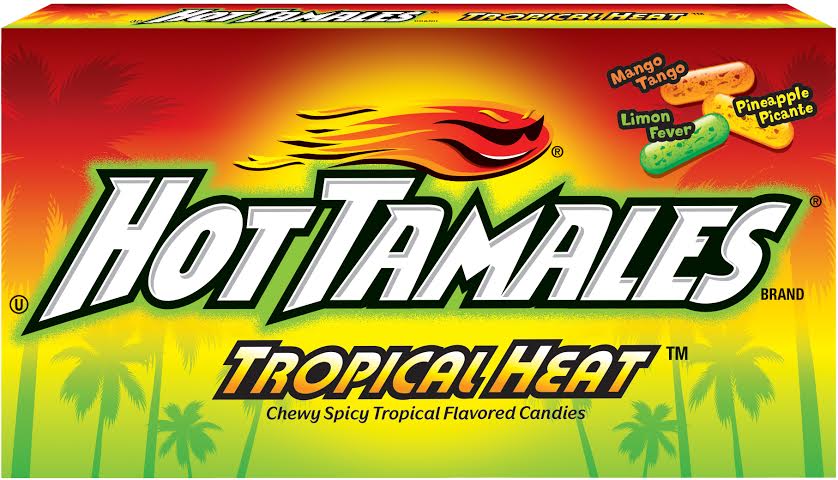 Hot Tomales are a timeless family favorite. This year, switch things up a bit with the new
Tropical Heat Hot Tamales
. Tropical Heat is a one-of-a-kind chewy, spicy candy that delivers a burst of heat with every fruity bite! They're sort of like those Mexican lollypops with the mango or watermelon inside and the chili on the outside. My family can't get enough of them.
Try incorporating these delicious treats into cookie recipes, use them on top of cupcakes or purchase individual packs to use as party favors.
Cow Tales by Goetze's Candy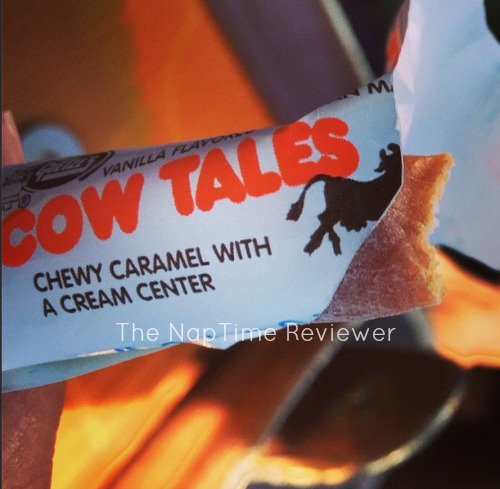 Cow Tales have been a family favorite for years but I had no idea they came in a mini size. Now you can purchase a bag of mini Cow Tales Not only are these candies great to give out as Trick or Treat candy, they make great goodie bag stuffers and party favors. The delicious soft, chewy wheat-based caramel outsides with the frosting-like cream centers make these candies so addicting. Try to have just one – I dare you.
Goetze's is a family business that has been making sweet treats in the USA for 120 years! To reward the generations of loyal caramel lovers, they are offering fans the chance to trade in empty Goetze's Candy wrappers and bags in exchange for free merchandise. The promotion is based on a points system in which each Goetze product wrapper or bag is assigned a point value and the points can be collected towards the merchandise. The promotion includes Goetze's two brands:
Caramel Creams
® and
Cow Tales
®. Each brand offers various items in exchange for its own branded wrappers and bags. Please visit
www.GoetzeSweetStuff.com
or
www.GoetzeSweetSwag.com
to see how it works.
GIVEAWAY
We've teamed up with Goetze's to offer one lucky reader a prize pack including a bag of Goetze's mini Cow Tales and a fun key chain. Enter using the Rafflecopter form below. We will choose one winner after 11/6/14. Good luck!