Are you prepared for this years' cold and flu season? Get a jumpstart by stocking up on immune support, symptom relief and wellness restoring products from Smith Bros., a trusted household name for decades.
I'm sure everyone has had a Smith Bros. cough drop or two during their lifetime, but now Smith Bros. has so much more to offer!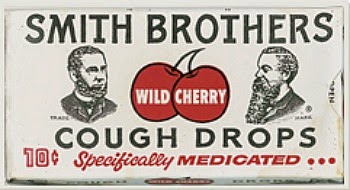 I'm currently suffering from a chest cold, so I can sing the praises of the Smith Bros. Nighttime Cough & Congestion Hot Tea Honey Chamomile formula. It mixes into a cup of hot water and has a great taste. The warmth feels so good going down a sore throat and clears the congestion so you don't cough all night! During the day I've been backing up my immune system with Smith Bros. Restore Wellness effervescent tablets, which are sugar free.
If you have children in school, they could be bringing home those nasty germs and viruses. Smith Bros. Immune Support products, along with good hand washing techniques, can give your system some vitamin and mineral defense against those germs, giving you a fighting chance at staving off sickness.
Smith Bros. Restore Wellness products give you the electrolytes and important nutrients to help you recover after illness. The mixed berry tablets taste great and dissolve quickly in water. I really love that Smith Bros. Health and Wellness products come in great flavors – mixed berry, wild cherry, and honey lemon, as well as choices of effervescent tablets and stick packs for cold water, and hot tea packets for mixing with hot water.
Doing some traveling soon? You might want to pack along Smith Bros. Wellness packets and tablets just in case! Also, start taking the Immune Support products before you leave home. Nothing ruins a vacation or holiday trip quicker than being sick away from home!
Smith Bros. Wellness products can be found at major retailers such as Walgreens, Meijer, Albertsons, and many others. See the Smith Bros. website for a complete list of retailers.
Stay well through this cold and flu season! And, if you do happen to catch something, control your symptoms, illness duration and recuperation with Smith Bros. Wellness products!
Disclosure: I received a samples from Smith Bros. to facilitate my review. Regardless of compensation, I only feature products that I feel are beneficial to my readers. My opinion is never influenced by compensation.