It's officially Christmas card time! Lots of you will spend hours hand-writing Christmas cards and the dreaded return address on each envelope. It's time to save your hands and save yourself a little time…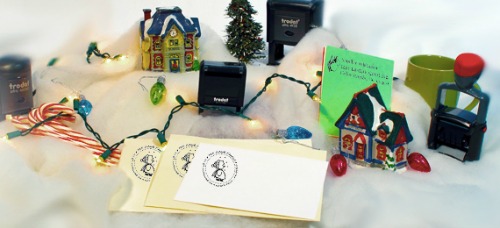 Check out the fun Christmas rubber and
self-inking stamps from Simply Stamps
. They've got lots of designs to choose from and it's super easy to customize each stamp. For under $30, you can order yourself a beautiful custom stamp with your return address and family name that will actually make putting your return address on envelopes FUN.
I actually have a Christmas self-inking stamp and a neutral self-inking stamp from Simply Stamps. Both are easy to use and transfer perfect stamps onto paper. I went from hand writing my return address on envelopes to using a stamp and let me tell you, there's no better way to go.
Simply Stamps has been around since 2002 and offers way more than just Christmas stamps. Visit www.simplystamps.com to shop today!
GIVEAWAY
Enter to win a free custom stamp of your choice using the Rafflecopter form below. We will choose one winner after 12/16/14. Please note that you may not receive your prize before Christmas. Good luck!