Who wouldn't love a basket full of flavored coffee for Christmas? Coffee is the perfect gift for guys and girls of all ages and is a great option for that person who has everything in your life.
Disclosure: I received samples from Coffee Beanery to facilitate my review. I only feature products that I like and any opinion expressed is honest and my own.
My husband and I have been enjoying all of the various flavors of coffee from our
Indulgent Selection Gift Basket from the Coffee Beanery
. This gift pack comes with 12 different flavored coffees (1.75 oz each) and is only $24.95. The list of flavors in this gift basket includes:
1-1.75 oz Café Carmel Cream Coffee Sampler
1-1.75 oz Colombian Supremo Coffee Sampler
1-1.75 oz Sinful Sundae Coffee Sampler
1-1.75 oz Toasted Almond Coffee Sampler
1-1.75 oz Chocolate Raspberry Coffee Sampler
1-1.75 oz Hazelnut Coffee Sampler
1-1.75 oz Breakfast Blend Coffee Sampler
1-1.75 oz Crème Brulee Coffee Sampler
1-1.75 oz Beanery Blend Coffee Sampler
1-1.75 oz Amaretto Coffee Sampler
1-1.75 oz English Toffee & Cream Coffee Sampler
1-1.75 oz Hawaiian Coconut Coffee Sampler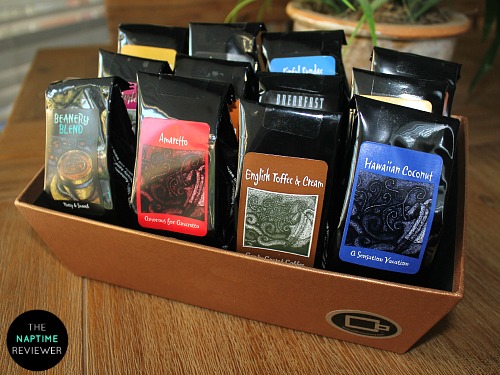 So far my favorite flavor has been the Sinful Sundae. It's like drinking a hot fudge sundae and is oh-so-delicious. We've actually been using these coffee grounds with our Keurig coffee maker and it's been working great. We pour the grounds into our k-cup filters and it brews a cup in a couple of minutes. I also tried brewing a full pot of coffee with our iCoffee machine and the coffee was even better. We prefer the Keurig single-serve coffees over the big pots of coffee because we only drink about one cup each in the mornings.
Each 1.75 ounce packet of coffee should brew one 6-8 cup pot of coffee depending on the strength desired. I don't like my coffee too strong so I am able to get about 10+ cups-worth with each packet.
If you'd love to give the gift of coffee this holiday season, I suggest you take a look at all that Coffee Beanery has to offer. Visit
www.coffeebeanery.com
to shop!
GIVEAWAY
We're giving you the opportunity to indulge in the same gift set shown above. Enter to win the Indulgent Selection Gift Set from Coffee Beanery using the Rafflecopter form below. Giveaway ends 12.25.14. Good luck!