Well, here in California we have yet to be hit by any major winter weather thanks to a drought, but we still seem to have all the usual winter sickness bugs going around. My granddaughters (especially the one in preschool) have literally been sick with colds and respiratory viruses since the Christmas holiday. Unfortunately, it has spread several times also to the adults.
For the past month or so though, I can say that the bugs we have had have been short lived, and I'd like to say it's due in part to using Cold-EEZE products!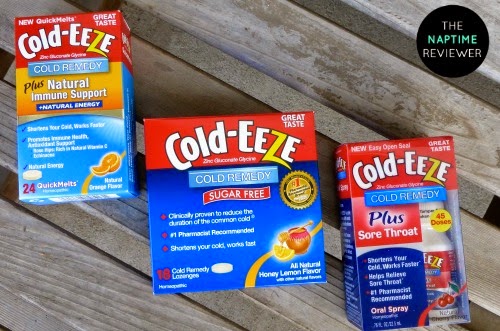 Cold-EEZE products contain zinc to reduce the duration of cold symptoms (the zinc ions slow down or don't let the virus replicate). Though I'm not exactly wild about the flavor, I love the feel of the Cold-EEZE Cold Remedy Plus Sore Throat spray. I'm just starting to get a slight sore throat and it really soothes that scratchy feeling.
The QuickMelts are an easy way to bring Cold-EEZE Cold Remedy with you when you are on the go. They have a great orange taste and are easy to use.
Feel a cold coming on? Zap those symptoms with Cold-EEZE ASAP and feel better sooner!


I received one or more of the products mentioned above for free from Cold-Eeze. Regardless, I only recommend products or services I use personally and believe will be good for my readers.