We can't emphasize enough how important it is to learn about safe sleeping tips for baby. Here are a few product suggestions and tips from the experts on the topic.
Description: The Halo SleepSack wearable blanket replaces loose blankets in the crib that can cover your baby's face and interfere with breathing. In addition to sleeping safer, it helps babies sleep better, too. It's a warm cuddly blanket they can't kick off; ensuring baby sleeps soundly throughout the night.
Our Thoughts: We've been a big fan of Halo SleepSacks for about three years. They are a brilliant idea that gives us peace of mind, daily. The sleeveless designs keeps the baby comfy at night and the zipper makes diaper changes a breeze. These are definite must-haves.
Tips from the Experts:
"In order to reduce the risk of infant hip dysplasia, we recommend avoidance of swaddling with the hips and knees in an extended position. A leading proponent of swaddling, Harvey Karp, M.D., has stated, 'Contemporary swaddling techniques…permit infants to be snugly wrapped with their hips being safely flexed and abducted.' Additional free movement in the direction of hip flexion and abduction may have some benefit. The HALO SleepSack wearable blanket and SleepSack Swaddle have sufficient legroom to allow safe swaddling and free movement of the hips and knees."
"Always place baby to sleep on his or her back at naptime and at night time."
Ubimed – Lifenest Breathable Bumper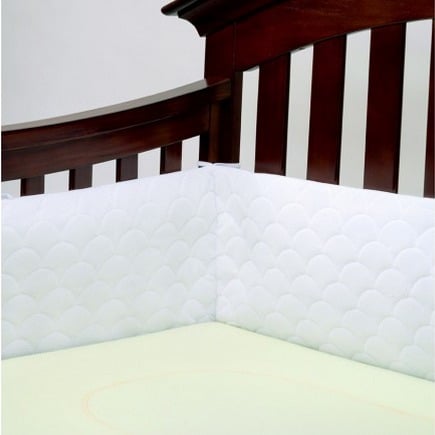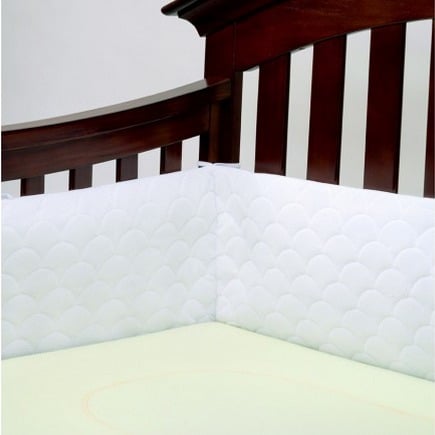 Description: The Lifenest Breathable Bumper was developed in response to the concerns with baby suffocation raised by the research, but also with the aim of preventing injuries that bumper pads protect against. Made of breathable mesh material, the Lifenest Breathable Bumper simultaneously helps prevent suffocation and injury while at the same time, with its soft padding, promoting baby's comfort.
According to the U.S. Consume Product Safety Commission (CPSC), infants whose limbs are trapped between crib slats account for the second highest number of crib-related complaints and injuries. Crib bumpers may protect babies from entanglement and injuries but medical studies have found that traditional crib bumpers are unsafe because they can cause suffocation. As a result, the CPSC recommended avoiding baby bumpers altogether and states like Illinois and Maryland have even banned the sales of traditional crib bumpers but many parents ignore the risk because they prioritize the comfort of their child.
The new scientifically tested Lifenest Breathable Bumper reduced the rusk of suffocation and entanglement for infants. The bumper is hypoallergenic and the quilted 100% polyester material creates a soft cushion for babies while also creating superior airflow better oxygenation, and passive elimination of CO2 for infants while inside a crib. The Lifenest Bumper is soft and padded to keep small limbs safely within the crib and is also collapsible to prevent toddlers from climbing and tucks underneath all four corners of the mattress to create a secure fit for most standard cribs. It is also machine washable and is available in cream, blue, pink, green and white to complement most nurseries' decor.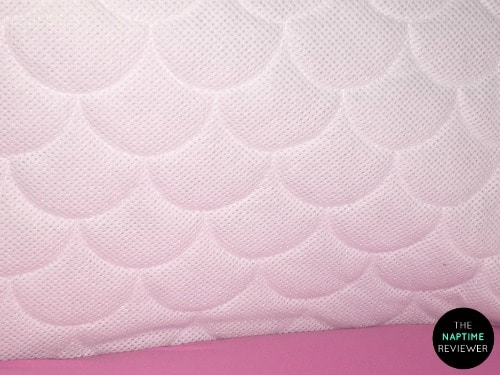 Our Thoughts: It took a little while to get this bumper on correctly but the peace of mind of having it on the crib is so nice. I (Cristen) was having trouble with Kendall flipping onto her belly at night and putting her arms down between the crib rails and the wall. Having already had an issue with Charlotte getting "nursemaids elbow" for the same issue, I knew it was time to get a bumper. I personally tested this bumper out to see how easy it was to breath through and it passed the test. Great price, too!
Description: This Waterproof Crib Mattress Protector Pad offers an excellent shield to your baby against various types of dust mites, allergens, bacteria, fungus, mildew and mold. When it comes to protection, this mattress takes care of your baby just like you take care of your baby. Don't have an extra crib sheet because your baby soiled it last night? This quilted cotton protector is so comfy and cozy your baby will be happy snuggling up on it without a crib sheet on top. It's so soft with just the right amount of cushioning. It's just like a 5 star hotel mattress topper for your crib!
Our Thoughts: It's so important to use tight fitting sheets in the baby's crib to avoid any possible suffocation hazard. With the Little Loved Ones crib mattress protector, you don't need to use an additional sheet because the surface is so soft and comfortable, which really comes in handy after a leaky diaper accident. After multiple washes, the waterproof lining of the sheet is still holding up, too.
Snuza – Portable Baby Movement Monitor
Description:
Snuza Hero
is portable and easy-to-use movement monitor which clips onto baby's diaper to ensure that normal movement is maintained. Hero detects even the slightest abdominal movement and will alert you if your baby's movements are very weak or fall to less than 8 movements per minute. If no abdominal movement is detected at all for a period of 15 seconds, Hero will vibrate gently. Often this vibration is enough to rouse the baby, and Hero will revert to monitoring mode. After three vibration/rouse incidents, the Rouse Warning will alert you to the fact that your baby's abdominal movements have stopped for 15 seconds on three occasions. If no further movement is detected for another 5 seconds, an alarm will sound to alert you. The Snuza Hero will pick up external movement which makes it not suitable for co-sleeping babies or bedsharing. (Available at Babies 'R Us)
Tips from the Experts:
"We advise that the Snuza Hero should not be used when the baby is in motion like in a car seat or a stroller."
"We recommend that all parents take an Infant First Aid Course that includes instruction on CPR and Rescue Breathing."
Our Thoughts: Our first impression of the Snuza Hero was that it was big and bulky and could never be comfortable on a baby. We were totally proven wrong as our tester, Kendall, sleeps just fine with it on. This is such a great tool to have, especially for those first few weeks/months when the baby is sleeping in his/her own crib and bedroom. You won't have to keep getting up to check the baby because the Snuza does it for you.