As a stay-at-home-mom you would think I would have plenty of time to prep healthy food all day. Ha! I'm actually a work-at-home-mom (the blog) and am busy with kids' appointments, preschool, shopping trips and everything else so I don't get to "meal prep" as often as I'd like.
I really enjoy fresh juices but absolutely hate the cleanup process. I feel like I waste so much of the fruit and veggies during the process, too. I also have to be careful about the juices I drink because I'm currently breastfeeding and some mess with the baby's belly.
Baby Kendall's belly doesn't seem to like certain veggies that I would normally eat with my meals, like Broccoli, so I feel like I'm always lacking nutrients at the end of the day. I decided to try the Chef V green drinks, even though they were a little bit more expensive than juicing the produce myself. My husband and I actually shared the jugs of the Chef V Green Juice and were so pleased with how the testing process went.
Tip: Read the directions on the back of the jugs (unlike my husband). The directions state: Shake well. Drink 8-16 ozs on an empty stomach. Wait 15-30 minutes before consuming anything else.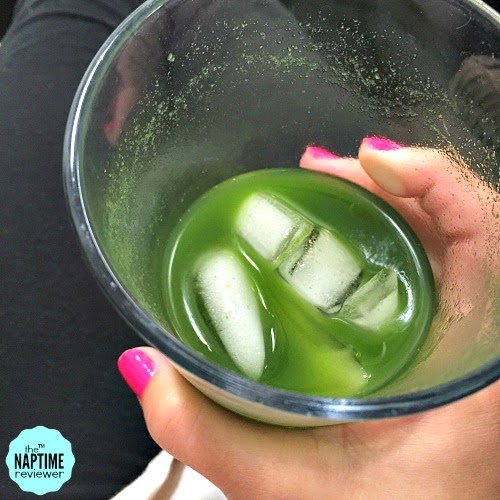 I followed the directions and not once did I ever experience an upset stomach or yucky tasting burps. What's even better is the baby seemed totally unaffected by the drink.
The ingredients list includes: black kale, green kale, collard greens, green leaf lettuce, curly parsley, green chard, dandelion greens, apples and filtered water. Each serving contains only 3 grams of sugar, making this drink better than most other "healthy drinks" on the market.
The green drink tastes a little like plain tea to me so I added a few squirts of stevia to my glasses. It was seriously so tasty. I noticed a normal amount of energy throughout the day and no crash at four o' clock in the evening like I normally have. I felt like this was how I was supposed to be feeling each day.
Since my goal was to maintain my weight, I didn't modify my diet, besides adding the drinks in. I'm a pretty petite person and don't really need to lose weight but I do need to supplement for the nutrients I'm lacking. These green drinks are such an easy solution.
How is this juice made?
Juicing is a process that extracts water and nutrients from produce and discards the important fibers. The blending process Chef V uses breaks the fiber apart, which makes the fruit and vegetables easier to digest, but also helps create a slow, even release of nutrients into the blood stream and avoids blood sugar spikes.
Raw and Unpasteurized
When juice is pasteurized, it is heated to a high temperature for a short period of time. Pasteurization destroys unwanted microorganisms, but also destroys those lovely, raw vitamins, minerals and enzymes. All gone. After the pasteurization process, the brightly packaged juices, the ones that can sit for an eternity on the shelves of every market, are about as rich in nutrients as a pack of "natural" gummy worms. In other words– you are left with sugar water with a hint of flavor. This is why Chef V NEVER pasteurizes their green drinks and delivers them their customers fresh, with all the fiber and nutrients they should be getting.
Delivery Service
Cost
The Chef V green drinks are $49.95 for one week. When compared to purchasing fresh, organic ingredients in bulk at your local Costco, the $49.95 is not that much more than blending the juices yourself and completely worth the money, in my opinion.
Visit
www.chefv.com
to learn more and to hear other testimonials and weight-loss stories.