One of the top items on a new parents' checklist of things to buy is a baby monitor. This is a great thing to add to a baby registry as they can typically be a little costly. But, with so many baby monitors on the market these days, how do we know which ones are better than the rest?
Reviews!!!
I received a baby monitor free of charge to facilitate my review. My opinion is honest and my own and not influence by compensation.
There are many different types of baby monitors that will suit different needs. Some parents prefer non-video monitors, some prefer wifi baby monitors and other prefer non-wifi baby monitors. A lot of parents that I talk to tend to stay away from the "unknown" when it comes to purchasing baby products and one of the "unknowns" is the wifi baby monitor.
In the past, there have been reports of people hacking into baby monitors to watch children. Scary, right? While this news is enough to scare anyone away from a baby monitor connected to the internet, you should know that these are not common instances and most internet-connected monitors are super safe these days. You should always make sure you connect to a safe and secure connection, too.
The
Gynoii Baby Monitor
is the world's first time-lapse baby monitor that allows you create snapshots, videos and time-lapse clips that you can share socially with friends and family, if you choose. This monitor is in the $100 range and is loaded with features like day/night vision, sound and motion alerts, lullaby mode and more.
Watch my video demonstration of how easy the Gynoii monitor is to set-up and start using:
When you purchase the Gynoii baby monitor, you get everything you need to begin capturing your precious little one's milestones. It comes with a crib clamp, the monitor, anchor screws and the power cord. You will also need to download the free Gynoii Baby Monitor app which is super easy to do (see my video).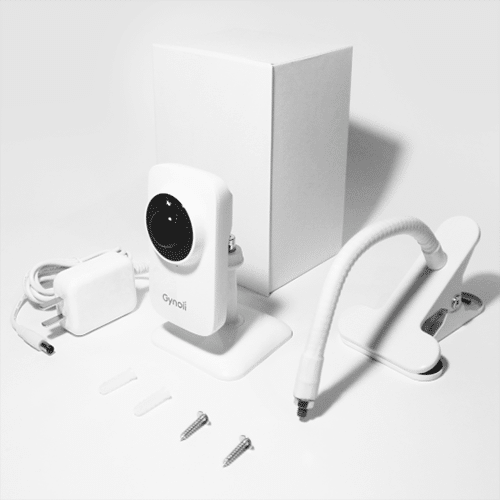 What I love most about the Gynoii baby monitor is that is was so easy and quick to set-up. I'm not a huge fan of reading the directions but I love that the app walks you though the steps to sync the monitor with your device. The video quality is comparable to more expensive monitors that I've tried and works well in the dark. There's also little-to-no delay in the connection.
Another plus is that this baby monitor has a two-way talk feature. I'm able to calm and shush the baby to sleep when she wakes herself up in the middle of the night by talking to her and playing lullabies from the device.
You can read more about the Gynoii baby monitor at www.gynoii.com or by clicking the Buy Now link below.
GIVEAWAY
Enter to win your own Gynoii baby monitor using the Rafflecopter form below. We will choose one winner after 6/22/15. Good luck! (US, 18+ only)