Golf enthusiasts know that golf equipment can get pretty pricey. My son golfed for his high school and college teams, and I know I spent a fortune on golf accessories! Here are some quality, affordable, and earth friendly products from STIXX.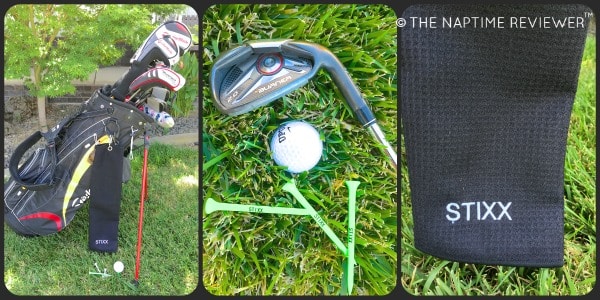 STIXX Golf Products.
STIXX golf tees
are earth friendly, biodegradable and come in a pack of 100 – 60 green long tees, 3 1/4 inch, and 40 white short tees, 2 1/8 inch. These are nice lightweight tees that don't splinter, and have non-toxic lead-free paint.
Kids bored this summer? Golf tees can be used in lots of art projects, like this cute frame I found on Pinterest. Christmas is less than 6 months away, so why not get the kids working on gifts before they head back to school!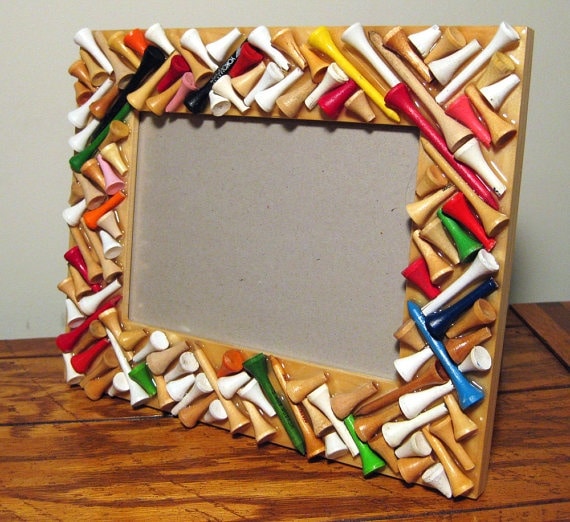 Pinterest golf tee project.
The microfiber
STIXX Tri-Fold towel
is generously sized at 16 x 21 inches, and has a heavy duty carabiner clip for easy attachment to your golf bag. The waffled fabric is soft, yet durable enough to remove dirt and grass. The STIXX towel is machine washable and dries quickly.
Not a golfer? Golf towels can be used in other ways. Kids can't reach the hand towel in the bathroom to dry their hands? Attach a long golf towel to the towel ring via the carabiner and the towel's in easy reach and won't be pulled down.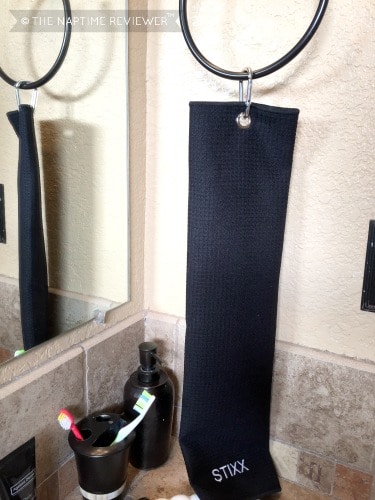 Easy reach hand towel for children!
Disclosure: I received one or more of the sample products mentioned above in exchange for review from Giveaway Service website. Regardless, I only recommend products or services I use personally and believe will be good for my readers. Reference ID: pm13be619fe4333bac694c3bdfd3367cbd and Reference ID: pm45a2317a76448dd49776a9d0495631cc.