There are so many holidays throughout the year, and gift giving tends to get a bit, blah! I have so many people in my life that literally have everything they want, so it's difficult to find them something special that they'll treasure forever.
When I filling out my daughter's baby book years ago, I came across the page where you can fill out facts from the day you were born. Naturally, I Googled facts from the day she was born, which then prompted me to look up facts from the day I was born, and everyone else in the family.
After a little research, I found an awesome product called The Birthday Chronicle which makes it so easy to find news from the day you were born. And they take it a step further and allow you to have a vintage looking newspaper printed with the facts from the day you were born.
If you have been searching for the perfect meaningful gift for a friend or loved one, this might be the perfect option for you. As if there weren't already enough
benefits to shopping online
, saving time while still putting some thought into the gift is the name of the game here.
Printable Birthday Newspaper with Facts from the Day You Were Born
To get started customizing your printable birthday newspaper, you simply fill in facts from the day you were born like your date of birth and name. You then choose your paper background color and add your birthday chronicle to your Amazon cart.
There are so many pretty background colors, so depending on the recipients year of birth, you can choose a color that goes with the times.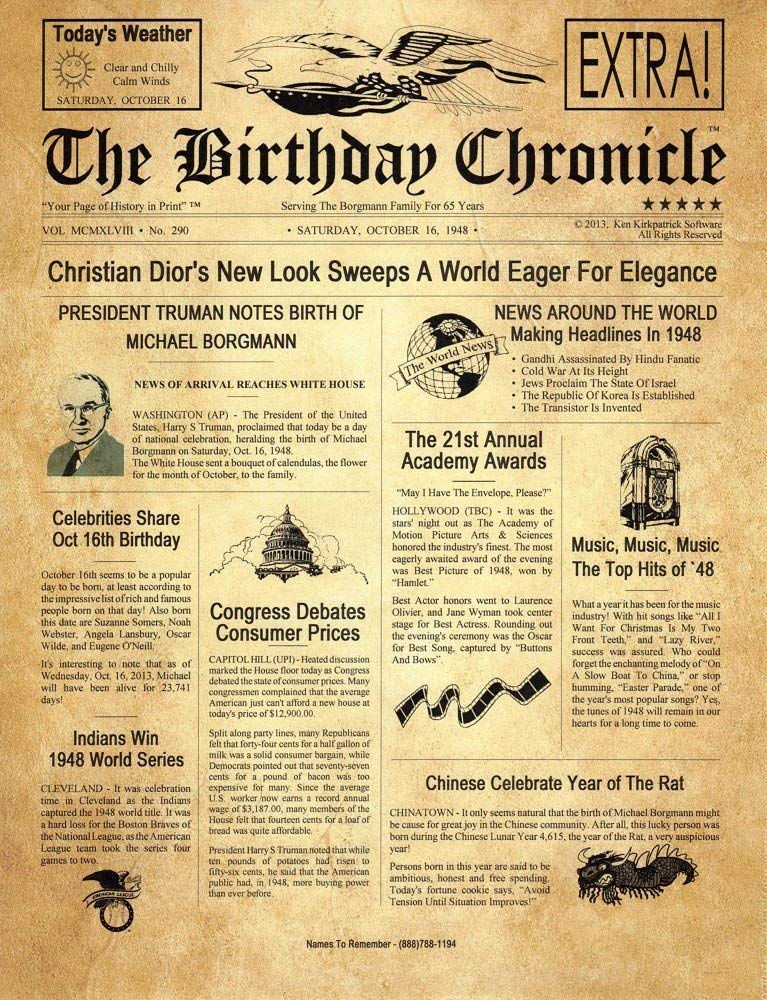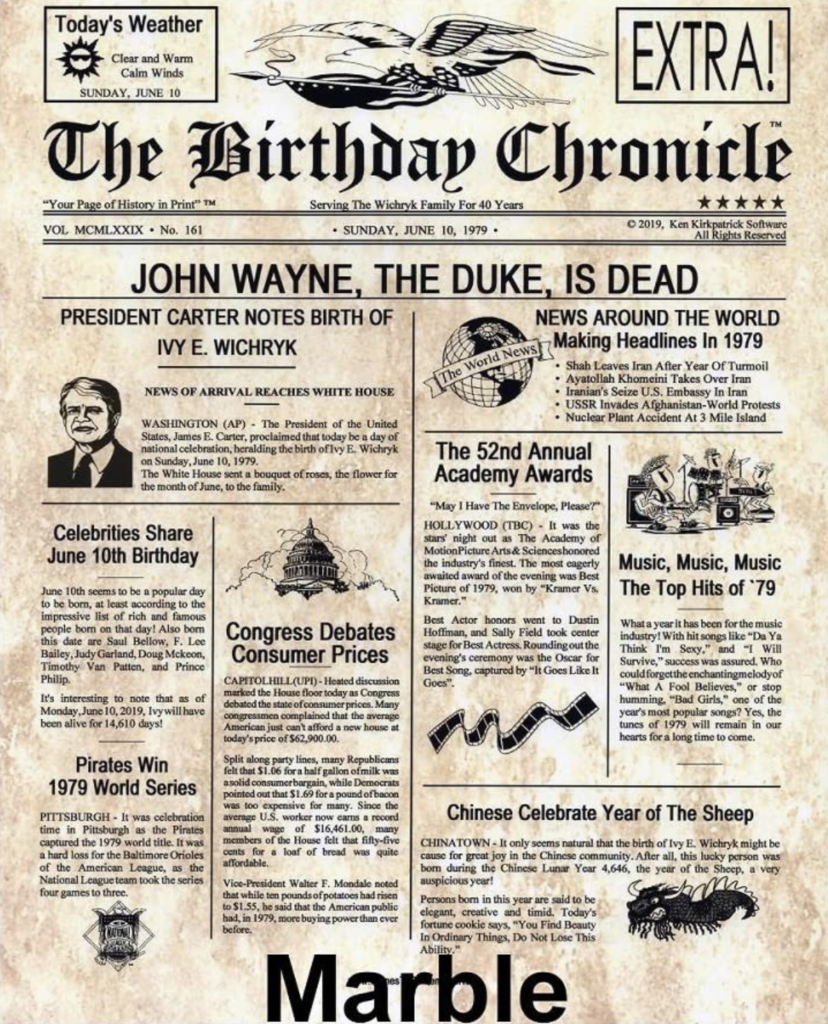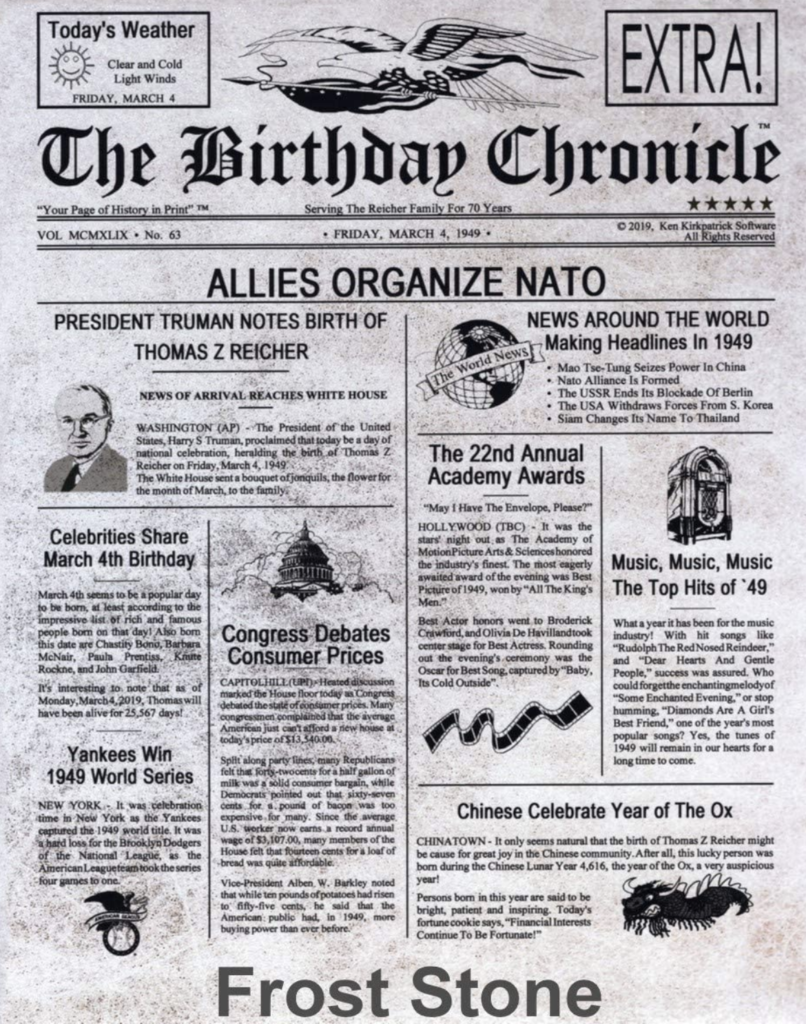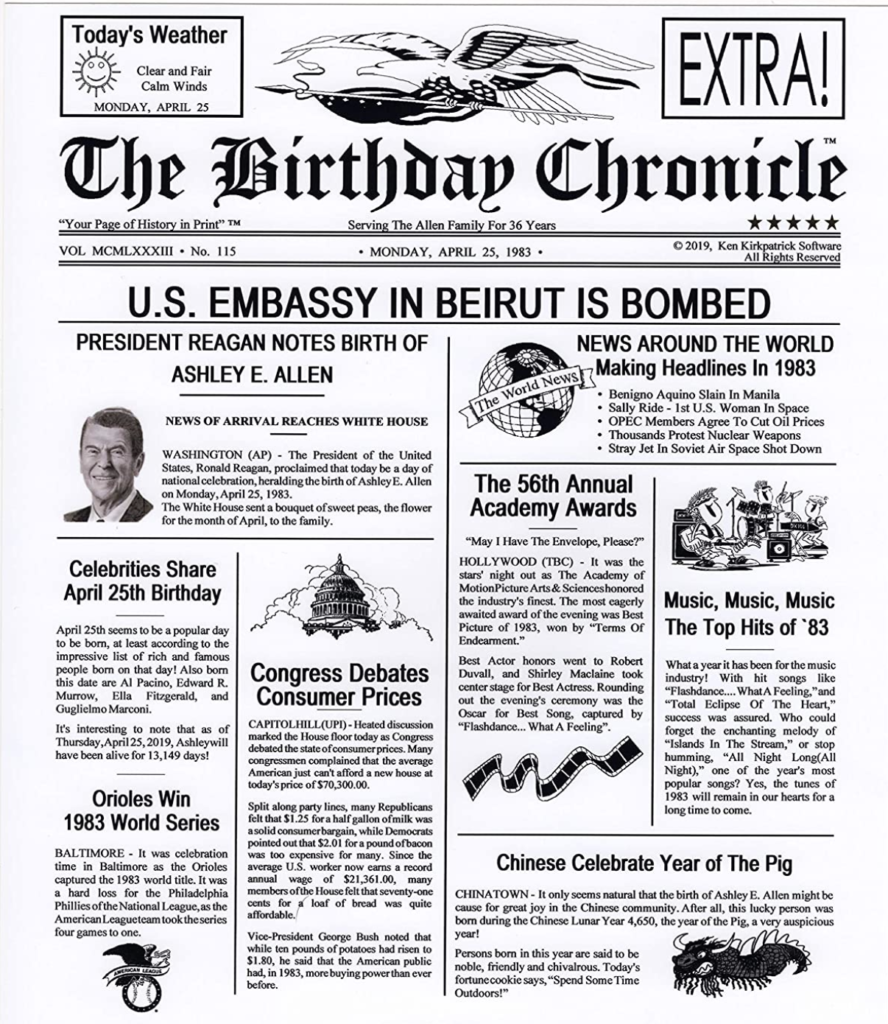 Printable Birthday Newspaper
My Birthday Chronicle is the best under $30 gift you can give. In my honest opinion, I would pay to get another birthday chronicle for another family member over choosing some materialistic gift they don't need.
Another option would be to create your own free printable birthday newspaper, but if you don't have the know-how, Amazon is the way to go.
Head over to Amazon.com/mybirthdaychronicle to get started. (affiliate)
If you prefer the white paper version, see below:
Product Description from Amazon:
WILRY EMPORIUM is proud to offer this CUSTOMIZED PERSONAL BIRTHDAY NEWSPAPER CHRONICLE PRINT specialty gift gives the impression of a Newspaper Front Page that includes: greeting, by name, from the then-President of the United States, newspaper headlines and stories from year of birth. Combining nostalgia and history, people celebrating their birthdays can look back at the world as it was on the day they were born
✔ARTWORK – Our Prints created with extreme care and printed on 8.5×11 heavy stock paper with gloss finish, SHIPPED in Clear See Thru Protective Envelope. All products are Premium Quality. Gift Ready! Easily frame able if preferred.
✔ BIRTH DATES AVAILABLE – 1/1/1900 to 12/31/2015 unfortunately the data collected only dates up to December 2015. Therefore if one was born thereafter, this product is not available for them . However you can check out our Historical Day You Were Born Customized Birthday Print
✔ THIS IS A CUSTOMIZED PRODUCT – Not Eligible For Return per Amazon Return Policy. Orders are fulfilled/shipped within 24 hrs or Less. If an problem exist please let us know, we will be happy to assist you
✔VERY COOL WAY TO LEARN SOME HISTORY ABOUT ONE'S SELF while enjoy a hot or cold beverage, just think how memorable this unique mug will be for a very long time
✔BE SURE TO COMPLETE ALL FIELDS NECESSARY TO CUSTOMIZE PRINT, to avoid your order being delayed