During the first few weeks, the temperatures after school can still be quite warm. Kids will love getting off the bus and having a nice, cool, refreshing smoothie made with Old Orchard Mixers.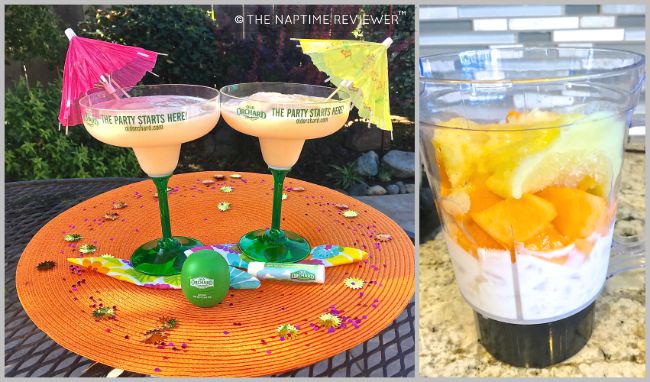 Cantaloupe Colada Mocktail using Old Orchard Pina Colada Mixer
I've created a "Cantaloupe Colada" mocktail using Old Orchard Pina Colada Mixer. Here's my super quick and easy recipe made with a small personal size blender (plenty for 2 kids, although each 12 ounce can will make 6 drinks):
CANTALOUPE COLADA MOCKTAIL
1 1/2 cups crushed ice
1 cup cubed chilled cantaloupe
1/2 cup vanilla non-fat or regular liquid coffee creamer
1/3 container Old Orchard Pina Colada Mixer (re-cap remaining mixer for future use and keep frozen)
Mix all ingredients until smooth and serve! Of course, you can always add your favorite rum for an "adult" Cantaloupe Colada!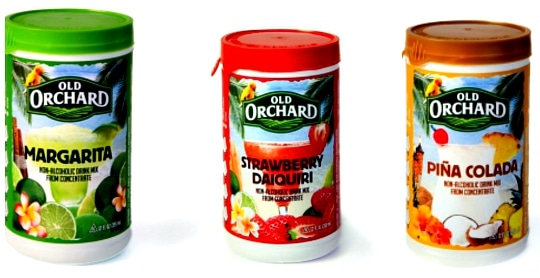 Old Orchard Mixers
Old Orchard Mixers come in 3 flavors – Margarita, Strawberry Daiquiri, and Pina Colada. The cocktail and "mocktail" possibilities are endless! Maybe a watermelon margarita? Strawberry banana daiquiri? The Margarita has a great tangy lime flavor, and the Strawberry Daiquiri has the yummy flavor of fresh strawberries.
Old Orchard
also carries bottled shelf stable juices in 32, 64, and 96 ounce sizes, with great flavors like Pineapple Guava Nectar and Very Cherry.
***********
Disclosure: I received one or more of the products mentioned above in exchange for review from Old Orchard. Regardless, I only recommend products or services I use personally and believe will be good for my readers.
G I V E A W A Y !!
Enter to win a free product coupon for any Old Orchard frozen concentrate using the Rafflecopter form below. 8 winners will be chosen after 8/21/15. Good luck, and thanks for entering!