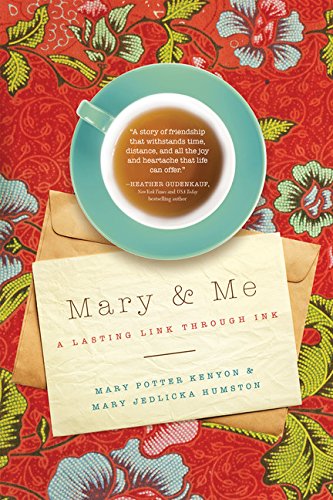 Mary & Me: A Lasting Link Through Ink explores a thirty-year friendship between two women: one who had never learned to cultivate female friendships, and the other who had managed to gather and maintain a large group of friends throughout her adult life. The fact that thousands of handwritten letters between them tethered these two together is just part of the intriguing story.
Coauthors Mary Potter Kenyon—author of Refined by Fire, Coupon Crazy, and Chemo-Therapist—and Mary Jedlicka Humston share an unforgettable friendship that will inspire you to pick up your pen and begin writing "Dear . . . "
"A book about the joy of letters is always a cause of celebration, and when it is also a book about the incomparable consolations of friendship – expressed through letters – the celebration is even greater. 'Mary & Me' offers beautiful proof that there is no better demonstration of true friendship than through letters; through shared confidences that address our sorrows, our joys, and our need of each other." – Nina Sankovitch, bestselling author of "Tolstoy and the Purple Chair," and "Signed, Sealed, Delivered: Celebrating the Joys of Letterwriting."
"MARY & ME is a powerful testament to the beauty of friendship as told through decades of letter writing. In a disarmingly personal depiction, Kenyon andHumston lead us through a story of friendship that withstands time, distance and all the joy and heartache that life can offer." -Heather Gudenkauf, New York Times and USA Today bestselling author.
"In this book, the two Marys focus on friendship through the written word, two topics near and dear to my heart. For twenty-five years, I have made my living as a writer and although I love my job, it is when I put my pen to paper and write to my friends that I feel happiest. Sharing my life and inner thoughts with someone who listens, cares, and responds, even if that friend is miles away, is key to my well-being. This book is a wonderful reminder of how much we need others, and how, for many of us, that comfort, joy, and happiness comes in an envelope in the mailbox." -Tamra Orr, author of "The Parent's Guide to Homeschooling," and over 400 children's books.
"Mary Kenyon is one of those rare women who walked into my world and became an instant lifelong friend. She exudes love of family, faith, integrity, andbeauty, and those things shine in her writing and relationships. "Mary & Me: A Lasting Link Through Ink," co-written with Mary Jedlicka Humston, offers rich wisdom about the art of friendship and the beauty of commitment that goes beyond the limits of time and space and how words enrich us, give us life, andbond our spirits and souls." -Shelly Beach, Christy Award-winning author of twelve books and co-author of "Love Letters from the Edge"
"The letter writing that conspired weekly for nearly thirty years to create this book is a model of friendship and love that makes me wish to turn back the clocks and recreate for my own life. The world would be a more beautiful place if everyone would engage with each other in the same way that the Marys have." -Wendy Wolff, Author of The Letter Writing Project, Blooming Twig Books
"This book is a pure tribute to friendship, letter writing and, most of all, love. The shared experiences of loss, faith, and letting go between Mary and Maryaren't just inspiring– they're enough to push you out of your own comfort zone to be a little braver today. No doubt, this is the sort of story that will make you want to try harder, love people better, hold the good ones in your life tighter, and leave no collection of words left unsaid. In short, this book captures the real stuff of life. The real stuff." – Hannah Brencher, creator of MoreLoveLetters.com, TED speaker, and author of "If You Find This Letter"
"Through friendship and a treasure trove of handwritten letters, 'Mary & Me' shows how our connections to one another make life precious. Mary Potter Kenyon and Mary Jedlicka Humston have given us the gift of a heartfelt and endearing memoir that will stand the test of time."
~ John Schlimm, awarding-winning author of "Five Years in Heaven: The Unlikely Friendship That Answered Life's Greatest Questions"
About the Author
Mary Potter Kenyon graduated from the University of Northern Iowa with a BA in Psychology and is the Director of the Winthrop Iowa Public Library. She is widely published in magazines, newspapers, and anthologies. She is a popular speaker and workshop presenter for women's groups, libraries, community colleges and writer's conferences. Her public speaking repertoire includes the topics of caregiving, couponing, writing, utilizing your creativity in your everyday life, and finding hope and healing in grief. This is Mary's fourth book published by Familius. She is the author of "Coupon Crazy: The Science, the Savings, and the Stories Behind America's Extreme Obsession," "Chemo-Therapist: How Cancer Cured a Marriage," and "Refined By Fire: A Journey of Grief and Grace." She lives in Manchester, Iowa. Check out her website at
marypotterkenyon.com
Mary Jedlicka Humston, a former high school teacher, graduated from the University of Northern Iowa with a BA in English Education. She has had over 150 poems and essays published at the local and national level in newspapers, magazines, books, and online. One of her poems was chosen to be projected on the Krakow City of Literature UNESCO Poems on the Wall in 2014. Mary has presented programs on cancer, dealing with chronic illness, prayer, writing, andthe Little Free Library movement. She is a member of National League of American Pen Women and The University Club Writers of Iowa City. She lives in Iowa City with her husband Jim.
PRE-ORDER YOUR COPY
HERE
.
GIVEAWAY
We've teamed up with the authors to offer our readers a giveaway of an advanced copy of Mary & Me! Enter using the Rafflecopter form below. We will choose one winner after 8/22/15. Good luck!