Now that we have finally escaped the 100 degree plus weather, it's time to get my backyard in shape so I can enjoy the beautiful fall weather that's fast approaching.
My first project was sprucing up a plain, boring part of my poolside patio. This is an area that gets blistering heat all day during the summer months, and has no water supply. More than one cacti have even died in this spot from the heat! I'm using this pretty Evergreen from
www.silkplantsdirect.com
to add some color and interest to this space, along with some rock accents and a cute wrought iron chair with colorful pads. Now I've created a pretty, and drought resistant, area that looks inviting.
Realistic looking evergreen plant from Silk Plants Direct and a simple chair can create a cute backyard reading nook.

Silk Plants Direct has an awesome variety of artificial trees (up to 8 feet tall), plants, topiaries, branches and flowers to choose from. They also carry an really nice array of fire retardant artificial plants, trees and foliage called ThermaLeaf, where I saw some beautiful topiaries and trees for use inside the home.
When ordering, use the code BLOGGER10 to receive a 10% discount from Silk Plants Direct.
Huuman Insect Repellent Bracelet and Clip.
It's still mosquito season here in California, so while working in the yard I have to use some insect protection. While most of the insect repellant sprays give me a headache, probably from the nasty chemicals in them, I prefer to use natural ingredients to keep the bugs away. This great stretch
Insect Repellent bracelet from Huuman
is DEET-free, and only uses natural ingredients like peppermint, geranium, lavender and citronella oils.
The bracelet itself has lots of stretch and is very comfortable to wear. The pellet inserts have a 15 day life, and are waterproof. The insect repellant carabiner clip is perfect for clipping on a backpack while hiking, or clipping onto your chair while enjoying your backyard. If you are going to be watching your kids play soccer or football this fall, this is a must have for you and your children. I got 2 mosquito bites within 5 minutes while watching my nephews practice football a few nights ago on damp grass when I forgot to take my insect repellent bracelet with me! Protect your family from disease carrying mosquitoes and other flying insects using natural insect repellent ingredients – stay away from harsh chemicals.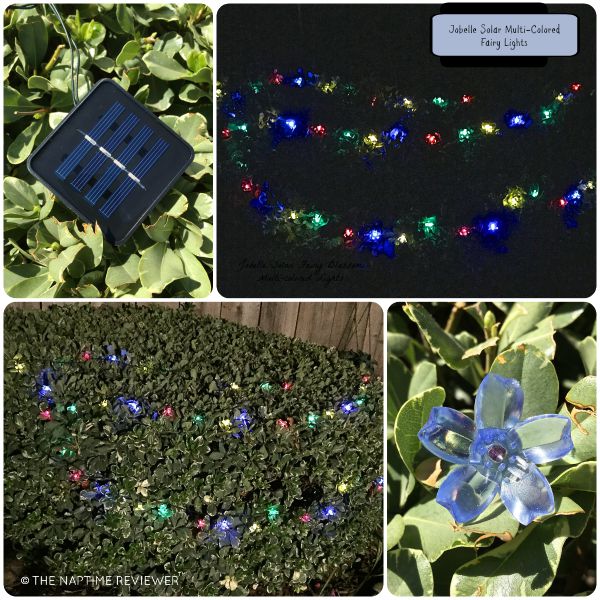 Jobelle's solar multi-colored blossom fairy lights
can add a little spark of color and brightness to your backyard at night. These are made of a heavy duty rubberized plastic, much nicer than the small lights on christmas style lights. The solar panel only needs 6 hours of light to keep your lights charged for the entire night, and comes with a 20 cm garden spike to place where it can absorb the most light. These are nice, waterproof, LED lights on a 22 foot string containing a whopping 50 lights! This also comes in a white light set. I think these would even be great for Christmas trees if you can place the solar box in a window to collect energy! I think these are a bargain at $10.98 (today at a local retailer I saw shorter solar light strands selling for $17 on clearance!!), and they come with an awesome 100% money back guarantee!
***********
Disclosure: I received one or more of the products mentioned above in exchange for my honest review. Regardless, I only recommend products or services I use personally and believe will be good for my readers.
Disclosure: I received one or more of the products mentioned above in exchange for review from Giveaway Service website. Regardless, I only recommend products or services I use personally and believe will be good for my readers. Reference ID: pm2df4048783c862151dba71e1c66fabf5