Having a cupboard full of spices does you absolutely no good, unless you know how to use them. I think I have spices that are at least 5-10 years old in mine! I'm cleaning out those old spices to make room for all these cool spice blends from
Spike Gourmet Natural Seasoning
. Each bottle has suggestions on how and what to serve it with or on, taking the guesswork out of spicing up foods!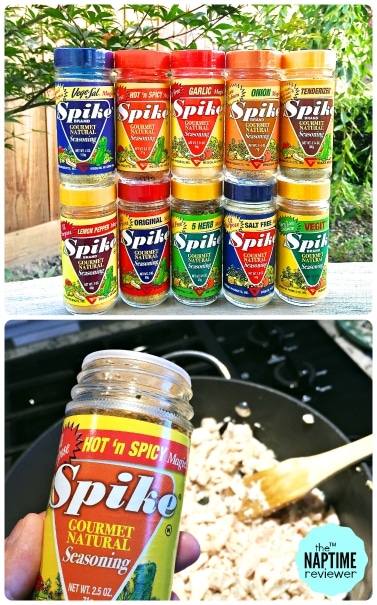 I love that each bottle of Spike has no added MSG! Like a lot of people, MSG gives me some strange side effects, like weird dreams and massive thirst. Spike uses natural ingredients in awesome combinations to create flavors to compliments almost any food you cook. The first dish I made with Spike was using the Hot 'n Spicy Magic in chicken soft tacos. It gives it a really nice kick, which tasted a lot better than prepared taco mix in a packet. My recipe was simple: Cube 2 boneless chicken breasts in 1 inch pieces. Saute in pan with 1 diced onion and 1 diced red bell pepper. Serve in a flour tortilla with lettuce, tomato and grated pepper jack cheese.
The recipe possibilities are endless with Spike Gourmet Natural Seasonings.
I found this yummy dressing recipe on the Spike website. I didn't have flax oil, so I substituted canola oil and it came out great! It's a nice light dressing that's perfect for salads with meat, like grilled chicken salad.
MOTHER EARTH'S ESSENTIAL DRESSING
8 oz. virgin olive oil
4 oz. Baleen's flax oil
2-3 oz. balsamic vinegar
3-4 cloves garlic, finely chopped
1/4 Tbsp. SPIKE® ORIGINAL MAGIC!
1 tsp. lemon juice
Dash soy sauce Tarragon, parsley, rosemary to taste *
1. Mix dressing ingredients together in a blender.
2. Keep stored in the refrigerator and use on sandwiches and salads.
I cannot wait until fall hits so I can try some new soup recipes using Spike Gourmet Natural Seasonings. I think the Vege-Sal Magic would be perfect in vegetable soup, and the 5 Herb Magic would really compliment my minestrone recipe! With these terrific blends of spices, I see no reason to still be hoarding all those all spice bottles, so out they go!
Disclosure: I received one or more of the products mentioned above in exchange for review from Giveaway Service website. Regardless, I only recommend products or services I use personally and believe will be good for my readers. Reference ID: pm5cfcbafd768519bce51371aae5cac8fb
G I V E A W A Y ! ! !
Enter to win 2 bottles (our choice) of Spike Gourmet Natural Seasoning using the Rafflecopter form below. One (1) winner will be chosen after 9/8/15. Good luck!