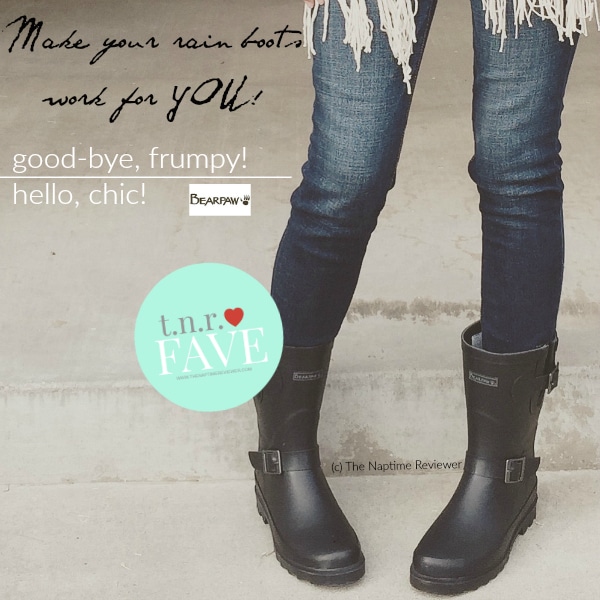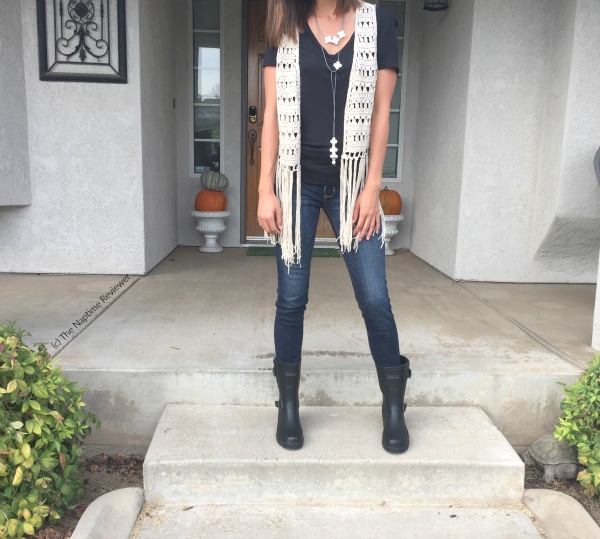 Jeans | Abercrombie $39
Shirt | Old Navy
I'm all about wearing outfits that are comfortable and that work for ME. I carry around two kids, a diaper bag and countless other things all day so I need to be comfortable. Just because I'm trying to dress comfortable, though, doesn't mean that I need to wear sweats and tennies all day. The goal is to stay away from the frumpy look and incorporate accessories into my comfortable outfits that dress-up my looks. Not only will I look more put-together, I'll feel so much better about myself in the end.
My latest shoe find is from a website called Sole Provisions. They carry all sorts of comfy shoes for men and women. While some of the styles they carry aren't my taste, they do have lots that I love. I can spend hours browsing their boots department which led me to find my new
Bearpaw Charlie boots
in black. I have only owned one pair of rain boots in my lifetime and they were so heavy and clunky that I never wore them. These Bearpaw boots are lightweight, fit true to size and slip on just like any other rain boot. They are an inexpensive way dress up a pair of jeans on a rainy day which is why I love them.
Another accessory that I'm wearing in the photo above is a lariat from Sweet Clover Pearls (
sweetcloverpearls.com
). I had no idea what a lariat was or how to wear one until I was introduced to Sweet Clover Pearls. These things are so versatile and fun and really dressed up my black tee.
I received the boots and lariat as a gift from the brands above. My opinion is honest and my own and is not influenced by compensation.
What's your favorite accessory that you use to dress up a comfy outfit?
Let us know in the comments section!