When it comes to our baby's comfort, safety is always a top priority. There have been many baby seats that have been recalled for numerous reasons like strangulation and suffocation so how on earth do I know if I'm choosing the right one? I've recently connected with a company called SnuggleRoo to test out and learn more about their Baby Bean Bag which, for the record, has not been recalled for any safety reasons. I've tested out a similar product in the past and I must say that this one is far better than the other for a few reasons.
Disclosure: I received a SnuggleRoo in exchange for blog coverage. Any opinion expressed in this article is based on my experience with the product.
First, I love that the
SnuggleRoo bean bag
is stiffer than the others out there, making it safer for infants. Also, the fabric on the straps is nice and thick but still small enough for an infant. The straps can be securely clasped to hold your infant in and are adjustable to fit just right. Plus, the fabric is super soft and won't irritate my baby's skin or head.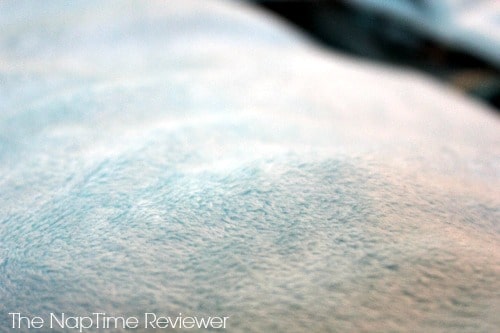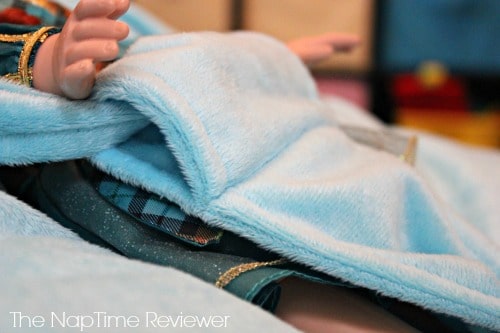 I'm also loving the high quality canvas-like fabric used on the bottom and underneath of the SnuggleRoo. This is part of the reason that this bean bag is nice and stiff and holds it shape, aside from the stuffing. The fabric is thick and easy to wipe clean.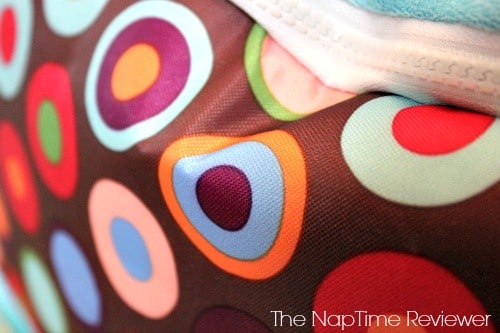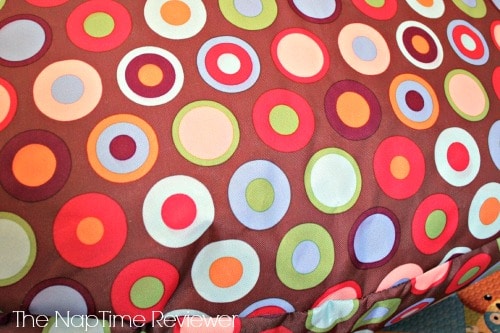 Benefits of the SnuggleRoo Baby Bean Bag
Parents can adjust the shape of the baby bean bag by shifting the beans to the back of the bean bag. The baby can sit in an upright position which provides comfort and relief for babies that suffer from colic or GERD (reflux). Our baby bean bag can provide a much more comfortable solution for your baby.
The combination of the extremely soft covers and the beans help prevent flat head, as the baby bean bag moulds to the shape of your child's head and body.
A chair that can grow with your child:
The interchangeable covers allow the baby bean bag to grow with your child – from newborn to school age. A chair that can be used for up to 8-10 years! Save your money from constantly switching chairs while your child grows – they'll want to snuggle up on the bean bag for years to come!
Safety Tips About Baby Bean Bags from SnuggleRoo
Infants should be supervised at all times when using the chair, do not leave your child unattended on the baby bean bags. The baby bean bag must be used on flat and even ground (only on the floor).
To ensure safety, we suggest changing the newborn cover (with straps) to the regular cover (without straps) once your child is able to climb on and off the baby bean bag and is no longer appropriate to secure them to it. However, parents are the best judge to decide whether their child is ready for the regular cover because each child is different in size and motor skills.
For infants, we suggest 85L to 90L of filling. As the child grows older, beans can be taken out so the bean bag will be more snug for them.
For safety concerns, a paper clip is required to open the back zipper of the baby bean bag. There are two zippers in the baby bean bags to keep curious monkeys out of reach of the beans. After the recent recall of 2.2 million bean bag chairs for suffocation, this is a HUGE plus about this bean bag.
How to care for your SnuggleRoo Baby Bean Bag Chair:
– Both top covers can be washed cold in the washing machine or by hand.
– For best results, the covers need to be air-dried.
– The base can be wiped clean with a moist cloth and air-dried
My Overall Thoughts
I love everything about the SnuggleRoo baby bean bag. Especially the fact that it grows with your child. Both my preschooler and infant can use it simply by swapping the tops. It works perfectly for reading books or watching movies and is easy to toss around and store in any corner or closet.
SnuggleRoo now carries both stuffed and unstuffed bean bags. You can find the beans at your local Walmart, Kmart or Bed Bath and Beyond for a great price if you prefer to purchase the unstuffed version or just need to buy replacement beans for whatever reason.
The price point, in my opinion, is right on. Think about how much money you'll save by having a product that grows with your child, that can be washed and refilled.
To Buy
You can purchase your very own SnuggleRoo baby bean bag by visiting
www.snuggleroo.com
. SnuggleRoo has so many colors and patterns to choose from so you're sure to find the perfect bean bag for your little one.
Unfilled SnuggleRoo Price: $45 and under
Filled SnuggleRoo Price: $75.99 and under
SnuggleRoos make great baby shower gifts, too!