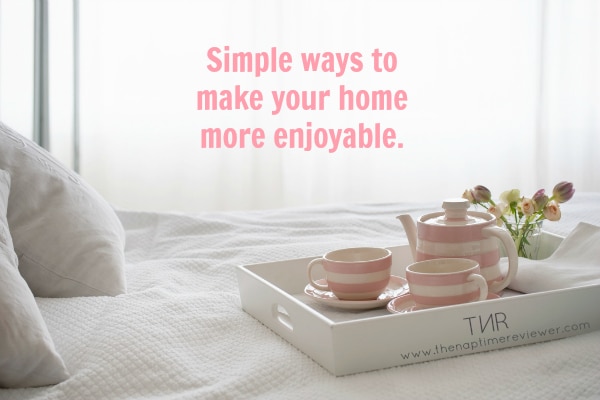 Home is where the heart is, and all homeowners have a responsibility to show theirs the love and affection it deserves. Without those positive efforts, the property is just a building. Quite frankly, it's your input that will make the house feel like a home.
Creating the perfect environment for the family to grow should be a priority for all homeowners. The property plays an integral role in your daily lives. Moreover, it's probably the most valuable material asset you possess too. Therefore, it's imperative that you keep it in good health.
Follow these fantastic tips, and your home will soon sparkle like never before. More importantly, you'll be able to keep it in great condition too.
Declutter
The first step of any home restoration project has to be decluttering the home. All families are guilty of holding onto items they don't need. Getting rid of these products could be the key to unlocking new levels of happiness and enjoyment at home.
You could always sell those products at a
garage sale
to make some extra money too. These funds can be injected into your future upgrade projects. More importantly, though, you'll be preparing your home for a major shift while also getting your mind into gear too.
This can be a very therapeutic moment as you look to see out the old and bring in the new. Just think of what you could do with all that extra space too!
Open The Space
Regarding the home, bigger is better. We all wish we had a massive mansion with a multi-acre garden. That's not possible, but you can at least make your home feel larger with a few simple design tips.
Decluttering will claw back floorspace. However, one of the best ways to increase the feelings of extra space is to
start embracing the light
. This single aspect can make a vast difference to a room's atmosphere. It can quite literally brighten the place up.
And that's something all homeowners should aspire to achieve.
Make Smarter Design Choices
Increasing the natural light isn't the only key aspect to consider. There are various other important decisions that can impact the aesthetic vibe of a room. For example, painting the living room walls in a lighter color can reflect the light and make it feel bigger too. One great tip is to paint three walls in a base color, and then use the fourth as a feature wall.
The walls are far more important than many people give credit for. Using
backsplash tiles
in the kitchen will provide added character. It also offers a practical solution for those wanting to keep the space in pristine condition. After all, making the maintenance easier is one of the best design upgrades you could ever make.
Floors are another area where you should pay special attention. They can play a huge role in the aesthetic of a room. At the same time, you shouldn't opt for a selection that requires large amounts of care. You don't want to spend your entire free time doing housework.
Childproof
If you have children, then they are the focus of your attentions at all times. This is especially true when it comes to interior design.
You can't keep your eyes on them at all times, so it's imperative that you take the necessary precautions. Covering electric outlets and
sharp furniture edges
is crucial. Meanwhile, you should be keen to choose design features that can't be ruined by inquisitive minds. Opting for darker carpets or vinyl flooring is a smart move indeed.
Finally, you must ensure that any hazardous items are kept out of reach. Otherwise, curious minds will find a way to attract danger.
Utilize Every Room
In an ideal world, we'd all be living in luxury mansions. Most households wish they had extra space to enjoy. Worse still, a large percentage do, but fail to see the opportunities.
Do you really need a guest bedroom? If it only gets used for one weekend per year, then it's being left dormant for 363 days a year. What a waste. You'd be far better off
converting it to a home office
. Not only will it add extra purpose to the home, but it can also add value. Most families could benefit from this area. However, only the newest properties tend to boast them. Adding your own can make a world of difference.
Moreover, the organized storage space can be used to gain extra space in other areas of the home too. This in itself can be a very useful hack for improving your relationship with the entire property.
Fix Problems
When it comes to upgrading the home, it's very easy to think about big TVs and funky gadgets. In truth, these luxury items should be way down on your list of priorities. Being practical is far more important.
Encountering troubles with daily tasks will soon destroy your happiness around the property. Restoring things to their best performance is a must. If money is an issue, then opting for
appliance repair
is often far cheaper than replacement. Meanwhile, you can take on basic DIY tasks like improving the water pressure in your shower to make life a little more enjoyable.
Get those basic items sorted, and then you can turn your attentions to luxury additions.
Invest In A Better Bathroom
The bathroom might not feel like an overly important room, but it is. Not only is it one that you all use on a daily basis. It is also the space where you can lock yourself away from the world and enjoy some relaxation and comfort.
Choosing aesthetically pleasing tiles will help build a great atmosphere. Simple touches like
scented candles
and new towels will take your bathing experience to another level. It can bring those feelings of a trip to the local spa into the home.

While you are at it, you could replace the toilet with an energy-saving unit. After all, this is your biggest source of water waste, and reducing yours will save you money. Whatever you do, a great bathroom will add a sense of added luxury to the home. What more incentive could you need?