If you've been following for a while, you might remember my love for having family game nights. Since it's been a while since my last FGN post, I thought we were due for some more family game night ideas.

You can read some of my previous game reviews and suggestions below:
Barbecue Party Game from Goliath Games
Mysterious Creatures Board Game from Education Outdoors
Preschooler-Friendly Games – Trouble and Uncle Wiggly

Endless Games is always on the cutting edge of games that are fun for the whole family! For ages 3 to 103, Endless Games offers card, dice, party, word, strategy, trivia, survey and pop culture games for everyone! Games like Oddly Obvious ($11.49), the wild new party game where all the answers are right in front of you is a great one for early readers and adults alike. One player reads clues while the other players race to spot the correct answers on a game card. The trick is that the answers are each in different fonts and colors, written up, down, and even upside down. Shout out the most correct answers to win. It's not as easy as you think!
I find it really hard to keep my preschooler interested in board games from start to finish so I try to get creative when choosing a game for FGN. If we can be active during game play, she's more likely to stay interested. Crazy Legs ($10.99) is a brand new game from Endless Games that gets players up and moving. Each space on the game board represents a new physical challenge for children and families to jump, twist, shake and exercise their way to victory!
Monkeys Up by RoosterFin Games
($19.99) is a game that will have you going bananas! Players compete to get the best score by flipping, switching, and stealing monkeys. Each monkey has a value hidden under its feet that is only revealed when flipped. Victory will come to the player who switches, steals, and flips the best. This game is suggested for ages six and up but my 4 1/2 year old has a blast with it. We have to help her out, but I think the plastic monkeys are what make it more interesting to her.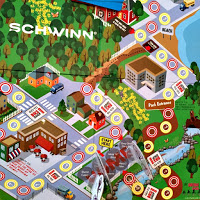 Education Outdoors has come out with a Schwinn
Biking Board Game
($16.44 on Amazon) that is geared towards children and adults ages 4+. My husband is a cyclist so he usually dominated at this game and my daughter absolutely loves the game board. The Biking Game is a multi-generational game that allows every member of the family to play together. Themed around the legacy of biking with one of the more iconic biking companies on the planet, Schwinn, the Biking Game promotes an active lifestyle while educating and inspiring a future generation of bikers
The Biking Game was created to inspire families and bike enthusiasts to get outside and enjoy one of America's greatest recreational activities together. The game is designed to grow with the player, starting at level one questions, which are primarily identification of basic bike parts and riding etiquette. As the players increase in their knowledge of biking culture they grow into the higher level questions.
Another great concept for board games is having each player work
with
one another instead of against each other. These types of games encourage teamwork and end with no hard feelings.
The Yoga Garden Game
($19.95) designed by San Francisco yoga teacher, Jennifer Durand, is intended for ages 4+ was created to help people learn yoga. Since many yoga positions are named after animals and objects found in nature, kids can use their imaginations while learning different yoga poses. The objective of the game is to plant the flower garden before night falls. As players move their bumblebee marker around the game board they learn classic yoga poses and have the chance to make up their own.

Why I Love Family Game Night
Games are the perfect way to gather as a family and can help you create lasting memories. You can help teach your children sportsmanship, teamwork and how important it is to spend time together all while having fun. Plus, if you're a competitive person like me, board games can be the perfect outlet for bringing out your competitive side.

Do you have any favorite board games?