This post is part of a sponsored collaboration with SwaddleDesigns. Any advice given in this article is not to be interpreted as professional advice. As always, all opinions about products mentioned are my own.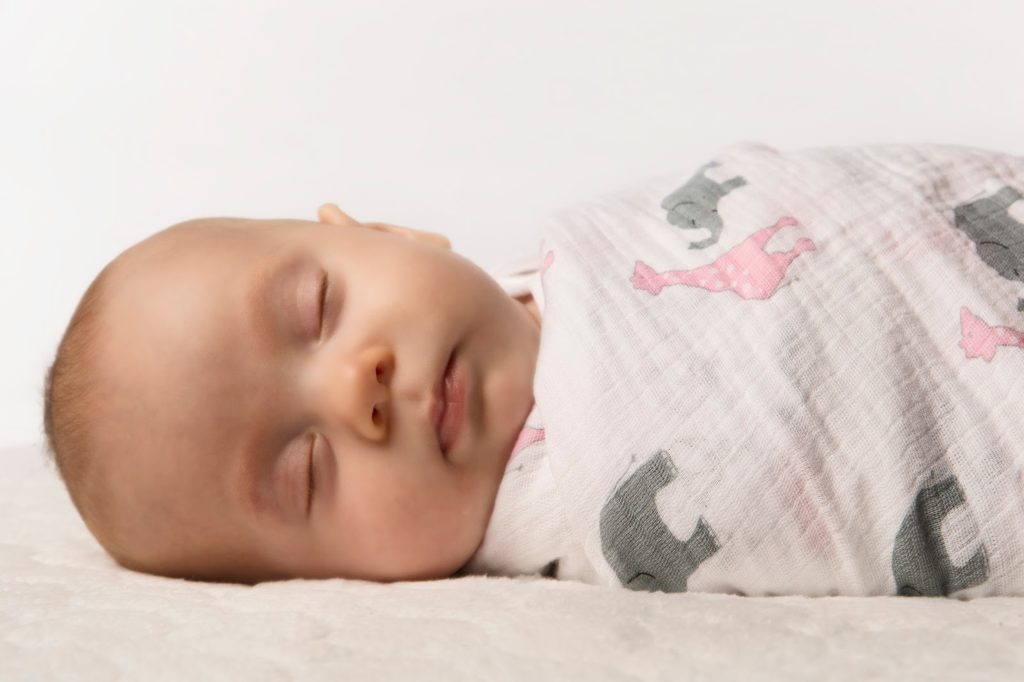 Photo Credit: SwaddleDesigns
Swaddling your newborn has many benefits, according to the experts. It can reduce the risk of SIDS, help reduce the
Moro reflex
, help babies sleep better and so much more. Experts recommend transitioning from a swaddle to a safe-sleeping method around the
three or four month
mark which is around the time that they start to outgrown their startle reflex. By this time, the risk of SIDS has also decreased.
If you've reached the point where you're ready to transition from a swaddling blanket to something a little more free, I recommend trying the
Cotton Knit zzZipMe Sack
from SwaddleDesigns.
Safe Sleep for Babies
The experts on the SwaddleDesigns website suggest that you always place your baby on his/her back to sleep. This is much different than when I was a baby. I remember my mom telling me that it was once recommended to put babies to sleep on their belly for naps and bedtime. A few years later doctors told her to place my little brother's on their sides to sleep. While the rules of parenthood are seemingly always changing, the concern for safety has always remained great.
As a parent of two little girls, I can vouch for the concern for safety. Prior to having a baby, your doctor will most likely have you go through classes, watch parenting videos or offer you informational handouts to read over. I clearly remember learning about SIDS in the months leading up to parenthood, and I remember being so worried about it as a new parent. SIDS, if you aren't familiar with this acronym, stands for sudden infant death syndrome.
Regulating Baby's Temperature
As a general guide, the American Academy of Pediatrics recommends dressing baby in no more than one layer more than an adult would use to be comfortable in the same environment. Baby's head should be uncovered. Many of us think that we need to layer our babies with clothes and blankets to stay warm at night, but chances are you are already keeping the temperature of your home comfortable.
Baby's temperature can be assessed with reasonable precision by human touch. Their abdominal temperature is representative of the core temperature and it is reliable in the diagnosis of hypothermia.
For many years it was considered okay if baby's hands and feet were cool. The belief was the coolness was due to baby's immature circulatory system. However, recently, the World Health Organization states that baby's hands and feet should be pink and warm. Warm and pink feet of the baby indicate that the baby is in thermal comfort. But when feet are cold and the trunk is warm it indicates that the baby is in cold stress.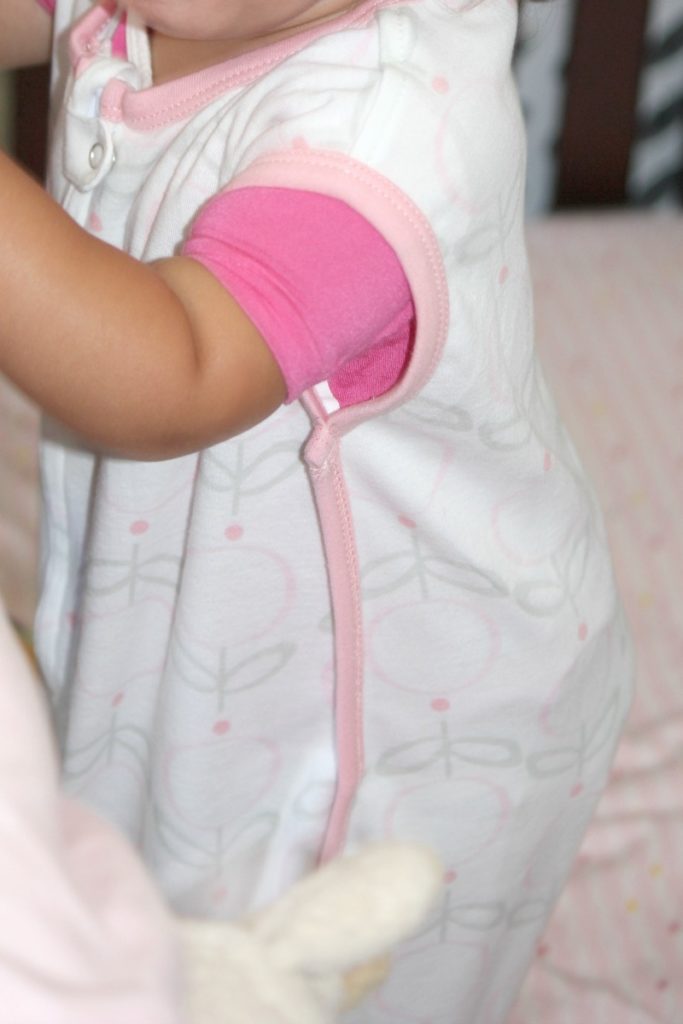 100% Cotton Wearable Blankets for Summertime
I always worry about my baby getting cold at night, even during the summer months. I keep the A/C on to keep it comfortable in the house, but it is possible for my daughter to get chilly at night. Rather than tossing a bunch of blankets into her crib and hoping for the best, I put her to sleep in a 100% cotton wearable blanket from SwaddleDesigns. Their cotton knit
zzZipMe Sack
s are lightweight, breathable, and are so much safer than traditional blankets. And even at 21-months old, my daughter still fits in her 6-12 month zzZipMe Sack and she loves it! We call it her "ni-night-dress."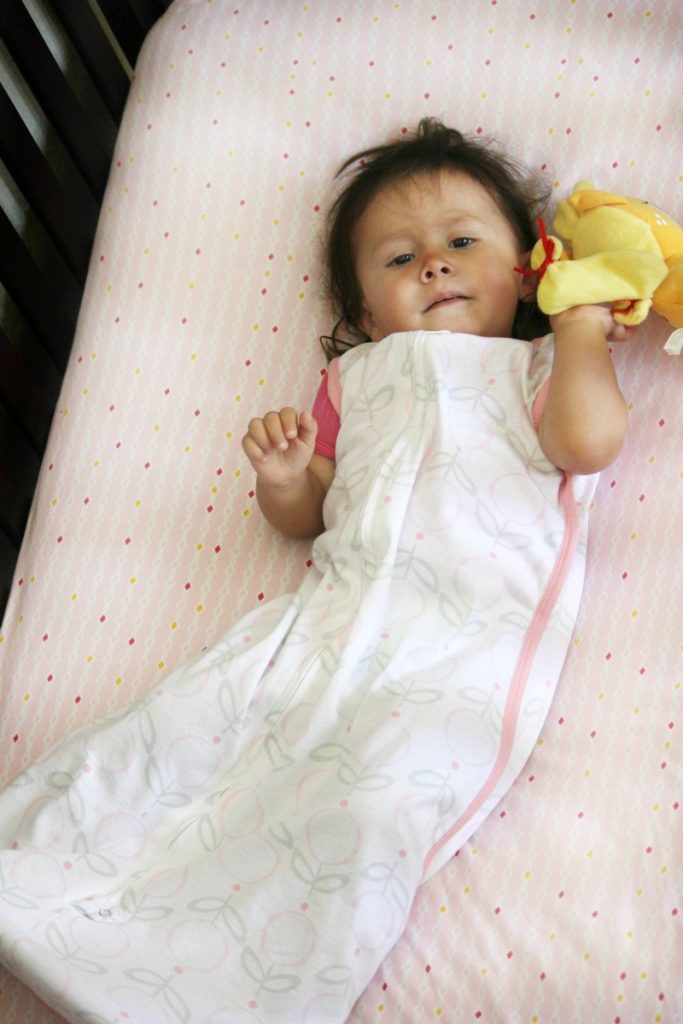 What makes SwaddleDesign's zzZipMe Sack different than other sleepsacks or wearable blankets is the 2-way zipper (shown above). If you've ever had experience with wearable blankets, you'll know that midnight diaper changes are a bit of a struggle when the zipper comes down from the chin-area of the baby. With this wearable blanket, you can unzip from the top or bottom, and both zippers have a protective flap to prevent injury.
More Parenting Resources
SwaddleDesigns was founded by Lynette Damir, RN, Designer and Mom of two. SwaddleDesigns is known for their premium quality fabric, fabulous colors and prints, and their innovative 123 Swaddle® pictorial instructional label sewn to the edge of their Swaddling blankets that makes learning how to swaddle so easy.
If you are interested in learning more about swaddling, transitioning from a swaddle to a wearable blanket, TOG ratings or browsing the entire line of products from SwaddleDesigns, you can visit www.swaddledesigns.com.
Giveaway
We've teamed up with SwaddleDesigns to offer one lucky reader their very own Cotton Knit zzZipMe Sack in the print/size of their choice. Enter to win using the Rafflecopter form below. We will choose one winner after 8/15/16. Good luck!