I'm just going to get right down to it. Weeknights can be hectic! Because of how busy we get during the week, I have learned to rely on dinner recipes that I can prepare ahead of time, like this ground turkey-stuffed acorn squash recipe.
This post is part of a partnership with Foster Farms. Because Foster Farms is a brand our family knows and trusts, we were chosen to share how we use their products for some of our favorite recipes. All opinions and purchases are authentic.
For about ten years now, my husband and I have been using ground turkey in place of ground beef in an effort to make our food a little healthier. As with all ground meat, you can feel a bit limited when it comes to recipes, so we began experimenting with various recipes and have found our favorites. Aside from basic turkey burgers and tacos, what else is there to make?
Our family loves this stuffed acorn squash recipe that I originally found on Eating Well, and over the last five years we have learned to change it up according to our family's preferences. Read on to see what I mean…
Ground turkey is a leaner, healthier choice as far as ground meats go, which is why we choose to use it in this stuffed acorn squash recipe. It's a great source of protein and can be very versatile. Foster Farms is the leading producer of organic turkey in the Western United States and raises their turkeys near my home in the California Central Valley . It's a brand that our family is familiar with and trusts because their turkeys are raised with no added steroids or hormones. Plus, Foster Farms is the only California-grown, organic, fresh ground turkey brand.
Get a $2 off Foster Farms ground turkey coupon here: https://www.fosterfarms.com/turkeyallyear
Contest:
Foster Farms will be conducting a Facebook drawing over the next three weeks for a FREE package of Foster Farms Organic Ground Turkey; five winners will be drawn randomly each Friday. To be eligible, readers just have to comment on this post: https://www.facebook.com/FosterFarms/posts/10155720869124106 their favorite way to prepare Foster Farms Organic Ground Turkey.
Southwestern Stuffed Acorn Squash Recipe
This stuffed acorn squash recipe tastes like a taco in a squash and is our family's favorite way to enjoy a little southwestern flavor. You can prep the filling ahead of time and can even double the batch for leftovers!
Ingredients
3 acorn squash, (¾-1 pound each)
8 ounces (half of a container) Foster Farms Organic Ground Turkey
1 small yellow onion, small diced
½ medium red bell pepper,seeds removed, chopped
1-2 clove garlic, minced
1 tablespoon chili powder
1 teaspoon ground cumin
2 cups chopped cherry or Roma tomatoes
1 15-ounce can black beans, rinsed
½ teaspoon salt
Optional: Several dashes of hot sauce
Sliced Swiss cheese for the top
Directions:
Preheat oven to 375°F. Lightly coat a large baking sheet with olive or vegetable oil.

Carefully cut squash in half horizontally. Scoop out and discard seeds. Place the squash cut-side down on the prepared baking sheet. Bake until tender, about 45-55 minutes.

Meanwhile, lightly coat a large skillet with olive oil; heat over medium heat. Add Foster Farms Organic Ground Turkey and cook, stirring and breaking up with a wooden spoon, until lightly browned, 3 to 5 minutes. Add onion and bell pepper; cook, stirring often, until softened, 3 to 5 minutes. Stir in garlic, chili powder and cumin; cook for 30 seconds. Stir in tomatoes, beans, salt and optional hot sauce, scraping up any browned bits. Cover, reduce heat, and simmer until the tomatoes are broken down, 10 to 12 minutes.

When the squash are tender, reduce oven temperature to 325 degrees . Fill the squash halves with the turkey mixture. Top with sliced Swiss cheese. Place on the baking sheet and bake until the filling is heated through and the cheese is melted, 8 to 10 minutes.
Poke your cooked squash with a fork to ensure doneness.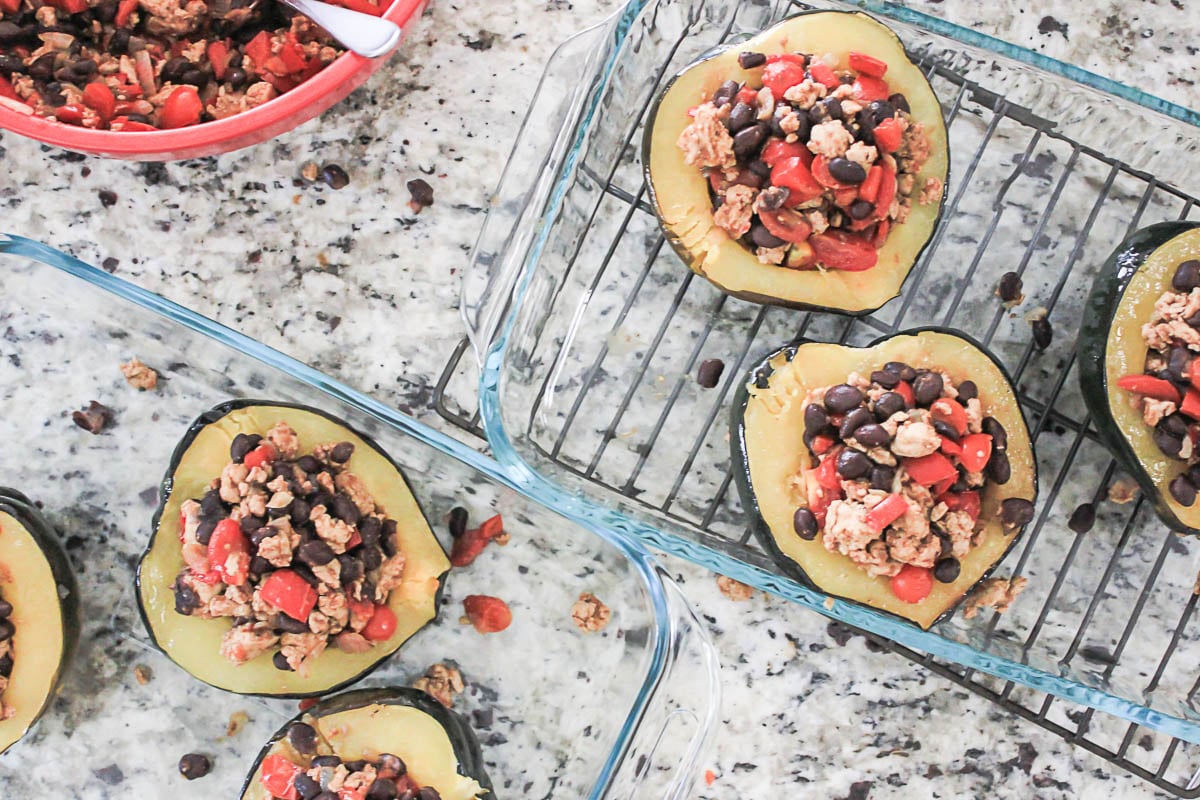 I personally love extra Swiss cheese on my stuffed acorn squash, so I double the amount of slices. I also lightly sprinkle my completed squash with hot sauce for a little kick.
Another Ground Turkey Recipe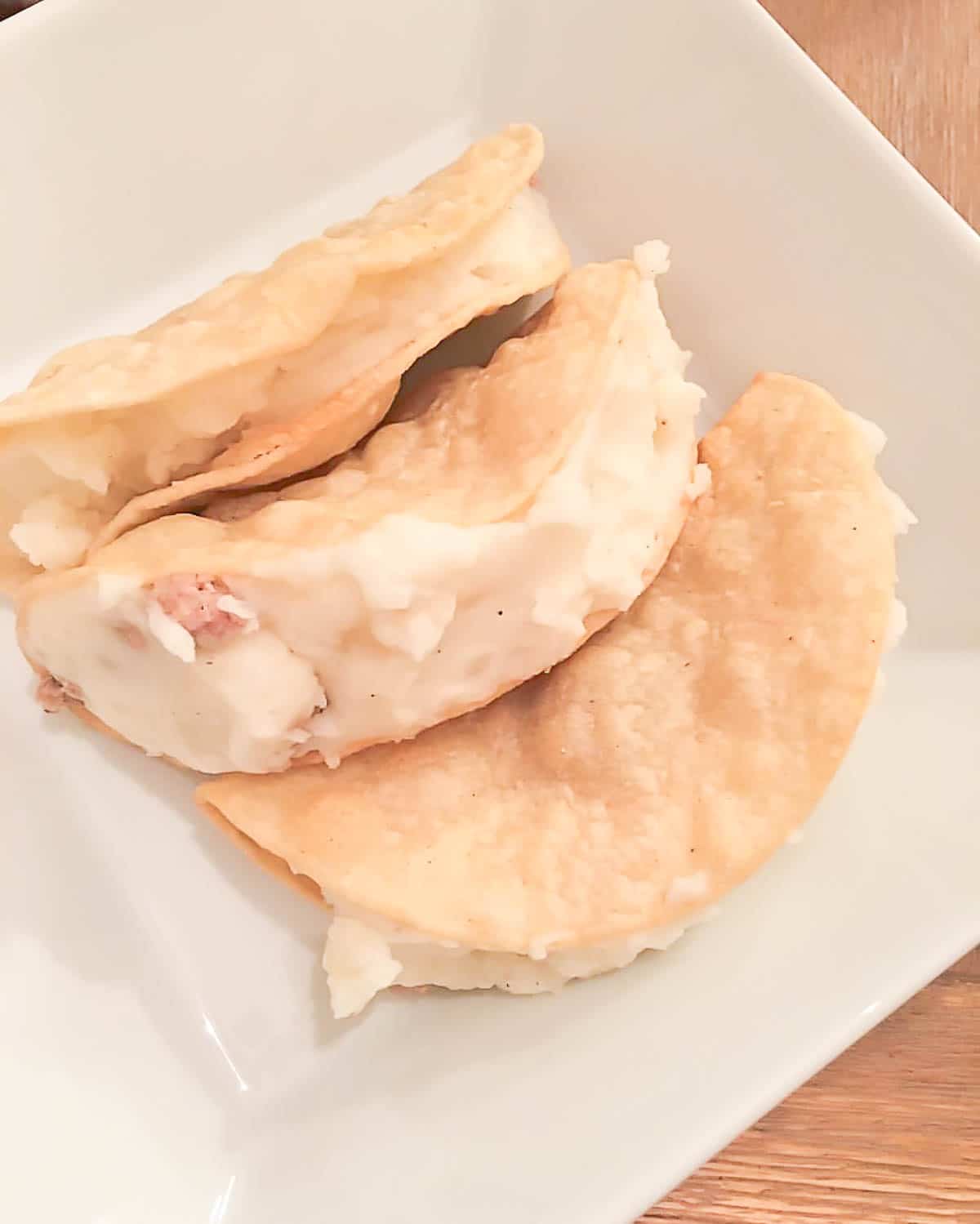 Mashed Potato Tacos
Another unique recipe that has been in my husband's family for years is mashed potato tacos. Mashed potato tacos are very simple to make and can also be made ahead of time and reheated when ready to eat. My kids absolutely devour these and request them quite often.
Ingredients
bowl of mashed potatoes (store bought or homemade)
taco sized corn tortillas
1 bottle of vegetable oil
16 ounces Foster Farms Organic Ground Turkey
salt and pepper to taste
garlic powder to taste
Sauce: 1 can of tomato sauce, garlic powder to taste, crushed red pepper flakes to taste, fresh ground pepper to taste
Directions
Preheat oven to 225°F to keep assembled tacos warm after they are prepared.
Prepare your mashed potatoes and set aside.
Heat a drizzle of olive oil in a large skillet on medium heat. Add your package of Foster Farms Organic Ground Turkey and cook until done, breaking chunks up with a wooden spoon. Season with salt, pepper, and garlic powder to taste. Set aside.
Tortillas: Pour vegetable oil into a medium skillet and heat until the edge of a tortilla starts to crisp. I typically keep my oil about a ½" deep to ensure both sides of the tortilla cook evenly. CAREFULLY place a single corn tortilla into your preheated oil and cook on each side for about 30 seconds or until done. Quickly fold the tortilla into a taco shape while still in the oil and pull out with tongs to drain on a paper towel-lined baking pan. Repeat until desired amount of tortillas have been cooked and shaped.
Stuff your taco shells with a layer of ground turkey, followed by a thick layer of mashed potatoes to seal in the meat. The potatoes help keep the tacos together. If making more than one pan of tacos (recommended), place your assembled tacos into the oven to keep warm.
Drizzle your tacos with your red sauce and serve warm.
This recipe is extremely simple and easy to prepare ahead of time. It's a cheap meal that feeds a lot of people, so it's perfect for parties or large family gatherings. You can also top your tacos with lettuce, tomato, avocado or add American cheese. Enjoy!
You also might like: Leftover Turkey Pot Pie Recipe