I've been receiving fresh Christmas wreaths from Christmas Forest for a couple years now, and I absolutely swear by going the fresh wreath route.  Not only do they smell great every time I walk through the front door, but they look so beautiful.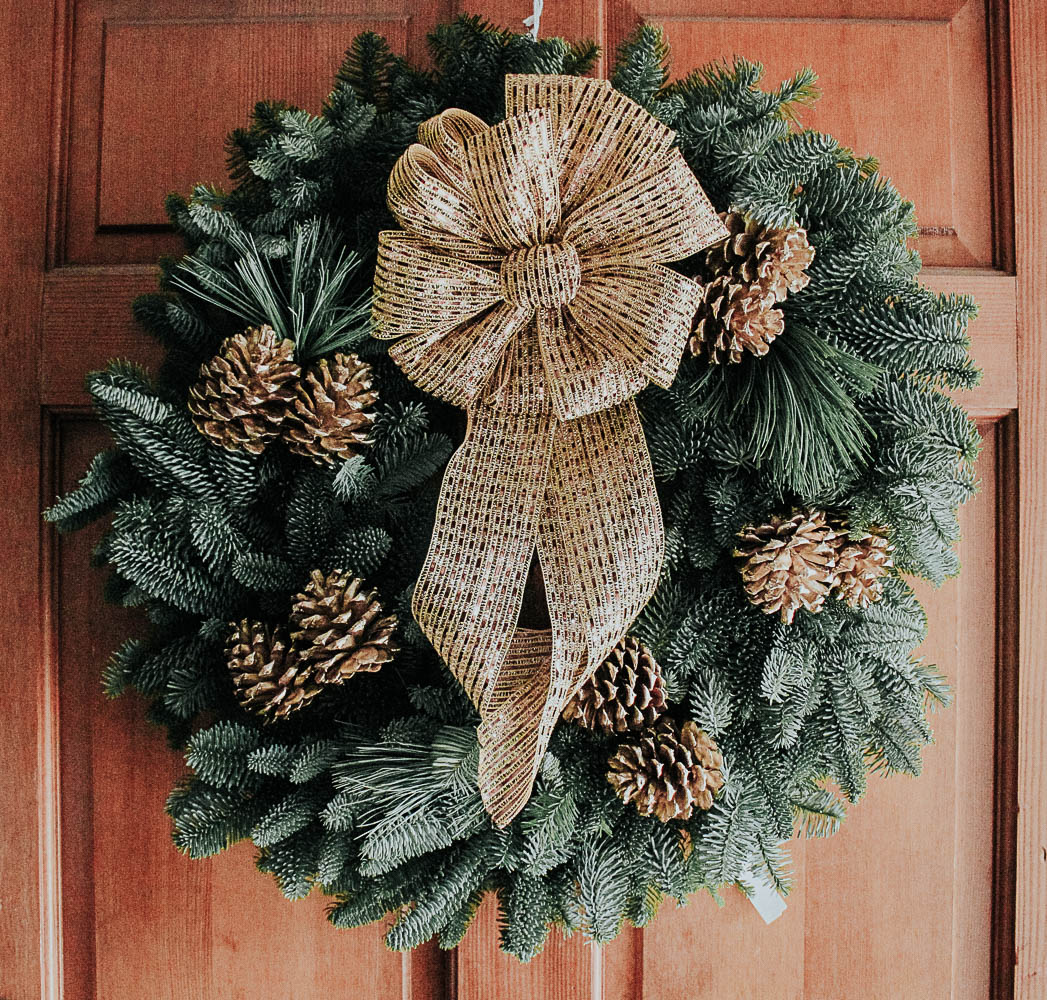 I've seen fresh Christmas wreaths at some of my local stores, but none of them are as nice as the ones I've ordered from Christmas Forest.  They truly go above and beyond to make sure every little detail is perfect, and stays perfect throughout the shipping process.
This year I went with the 25″ Tastefully Gold Christmas Wreath which came with three clusters of gold pinecones and a large beautiful gold bow.  It's somewhat similar to the wreath I chose last year, but has more gold.  I've gotten so many compliments on my wreath and everyone really seems to love the gold.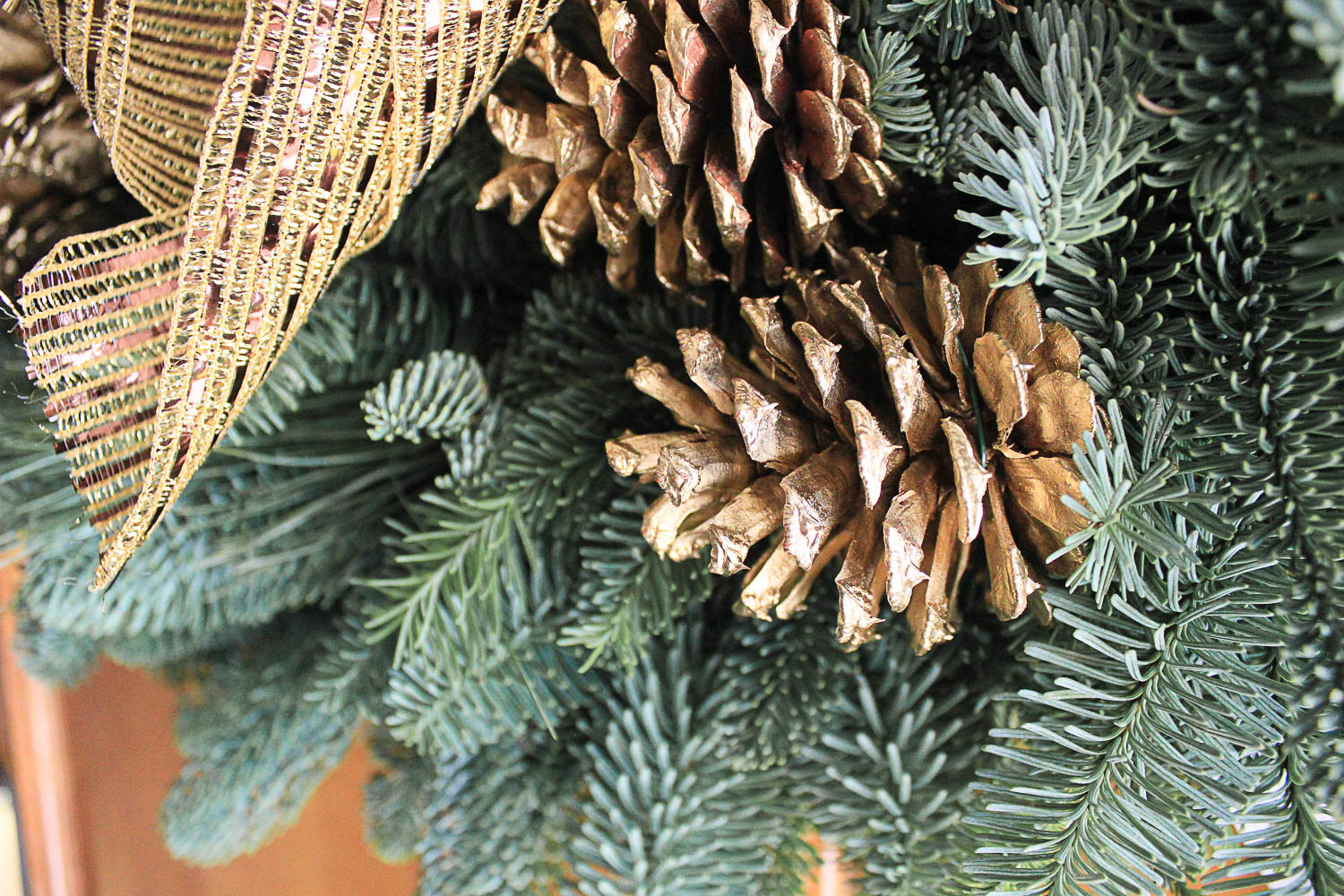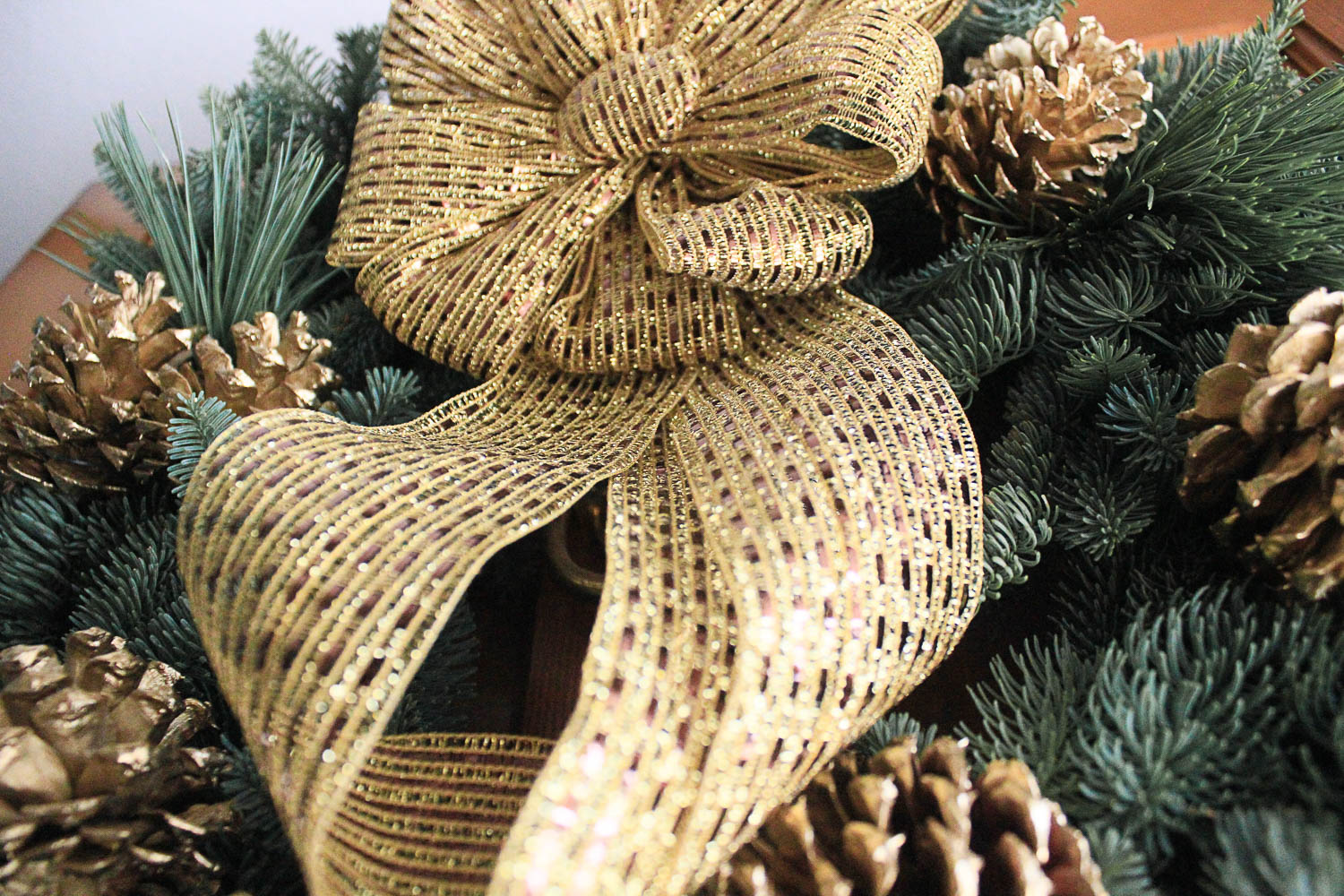 Tips for Choosing a Christmas Wreath from Christmas Forest
1. Take into consideration the color scheme the recipient is currently using. If your friend has a green door, you may not want to send them a wreath with a big blue bow. A fresh wreath topped off with a gold bow would be a perfect choice because not only does it complement the green door, but it also brings more of the colors of Christmas to the exterior.
2. When making your choice, think about the preference of the recipient and not necessarily what appeals to your taste. You may fall in love with the designer look of the Holiday Swags, but perhaps your great aunt would much rather have the traditional circular wreath with a great big red velvet bow.
3. We have some great 'fancy' wreaths loaded with ornaments, lights and colorful bows. You could choose the Mardi Gras colors of the Gala Glitz wreath or the fun geometric designs of the Art Deco wreath for your friend that marches to her own drummer.
4. When deciding on which Christmas wreaths would be best to send out to your client list, we recommend something a little more conservative such as the gorgeous Christmas Classic wreath or the beautiful Highlander wreath with the tartan plaid bow.
5. At this wonderful time of the season, it's important not to forget those who share their faith with you. Consider sending clergy people, choir members or special friends from your congregation special Christmas Crosses – wreaths in the shape of a cross. This is sure to bring them great joy.
6. Lastly, when giving wreaths as gifts, it's important to consider whether or not your recipient has something they can use to hang it on the door. If you've never seen them display a Christmas wreath, chances are you should probably include a wreath hanger with your gift. This way, you'll be certain they can use it right away.
Fresh Christmas wreaths make perfect Christmas decorations and great Christmas gifts for those you care about. With these tips for choosing just the right style from our large assortment, you're sure to bring pleasure to your recipient with a Christmas gift as unique and special as they are.
Fresh Christmas Wreath Giveaway
Enter to win a 25″ Tastefully Gold Christmas Wreath ($52 Value) using the Rafflecopter form below.  We will choose one winner after 11/17/17.  Good luck!